SHARE HELLO WORDS:
As part of my concerts I like to share the "hello" words from the different countries and languages we are learning. I have found it difficult to find the "correct" hello word for some countries. I try to research authentic resources to get accurate information about the language, the actions and the history of the songs. As I was doing some research on A Ram Sam Sam I came across several versions of lyrics and hand actions.
MAMA LISA is a good resource to check out for some great multi-cultural ideas on songs for a Concert songs. This song is Moroccan Arabic-a bit different than pure Arabic. From what I've read, the word "ahlan" is a casual hello word. One version of the song includes increasing the tempo as you sing the song over and over. I like to sing it 3 times at a normal tempo and then sing it 3 more times gradually increasing the speed. The students love trying to keep up the hand actions with the words.
INCLUDE HAND ACTIONS:
Actions:
"a ram sam sam" pound fists, right-left, left-right.
"guli guli" Spin and pull hands apart.
"a rafi" spin index fingers on each side of head as if "crazy"
Version #2:
On "A ram sam sam" – Clap hands on your lap.
-On "Guli guli" – Spin hand over hand in a circle.
-On "A rafiq" – Hands apart miming that they're pulling apart something gooey.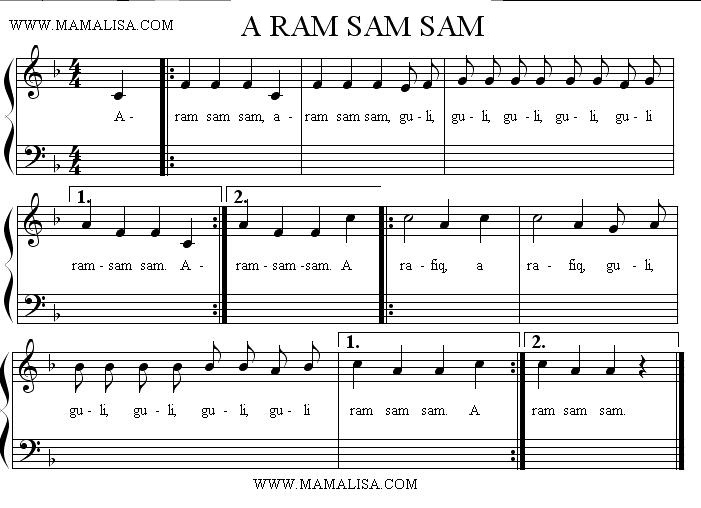 Another way to add in hand actions it to include hand clapping games. I found a great resource over at

"Ofortunaorff"

by Aimme Curtis Pfitzer. She's got some great teaching tools, tips and resources on her blog and she also has a book out "HANDS TO HANDS" Hand clapping games from around the world. I downloaded the freebie and I'm really excited about using this with my 4th graders. I think it would be a great song to bring the program back to America. Here's a sample… You can get the full version

HERE

or go to www.beatinpathpublications.com
Here's a great resource at Emily's Kodaly Music Blog. It's a fun Kodaly and hand clapping activity.
One thing I might add is to hold the "oh" sound a bit longer as it's really a double sound in Japanese. Vowels go like this: o-oh, a-ah, i-ee, e-eh, u-ew
TRY SOME INSTRUMENTAL ONLY PIECES
Since I lived in Japan, I like my students to learn how to say "Hello" in Japanese. I use the midday greeting, "Konnichiwa" (ko knee chee wah). One fun song that I've sang with my Kinders is "Kaeru no uta ga", or "The Frog Song". Then I saw an awesome rendition of this song played as a round on xylophones and decided to give that a try. My students just love playing this in a round.
I wrote out the sheet music for my students to learn just the melody. Then I wrote out the round too.
I think it will add a lot to the program for it to be just an instrumental piece.
I'm preparing a product right now that you'll be able to use to teach this song in several different ways.
CONNECT ART AND MUSIC
I don't plan how I'm going to decorate the stage or costumes for my Chorus programs. I let the group decide what they want to do. I believe in interactive learning opportunities and shy away from big productions put together by parents and teachers. That's just me—I think it comes from my days serving as a Scout leader for 15 years. I also believe that when the students do the work they get the most out of the experience. My Chorus program is also an extra-curricular Club and it's run a bit different than my classroom and my other programs. One year I had a lot of students who had artistic abilities too. I wanted to showcase their talents and so we decided to make animals from the countries of the songs we were going to sing. I only had three days during lunch to pull this off and so it had to be pretty simple too. We looked up the animals on the web and then one 4th grader drew most of them free hand. It was amazing to watch her draw the animals so perfectly the first time.
The students mixed their own paints and got to work.
We made extra butterflies and put them all around the map.
Then we placed the animals next to their country of origin.
I also printed out some clip art of people from those countries and let my third graders color them.
This is our stage so far.
Another project could be to add in the HELLO words from those countries.
Ahhhh…if I only had more TIME!
The students were so excited to do this art project. Some of them got permission from their teachers and stayed in my classroom as I taught classes through the afternoon. We got it all done in three days.
We also made some necklaces to wear with our school t-shirts.
The students had brainstormed and come up with the idea to make some kind of a long necklace to wear with their school t-shirts. I had about $60.00 to create the necklaces for 45 students and I had to get the materials from one store. I found these peace sign foam shapes and thought they'd be perfect for our "World Music" program. I had to cut out about 10 as there weren't quite enough in the package-bummer. I purchased the star stickers and then found shiny blue beaded necklaces. I bought the string to attach them to the peace signs. I had the students come in during their lunch recess and put them together. They were super excited about the peace signs–(sigh of relief)–Yeah!
A couple of super responsible 5th graders helped organize them and tidy them up a bit. Love those 5th graders!
We'll have a bit of sparkle and color now to go with our wonderful stage decor. And most of it was done by the students!
SOME LINKS TO SITES WITH AUTHENTIC RESOURCES:
AUTHENTIC MATERIALS FOR TEACHERS
SONGS FOR TEACHING MJLTI CULTURAL MUSIC
BLOG POST ON HOW TO CHECK YOUR SOURCES
And I put my Music Class Essentials into a MEGA BUNDLE all World Themed decor that would be fantastic to decorate your room and give you the tools you need for your Music Classroom.
I also created multi-cultural programs for all of my programs this year and soon realized how incredibly important it is to do research into the authenticity of the resources and present as close to a "real" version as I can. Since we can't all travel to the places we love to sing about-this may be the best we can do. Hopefully through the experiences students will at the least gain a great appreciation of the diverse world that is their to learn about.
Putting together a multi-cultural program? Grab this Free resource to get you started.