I'm spreading the word on celebrating kindness and it get's me thinking- hard!  First of all, I ask myself, "Am I kind?"  "What does Kindness mean?", "How can I teach it in the music room?"  I may not answer all these questions, but I hope I'll inspire you to think about how to celebrate "We Are  a Nation of Kindness".
National kindness day is in November, but I teach "kindness" in February during my Valentine's Day Lessons. Keep reading through this post for 3 ways to teach kindness in your classroom.
Why I believe that it matters-
It's true-
I believe that as teachers we can set an example of kindness and respect in the way we treat our students and the way we treat each other.
In fact–
I believe it, but I know that it's hard to do because we're all human right?
HOW TO CELEBRATE KINDNESS IDEA #1 SING SONGS
For example, my first graders love to sing this friendship song. They hold hands and at the end of the song point to someone in the class singing "I like you and you like me. We can be friends, it's so easy!"
Believe it or not, it's a FREE RESOURCE!
You'll find the free resource at the Sing Play Create Teachers Pay Teachers Store.
Moreover, it's on the Sing Play Create YouTube Channel!
I'm hoping that you'll subscribe. CLICK HERE TO GO TO THE CHANNEL.
FRIENDSHIP SONG: "I Like You and You Like Me"
In addition, you'll find writing activities and games to help your students make friends!
I've always believed that we- as in teachers- CAN make a difference. Because I also believe that Character really does matter!
Equally important is the fact that teaching kindness validates feelings of kindness and empowers students to keep trying to be kind.
So, when I began my teaching career, I wrote these character education songs to sing with my students to help them learn the rules in my classroom.
I love using songs to help students learn concepts.
IN THE MUSIC ROOM
Here's How I use the song in the music room-
First- students move to the music.
Second- students learn the lyrics through echo chant. Then discuss the meaning.
Third- students learn the melody.
Fourth-Sing the song.
Perform the song for character concert, beginning of school assemblies, refresh and remind students about classroom rules at the beginning of the school year or right after a break from school.
IN THE ELEMENTARY CLASSROOM
In the elementary classroom, songs can be great discussion starters and writing starters too.
Try singing a character education song at your morning meeting or right before your students go to recess.
Sing the song
Discuss the words
Use a circle map to help define the main idea
Have students write about their ideas
Share ideas
Refer back to the song and ideas when students need a refresher.
Looking for Character Education songs for your classroom?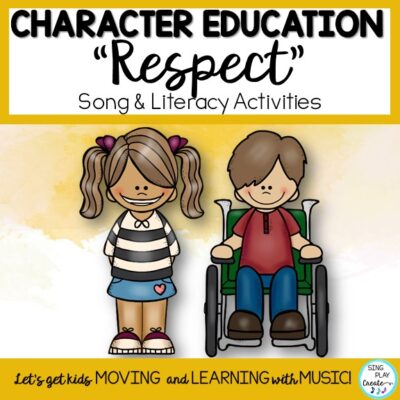 HOW TO CELEBRATE KINDNESS IDEA #2 READ BOOKS
It's true- read a book!
Kids love them!
If you're able, go to the school library and check out some books that teach kindness, caring, friendship and being nice.
Use the books as discussion starters.
Here's an easy lesson plan for any classroom.
Read a book-
Sing a song-
Play a game-
Sing the song again-
Share kindness ideas-
Looking for some popular kindness books? If you're interested in building your own library of book resources, I found these on Amazon (remember that I get a small kickback).
"Be Kind"
And, I've found that reading books is a great way to open the discussion about kindness and help students understand how to be kind.
HOW TO CELEBRATE KINDNESS IDEA #3 PLAY GAMES
Why not celebrate kindness by playing games?  Bean Bag Games are perfect to help students learn to play with each other kindly.
Although bean bag games are great for "fun" and "movement" activities, I've found that bean bag games can also be for team building and for assessment.
Here's a top-selling resource that will help you easily add bean bag games in your classroom.
Likewise, I also use them for creative movement activities.
Consequently, it's why I wrote this bean bag song to help students learn how to hold the bean bag. It's especially helpful with preschool and kindergarten students.
Specifically, I use it in my classroom to introduce bean bags to my students.
Get the full resource "Bean Bag Activity Songs" HERE
Check out this blog post with FREE GAMES.
"Back to School Songs, Games, and Activities"
SUBSCRIBE to the FREE RESOURCE LIBRARY to get these FREE ACTIVITIES
I'm hoping that you'll find some resources here to help you teach your students about kindness.


Looking for more ideas on how to celebrate kindness?
Check out these blog posts:
Hope you'll share this post with your teacher friends!