March is such a fun month! With MIOSM, Spring,  and St. Patrick's Day, there are so many ways to keep my students actively engaged.  I love to use movement activities and folk dances. So I'm sharing March themed folk songs to explore and experience in music class to help you connect MIOSM and St. Patrick's Day multicultural activities. 
Looking for MIOSM IDEAS? FREEBIES AND LESSONS HERE!
CHILDREN LEARN THROUGH EXPLORING AND EXPERIENCING!
One thing that music education offers above and beyond any other subject is that it connects CULTURE, MUSIC, LITERACY, SCIENCE, SOCIAL STUDIES, MATH and all ARTS.  And that's why MUSIC EDUCATION is so critical to every child's educational experience. By the time you finish reading this post, you'll have several lessons on Irish Music and Culture and FREE activities and materials ready for your March Music Class lessons with a focus on:
CULTURE-MUSIC-INSTRUMENTS
CULTURE
Who doesn't LOVE pictures? Start off you lesson with some STUNNING visuals of Irish life.  (let's get the kids in the mood!) "Strap on your seat belts and put your tray tables up! We're heading to Ireland to see some "green"!
 IRISH LIFE AND CULTURE– Fantastic Video of Ireland with simple folk music playing in the background.
I don't always go to wikipedia-but this page has TONS of GREAT STUFF! TRADITIONAL IRISH MUSIC
MUSIC
Integrating folk dancing with instrument lessons is a great way to add in some variety to your lessons. Some of your students will love learning about the instruments and other will love to do the folk dances. And If you want to know a bit of history about Irish Music in America, the LIBRARY OF CONGRESS has a wonderful site with some great information and links.  LINK
GREAT IDEA! Connect instrument lessons with folk dancing to broaden the experience. CONNECT CULTURE and MUSIC.  There are many resources on the internet to learn about Irish instruments. 
Oh Yeah! I created a playlist of the links in this blog post so you can use it as our lesson plan. Want a copy of my FREE PLAYLIST? Just SUBSCRIBE TO THE FREE NEWSLETTER AND RESOURCE LIBRARY  and you can access the FREE PLAYLIST and ST PATRICK WAS A GENTLEMAN lesson and dance directions. 
I like to show my kids "Riverdance" first to give them an idea of the best of the best and to inspire them to do their best.
I love to dance and so I'll share some YouTube videos to my students to give them a "picture" of what the dances and steps should look like. After my students watch a video they always perform better. I believe that this happens because they can "model" the performers versus just following my directions.
You'll want to check out this FREE LESSON  on the Sing Play Create Youtube channel:
ST. PATRICK WAS A GENTLEMAN- Sing Play Create Lesson– history-dance steps and simple arrangement of the song for you to use in class.
I love the way this teacher is showing and telling her students the difference between skipping and the Irish step in the dance.
IRISH FOLK DANCING WITH Mrs. Finnerty's Class  Patterns!  These students are dancing in a nice ABABCA pattern.
IRISH FOLK DANCING – great example of an easy ABABCA PATTERN and the 3 step
SONGS:
SONGS:
I grew up listening to "The Clancy Brothers" and love these old videos.
AND "What Can You Do with a Drunken Sailor?"
 This classic song is a great one to share too! "Danny Boy" by the Irish tenors with some lovely scenery from Ireland.
If you want to know all about FAMOUS IRISH AMERICAN ACTORS you can check out 
IMDb
And- wouldn't it be great to have this playlist ready to teach from next week?
YOU CAN GET THIS PLAYLIST FOR FREE. The IRISH MUSIC LESSON PLAYLIST is FREE when you subscribe to the Sing Play Create Newsletter. Just CLICK HERE TO SUBSCRIBE.
INSTRUMENTS
One year I had a harpist come in to the music classroom to play songs for the students. They were enthralled! Do you have some artists that you know who would come in and share their talents?  HERE'S some GREAT information about the basic instruments used in Irish music HERE.
I chose the following selections because the represent the main instruments of Ireland- or, the most popular ones and the videos are excellent examples of the Bodhran, Flute, Harp, Bagpipes and simple Irish music.
TRADITIONAL IRISH MUSIC by the GILLIES– excellent representation of Irish Music
BAGPIPES- DANNY BOY– Just the bagpipes in full costume
ANCIENT IRISH INSTRUMENTS– detailed explanation- best for the teacher and selected sections for students.
IRISH BODHRAN– just the flute and bodhran
Here's a live performance:
You can find some good information about the basic instruments used in Irish music
 HERE.
For more fun multi-cultural music ideas, follow this link to some great articles on Connecting Cultures through Music Blog Linky.
MORE CONCERT TEACHING IDEAS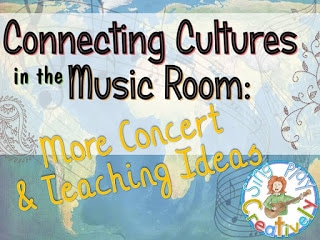 LOOKING for a fun way to keep kids engaged in the Irish way? I composed this fun game song which is available at my TPT store.

ST. PATRICK'S DAY GAME SONG "WHO WILL CATCH THE LEPRECHAUN?"

Still trying to figure out how to celebrate MIOSM?
Please share these March music class Irish Lesson Ideas!