What's fun about Halloween music lessons?  Why making spooky music, of course!  Here's an easy to use and adaptable activity for many grade levels. And it's a Free Halloween Orff music lesson.
HALLOWEEN ORFF MUSIC LESSON
I made this activity simple to use because I wanted my students to do the creating and the music making.
It doesn't have a song or even a chant-
But, your students could make one up to go along with the am chord and the spooky sounds.
This free Halloween Orff music lesson activity is all about students doing the work.
LEARNING GOALS
Play Notes
Play Melodies
Play a minor chord
Improvise a melody
INSTRUMENTS
Boomwhackers
Xylophones
Percussion
Color Coded Instruments
You can use many different instruments in this Free Halloween Orff music lesson.
Not only is this activity adaptable, but it's a great review for rhythms.
The spooky sounds represent note values for whole, half, quarter, eighth and sixteenth notes.
PLAY THE NOTES
You'll be able to help students learn how to play the am chord on many different instruments.
There's also a fun way to play the song so that students learn how to play together in an ensemble.
PLAY THE RHYTHMS
I chose some "spooky" words to go with the rhythms, but you'll be able to have students choose their own words.
The free Halloween Orff music lesson resource includes several copies of the activity.
Variations include the music, music with note names, music with lyrics and color note options.
Having these options will make it easy to have your students creating spooky sounds.
IMPROVISE
I've been encouraging my students to improvise melodies using the Am pentatonic scale.
But, you could have students improvise rhythms and movement patterns.
The important thing is for students to do the creating and music making.
Get this Free Resource Link at the end of the post.
MORE FREE HALLOWEEN MUSIC LESSONS
Looking for some quick and easy music class ideas?
You might want to check out this blog post!
FREE HALLOWEEN MUSIC ACTIVITY
Many music teachers like to put on a Halloween Music Program, or have a script to use in class for their students to read as part of a sing a long.
So, I wrote this easy to use Halloween script.
It's a FREE RESOURCE at the TPT STORE HALLOWEEN MUSIC PROGRAM SCRIPT AND GUIDE
You'll want to check out this Halloween bundle of songs that works perfectly with the script.
This song and activity bundle is versatile, adaptable and interactive! You'll find sheet music, Mp3 vocal and performance tracks, power points, lyrics, activities, and actions.
Use the music in your creative movement activities. Use the songs in music class lessons. Use the actions in a Halloween music program.
Tons of "spooky" ideas for your K-6 music students. Be sure to download the preview to hear the music.
FREE YOUTUBE HALLOWEEN MUSIC VIDEOS!
DO THE SKELETON DANCE
FREE SPOOKY MUSIC LESSON
Get Halloween Resources from this Website!  Now available in the Sing Play Create Shop!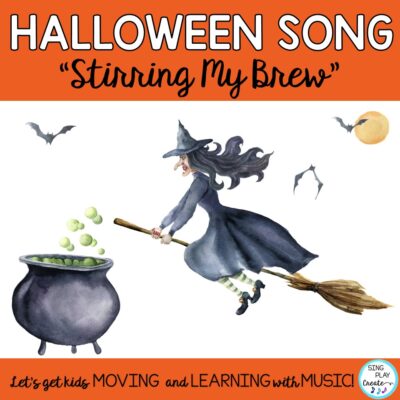 I'm hoping that this free Halloween Orff music lesson gives you some materials to help your students learn rhythms, melody and improvisation.
Please share this post with your friends!