Looking for some music activities you can use now and in a digital classroom for distance learning? Keep reading to learn about digital train rhythm activities for google apps.
DIGITAL CREATE AND PLAY TRAIN RHYTHM ACTIVITIES
The "Train Rhythm Activity" video and the "Train Rhythm Activities" Resource provide the tools you need to teach, and students need to do the work independently.
Use the train rhythm activity video to introduce and practice the rhythm values.
Review rhythm skills using the flashcards in the resource.
You'll want to get the FREE RESOURCE "I've Been Workin' on the Railroad" to pair with this lesson.
TEACH TRAIN RHYTHM VALUES
Not only can you use this resource in your classroom and with an interactive whiteboard,
you'll be able to use this resource with Google Apps, specifically Google Slides.
Check out the digital images you'll find in the resource.  Students will use the images to create their very own train rhythms.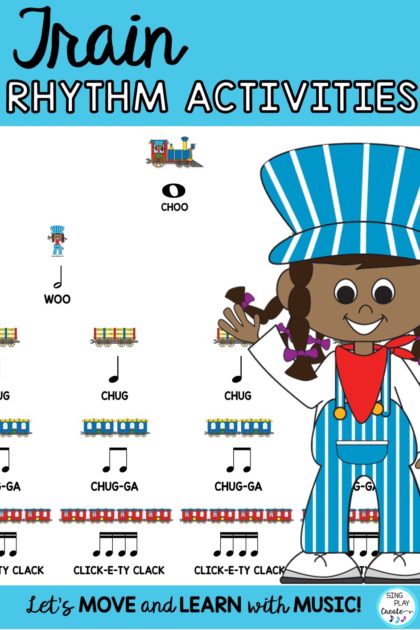 MAKE SOME TRAIN RHYTHM SOUNDS
Let's take it up a level! Students will love these interactive rhythm activities. The presentation includes pages where students can say and play the rhythms using "sounds of trains".
Not only can students tap the rhythms, cut they can create their own patterns using body percussion too.
Digital resources give students opportunities to continue learning while at home, or at school.
CREATE TRAIN RHYTHMS
Using the flashcards or the digital resource, students can create their own rhythm patterns and practice them independently.
Or, in the classroom, students in small groups can work together to create patterns.
PLAY TRAIN RHYTHM ACTIVITIES
Finally, students can play their rhythm patterns using classroom instruments.
For students at home, they can use homemade rhythm instrument, or piano, keyboard, even ukulele!
You'll definitely want to pair this lesson with the singalong video "I've Been Workin' on the Railroad".
If you're looking for more rhythm activities, check out these Videos:
SPRING RHYTHMS
DECEMBER RHYTHMS
NOVEMBER RHYTHMS
FALL RHYTHMS
Finally, Don't forget to SUBSCRIBE to get the Train singalong music lesson FREEBIE.
You'll be able to pair it with the train rhythm activities resource for your  music classroom. Adaptable to 1-4 grades.
Looking for more digital music lesson resources?
Distance Learning interactive Google Slides Presentation with activities for students to create their own body percussion movement patterns.
Body Percussion Activity presentation, practice the moves and then create your own.
Perfect for Kinder (with help) through 3rd grade.
Want to learn more about Distance Teaching and Learning?
Check out these Blog Posts: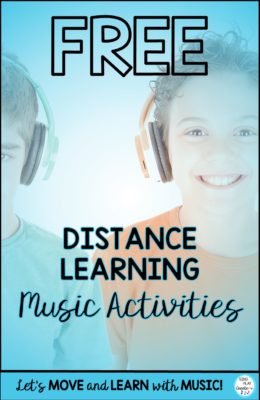 I'm hoping these digital distance learning train rhythm activities keep your students engaged and learning music.
Please share this post!