Whether you can sing at the beginning of class or not, welcome and greeting activities are an important part of helping students transition to music class.
This post will help you discover and decide on your welcome and greeting activities.
Get your students clapping and singing/chanting with this fun upper elementary songs. "Good Morning to You! "
It also has a "good afternoon" version!
"Good Morning to You!" an interactive singing and clapping song that works perfectly as a chant too!
HOW DO YOU WANT CLASS TO BEGIN?
You may be able to have students move to the music and just refrain from singing as they come into the music room.
And you'll want to consider and plan on how everything will happen before school begins.
So now's a good time to gather some welcome and greeting activities.
Here's some questions you'll want to ask yourself:
Do you want students to move around?

Quiet, chatty, noisy?

Standing?

Sitting?

Singing?

Clapping, Patting, Stomping?

Are you looking for ways to gather students and teach a music concept?

Will the activity help everyone learn each other's names?

Can you use the activity all the time or just for the first few weeks?
MAKE A PLAN FOR WELCOME AND GREETING STUDENTS
There's no right or wrong way to do this.  You get to choose!
I used to like my students to be quiet when they came into music class.
But, the schedule changed, the kids changed, and so did I!
Now I use movement and music activities to transition into music class, sing a hello song and then we sing names.
Here's a fun hello song you can use in your upper elementary classes!
Ultimately all teachers are looking for ways to get students into "music land" as quickly as possible so they can begin music class.
BUILD RELATIONSHIPS WITH WELCOME AND GREETING ACTIVITIES
Connections are so important, and you don't have a lot of time to make them.
Singing, chanting, moving, playing rhythms are activities that will help students feel connected to you and to each other.
I have a special song for each grade. That way my students get to sing something different each year.
And, I don't get bored singing the same song all day, everyday!
MORE IDEAS FOR WELCOME AND GREETING STUDENTS
Check out this blog post with ideas on how to begin music class.
"Three Ways to Begin Music Class"
If you're looking for some fun welcome songs, you'll want to
Moreover, you'll want to check out the "Hello Song Bundle".
Hello Songs are a fun way to get your students transitioned into music class. Each song comes with a video and presentation.
Welcome your students to class and encourage classroom community by singing together at the beginning of each class.
Use the video as a transition activity when you don't have and time between classes. Video Songs bundle includes songs for grades Pre-K-6th Grade.
The VIDEOS with vocal and practice tracks that "wow" your students and get them excited about music class.
Perfect for back to school and establishing routines in music class
Finally, you can use the video in your Sub Tub (digital files)
GET THE RESOURCE: HELLO SONG BUNDLE OF VIDEOS, AUDIO FILES AND POSTER
Digital Learning Tip!  All Videos and Presentation are Easily uploaded and usable in Google Classroom or other Digital Learning Scenarios.
When you use a video, you are "hands free" and can wander around the room greeting students, helping, guiding- whatever is needed.
Not only are they learning rhythms, but they are working together as a group, practicing skills, and participating in student led activities.
There's a lot of ways to use these rhythm videos!
Watch this video to get some ideas for Elementary Music Class Transitions:
"Elementary Music Class Transition Ideas"
If you're looking for an a capella song/chant. This resource is perfect for you.
It's an easy music lesson that would work perfectly as a chant.
Sing this fun back to school "Hello" song to build classroom community and develop solfege skills.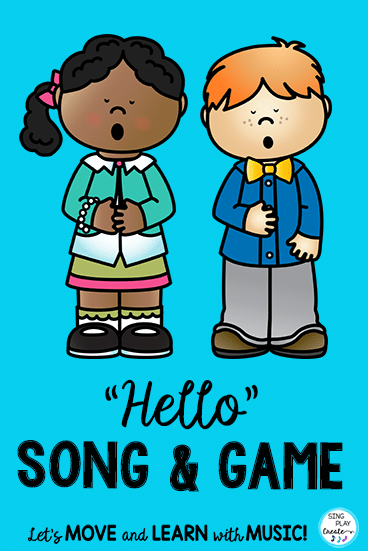 WELCOME AND GREETING ACTIVITIES AS TRANSITIONS
Take a look at: "Quick and Easy Music Class Transitions" for more ideas on ways to begin music class.
Moreover, you'll want to give some time and energy to planning your transition and welcome and greeting activities.
I believe that it's important to have some strategies in place before school starts so everyone is ready to begin music class.
Please share this post!