Looking for some November music activities? Keep reading to get ideas for IMPROVISATION, MOVEMENT, RHYTHM AND STEADY BEAT activities for your elementary music classes.
NOVEMBER ELEMENTARY MUSIC LESSONS AND ACTIVITIES
Here are some music and movement activities you can easily integrate into your current music lessons, or help to create new ones.
After all, elementary music teachers need to have a variety of activities for several grade levels. And, it takes time to prepare these activities and to implement them in an engaging way. So let's get started.
MOVEMENT ACTIVITIES
"The Turkey Lurkey" Music and Movement Activity
Sung to the tune of "The Hokey Pokey"!
This song can be used with any of your November music activities
It's a favorite turkey music and movement activity with my Kinder and First Graders.
LYRICS
You put your right wing in.
You put your right wing out.
You put your right wing in
and you shake it all about!
You do the Turkey Lurkey
and you turn yourself around.
That's what it's all about!
You put your left wing in…
Right Leg
Left Leg
Right Hip
Left Hip
Feathers
Gobble
Whole Turkey
Get the "Turkey Lurkey" Music and Movement Activity HERE:
Distance Learning Teaching Video
Turkey Movement Activity. Get your students moving and grooving with "The Turkey Lurkey" sung to the tune of The Hokey Pokey! Now with Music Tracks with vocals. Pre K-3 Music and movement activity.
RESOURCE INCLUDES:
Turkey Notation Work sheet
Sheet Music for Piano
Lyric Teaching Pages
Writing Activity "My Turkey Lurkey eats, plays, has, is…"
Mp3 Piano Accompaniment Track
STEADY BEAT
Ask students to sit in a circle. Tell them that you are taking a trip to a turkey farm.
The turkey's are in the middle of the circle (the barnyard).
Play steady beat drum.
Tell the students that they need to help the turkeys get exercise in the barnyard.
Have them play the beat with you. Call out "gobble, gobble" on the beat.
Ask the students to copy you. Keep playing until you get the majority of them patting and chanting together.
Playing the steady beat can be a regular part of your November music activities .
PRETEND PLAY
Younger students love to pretend to be turkeys.
I use this activity with "FIVE FAT TURKEYS ARE WE"
Create a big circle.
Tell the children that the middle of the circle is the barnyard.
Choose some of the students to be turkeys. About 5 if you have at least 20 students.
Play some folk music or teach the children "Five Fat Turkey's Are We".
As the circle of students sings, have the 5 children move in the circle like turkeys.
Stop the music. (Or at the end of the song.) The children choose 5 new students to be the turkeys.
Next, you can have students who have had a turn being a "turkey", play instruments until everyone is playing and singing.
Ultimately, this activity could be used over several class times and really build on singing and playing skills!
Children love these kids of activities and they help them make connections.
RHYTHM
Let's go to the farm and visit the turkeys! Yay!
"Gobble, gobble, gobble!"
Let's find some instruments that might sound like a bunch of turkeys.
Have some instruments chosen for students to use.
Choose instruments that work for your grade level.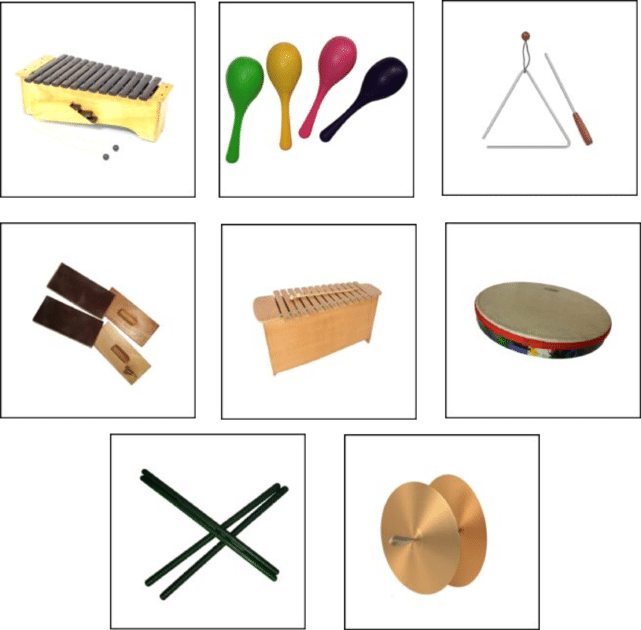 IMPROVISATION
Another important music element to work on in November music activities , is improvisation.
I believe that your students can use the recorder or the xylophone to compose a melodic phrase that resembles the sound of a turkey.
And- they'll love creating stories and music to perform.
CREATE A STORY!
Older students will love creating a story about their turkey.
Have them create a short story using just 5-8 sentences.
Then have them create rhythmic and melodic phrases for each sentence in the story, or action.
Use all of these ideas for a turkey literature, music and movement activity.
If you're looking for any music instruments you'll want to go to the INSTRUMENT PAGE.
This is where I've listed my favorite classroom instruments and movement props for your turkey music and movement activities.
Do some experimentation.
Use this video as a starting point for your students to practice then create rhythmic and melodic patterns.
Play a nice bass steady beat for them and encourage them to improvise.
If your students know BAG, then you can play G steady beat.
Or, if the turkey is sad, play E for Em chord.
Next, have the students with smaller percussion instruments play their parts as solos.
Add the melodies as separate solos.
Then have everyone play together at the end of the song.
Be sure to experiment with dynamics.
Try beginning pianissimo and crescendo to fortissimo.
CREATE A RONDO!
Create a RONDO
Rondo FORM can be ABA, ABACA, or ABACABA, or A-B-A-C-A-D-A.
Try having each instrument group be a section of the RONDO.
A- Shaker part
B- Rhythm Sticks
C-Turkey Gobble on Xylophone
D-All instruments together
Keep it simple!
Focus on giving students opportunities to experiment and create versus "perfect" music.
You may want to consider having students then write their parts and refine the RONDO during the next class period.
Use these Thanksgiving themed recorder songs as part of the Rondo.
Remember, November elementary music lessons and activities can be centered around skills student learned in the first quarter.
Looking for some free and interactive November music class lesson ideas for your K-6 music classes? Looking for some new ways to teach your old materials?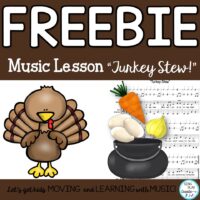 NOVEMBER MUSIC LESSON IDEAS
Here are some more November music lesson ideas you can use with these yummy November music lesson ideas.
"Terrific Tips for Your November Music Lessons"
"November Music Class Stations"
"How to Get Students to Gobble Up the Beat"
Read this post to get the ideas for November Music Lessons "It's Not Just About Turkeys"
Let's get students moving and learning with turkey music and movement activities!
Please share this post!