I love using body percussion activities in my classes. I am sharing some ways to use body percussion activities, and tips on how to implement them into your existing curriculum.
Although not an expert, I've grown in my understanding and application through workshops and experiences in the classroom.
If you're interested in learning more about how to implement it into your curriculum, check out your local ORFF organization.
AMERICAN ORFF-SCHULWERK ASSOCIATION
WHAT IS BODY PERCUSSION?
Using the human body as an instrument. Making sounds from low to high- stomp, pat knees, clap hands, and snap (click). Though you can use other parts of the body to make sounds.
The thing I stress with my students is that it's a gentle tapping and not a slapping.
No one should ever get hurt using body percussion.
WHY BODY PERCUSSION ACTIVITIES WORK
Helps Kids Concentration
Helps Improve Social Skills
Helps Build Classroom Community
Helps to Release Stress
Try beginning your class with a body percussion activity. They make great transition activities and help students get engaged as they enter the classroom.
HELLO SONG BODY PERCUSSION ACTIVITY
USE THESE RESOURCES FOR BODY PERCUSSION ACTIVITIES
HOW TO IMPLEMENT INTO YOUR CURRICULUM
I began with one activity at the beginning of the school year. When I began, the kids didn't know what was really going on.
But as time passed and grades rotated up, I was able to use it more and expand on it's use as the kids "got" the hang of it and were comfortable doing body percussion.
BODY PERCUSSION ACTIVITY TIPS
Start Slow
Play Copy Cat Games with the Actions
Allow for Mistakes
Give Students Space to Move
Create a YouTube playlist of your "go to" body percussion activities.
Write the body percussion activities into the lesson plans with links to videos.
Create and insert these activities into a google slides document called "Kindergarten Body Percussion Activities" so that you have immediate access without the ads!
Here's a fun Back to School Body Percussion activity you can do with your students to kick off a new school year!
DIFFERENT WAYS TO USE BODY PERCUSSION
PERFORMANCES
Imagine a 300 student choir on the stage and a NOISEY audience!
Instead of saying anything, I have the choir COPYCAT my body percussion patterns.
We start off with feet stomping, then patting, clapping, then snapping, then some patterns.
Next, I then mix in some funny actions like patting heads and rubbing bellies, or tapping foreheads with a look of despair and tapping cheeks as if in alarm and then patting bellies with a huge grin on my face.
Honestly, I do it until everyone in the room is SILENT. 
Teacher Tip: I never have my students perform when there is talking or noise going on in the audience (unless it's like babies and can't be helped!)
It's ALWAYS been successful. And, everyone starts copying the choir and stops talking…I love it!
PLAYING AND CREATING PATTERNS
Another great way to use body percussion is to connect the movements with rhythms.
The best part is that once the students understand this connection, you can then use any rhythm pattern and ask your students to create body percussion moves to show it instead of just clapping.
I've found that my kinesthetic and active children LOVE doing these types of activities.
BODY PERCUSSION CARDS RESOURCES
Finally, have FUN with it!
Get the FREE BODY PERCUSSION ACTIVITIES when you SUBSCRIBE to the SING PLAY CREATE NEWSLETTER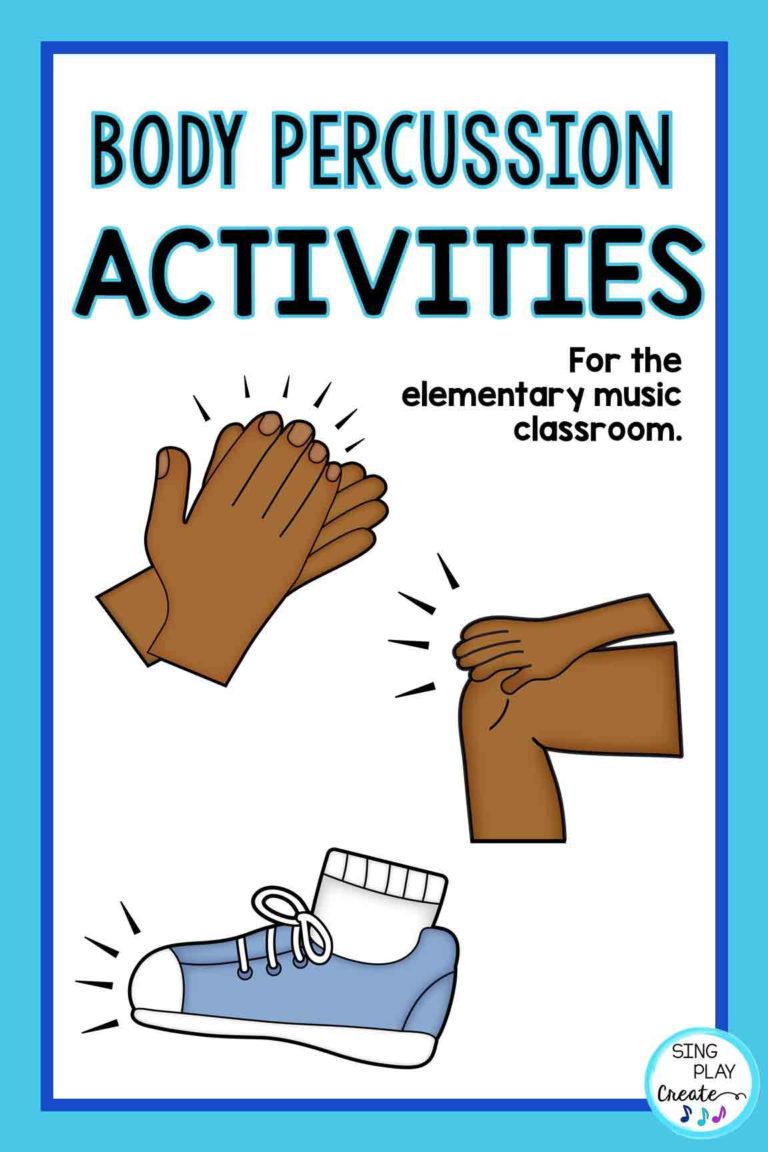 We've created many body percussion videos you can use to help your children learn about body percussion.
THEMATIC BODY PERCUSSION ACTIVITIES
Here at Sing Play Create we're working to bring you interactive resources you can easily use in your classroom.
BACK TO SCHOOL
HALLOWEEN
NOVEMBER
DECEMBER
JANUARY
FEBRUARY
MARCH
SPRING
ANYTIME ACTIVITIES
MORE BODY PERCUSSION ACTIVITY IDEAS
Body Percussion Activities for Elementary Music
Be sure to SUBSCRIBE to our newsletter where you receive weekly tips and deals and access to the FREE RESOURCE LIBRARY.
Please check out the Sing Play Create YouTube Channel with over 100 videos of activities.
Connect with us on Facebook, Instagram, Pinterest and through email.
Thanks for reading!