Fall movement breaks for children is essential for many reasons. Kids need to take mental brain breaks and physical brain breaks.
I know that if I work on something too long, or get stuck, moving is the easiest and most effective way for me to get back on track and refocused.
The different with our children is that they need those breaks more often.
Incorporating movement with learn is essential for the classroom teacher.
So I've put together some fun fall movement breaks for children you can use in your class today.
Be sure to get the FREE RESOURCE!
FALL MOVEMENT BREAKS FOR CHILDREN

[svp]http://www.youtube.com/watch?v=dyZS4_dw0pU[/svp]
Fall Move and Freeze Dance is a great kids work out and a fun movement activity break for P.E., Music, Kindergarten, Preschool and First Graders.
Use this video for your indoor recess, brain break activities.
HOW TO USE THIS VIDEO
First, review the actions by pausing the video when a new action comes up, or scroll through the video and have children practice each action.
Next, tell them to BREATHE in between actions.
Challenge them to move to the beat of the music.
Review what you want them to do on FREEZE. Do you want the students to stay standing? Can they fall to the floor? Do they need to be quiet? Set your expectations before doing the activity.
Choose how long you want to do the activity. The FREEZE and FREE CHOICE are spaced throughout the video about every minute. This gives the students a chance to rest and for you to end the activity.
Finally, after the activity ask the students to share the easiest move and their hardest move with their neighbor.
This way they can self assess and learn that everyone has challenges and successes!
Do you like to use movement in your classroom? We have an entire series of FALL MUSIC AND MOVEMENT ACTIVITIES.
SING PLAY CREATE SHOP
TPT STORE
Turkey Freeze Dance, Brain Break, Exercise, Movement Activity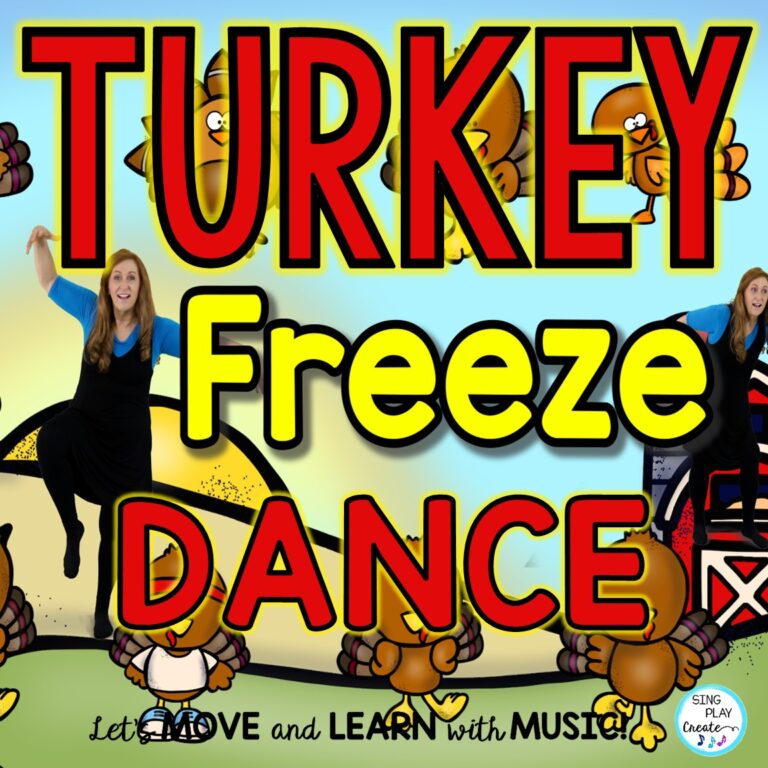 We hope you'll subscribe to our channel. That way you'll get instant access to new and fun music and movement materials.
SUBSCRIBE TO THE SING PLAY CREATE YOUTUBE CHANNEL
Here's a Free movement activity you can use in any classroom.
MORE FALL MUSIC AND MOVEMENT ACTIVITIES
We created an entire series of Fall movement activities.
FALL SCARF MOVEMENT VIDEOS
FALL EXERCISE VIDEOS
FALL LEARNING ACTIVITIES
FALL SONGS AND MOVEMENT ACTIVITIES
Looking for more music and movement activities on our channel?
Here are the TOP FAVORITES!
Hello Everybody Hello Song
Ocean Friends Freeze Dance
Farm Animal Song
Steady Beat Activity
SING PLAY CREATE MUSIC
Be sure to check out all of our songs too!
Sing Play Create on SPOTIFY
Sing Play Create on APPLE MUSIC
Sing Play Create on AMAZON MUSIC
Looking for movement props?
MOVEMENT PROPS
My Favorite Music and Movement Props (Affiliate Links)
SCARVES
BEAN BAGS
PARACHUTES
I'm hoping that you'll be able to use these fall movement breaks in your classroom!
Let's MOVE and LEARN with Music!