[svp]http://www.youtube.com/watch?v=fas56Cm-F2o[/svp]
I'm sharing some Literacy and Music Activities for Elementary Music Class using a Winter Theme.
I have a free music activity that has music activities for the video "GOING ON A SNOWMAN HUNT" and the picture book "SNEEZE THE SNOWMAN"
You can get all the materials for these activities on the Sing Play Create website.
These activities will focus on MOVEMENT, FORM, BEAT, RHYTHM, DYNAMICS and PLAYING INSTRUMENT.
CHAPTERS
[1:10] FORM
[2:10] STEP #1
[2:33] STEP #2
[2:54] STEP #3 INSTRUMENT ACTIVITIES
[4:15] STEP #4 DYNAMICS
[4:54] STEP #5 PRACTICE PARTS
[6:00] STEP #6 RHYTHMS
[6:18] STEP #7 STUDENTS CREATE PARTS
[7:21] STEP #8 STUDENTS PLAY ALONG WITH MUSIC
[9:44] "SNEEZY THE SNOWMAN" BY MAUREEN WRITE AND STEPHEN GILPIN
USING PICTURE BOOKS IN MUSIC ACTIVITIES

LITERACY AND MUSIC ACTIVITIES WINTER THEME
I'm sharing some ideas on how to use literature as a music activity.
I'll explore movement, beat and rhythm activity ideas using winter songs and stories.
There's also a FREE RESOURCE for teaching these ideas in your elementary music classroom.
SUBSCRIBE TO OUR NEWSLETTER for access to over 75 FREE RESOURCES.
USING A STORY SONG AS A MUSIC ACTIVITY
I can use a story or story song to help my students learn music concepts.
In this example, I'll have them experience
FORM
BEAT
RHYTHM
DYNAMICS
I'm using the story song "GOING ON A SNOWMAN HUNT" a  video I put together on the Sing Play Create Music Channel.
It's call and response song, and we've added in some challenges do to to get to the snowman. Each challenge is set in a different BIOME.
If you like this video, you can get the song and sing along activities as well as printables.
In this video story song, there are 2 characters,
me and my blue friend and we have to do a set of challenges to find the snowman.
When the kids sing with me they are going to put their hand to their mouths as if calling out-
When the kids sing with my blue friend- they are going to shake their hands out.
This will also help them learn the song FORM.
TEACH FORM
There are four challenges, each in a different biome,
and each has different music with varying tempos and dynamics.
DESERT
RIVER
FOREST
MOUNTAIN
USE THE PLOT OF THE STORY TO CREATE MUSIC PARTS
The plot involves us going on a snowman hunt.
We'll tip toe through the desert, jump across a river, run through a forest, and climb a mountain to get to the snowman.
The first time we watch the video I'll have the students sing the song and do the challenges in the video.
Now that I have the basic outline of the story, I can create some music parts for my students to play during the video.
I'm going to have them play an instrument during each challenge.
The first time, I'll have them play the steady beat.
I'll skip through the video and have them practice each challenge section.
TEACH DYNAMICS AND TEMPO
We'll talk about the dynamics and the tempo.
DESERT- rhythm sticks tip toe is "pianissimo" very softly
RIVER-triangle jump is FORTE loud
FOREST-hand drum run is mezzo forte- medium loud
MOUNTAIN- egg shakers climb is piano- soft
SMALL GROUP WORK
Now I am going to create four instrument groups.
For each challenge one group will play the instrument and the other groups will do the actions.
After we do the activity one time, then I'll have everyone play all instruments. That means they each have 4 instruments.
After we do the music activity, I can then challenge my students with playing a rhythm during the challenges.
I'll choose a different pattern for each BIOME.
DESERT
RIVER
FOREST
MOUNTAIN
Then I'LL have them practice the patterns before watching the video.
Remind them about the DYNAMICS and TEMPO.
Again, I'll skip through the video and have them practice each challenge section.
Next, we'll watch the video and only play the patterns during the challenges.
TAKE LEARNING TO A NEW LEVEL
Once you've had the students do the video with the instrument parts, you can then take things up a level.
It's time to CREATE our own parts.
Keep students in the instrument groups and have them create their own rhythm patterns to play during the challenge.
Or, have them choose the instruments and play on the beat.
Give the students time to share their creations.
You may want to sing a simplified version of the song and have them do all the challenges without the video.
You can get this song on SPOTIFY, APPLE AND AMAZON MUSIC STATIONS
You can get the FREE TEACHING GUIDE HERE:
USE THE SNOWMAN HUNT AS A MUSIC ACTIVITY
I created a music activity using the snowman hunt idea.
You can get this resource in my TPT store.
Each animal has to play the beat in the different biomes to get to the snowman.
The resource has a video play along for each character.
Music and Movement Lesson for Steady Beat "Going on a Snowman Hunt"
A fun winter Music and Movement Lesson for Steady Beat using the song "Going on a Snowman Hunt". Students will get to sing the song, move to the beat, and then play the beat on instruments for each adventure challenge. The videos are for each challenge and include a steady beat play along to music. These materials will give you materials for a complete music lesson unit on the steady beat. The challenges are NOT winter specific so you'll be able to use them any time. Interactive movement with instrument activities are sure to be a hit in your elementary music classroom.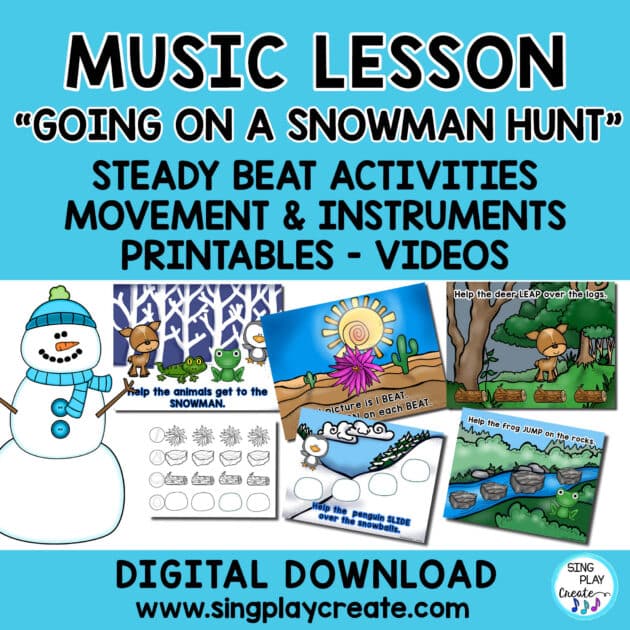 USE THIS STRATEGY WITH ANY STORY, VIDEO OR SONG
I can use this strategy with any story, video or song.
Read the story first.
Some questions I'll want to ask;
WHAT ARE THE MUSIC CONCEPTS I WANT TO TEACH?
WHO ARE THE CHARACTERS? WHAT WILL THEIR SOUND BE?
WHAT ARE THE ACTIONS? WHAT WILL THOSE SOUNDS BE?
Basically, I'm choosing a sound for the character, a sound for the actions and sounds for sound effects.
STORY BOOK "SNEEZY THE SNOWMAN"
Another story is to use the book "SNEEZY THE SNOWMAN" BY MAUREEN WRIGHT AND STEPHEN GILPIN
You can use the video read aloud:
The story is about a snowman that is freezing cold and the kids give him a different type of winter clothing to keep him warm, but he also tries some things to stay warm.
But then he melts, and the kids have to remake him.
There are several repeating lines in the story.
RHYTHMIC IDEAS FOR EACH REPEATING LINE IN THE STORY
I've come up with some rhythmic ideas you can use for each line too.
"Brrr. It's cold out here, that's for sure."
"I'm sneezing and freezing and shivering too!"
"ACHOO!"
"Make me brand new"
Finally at the end, he discovers that the clothes the kids gave him help him feel just right in the winter cold.
­­­­­­­­­­­­­­­­­CREATE MOVEMENT OR RHYTHM PATTERNS
There are many ways to use this story, but if you wanted to just do one simple music activity with it tomorrow- you could have the students play a different sound or rhythmic ostinato for each of the repeating lines.
I created some for you and you can get these from the FREE RESOURCE.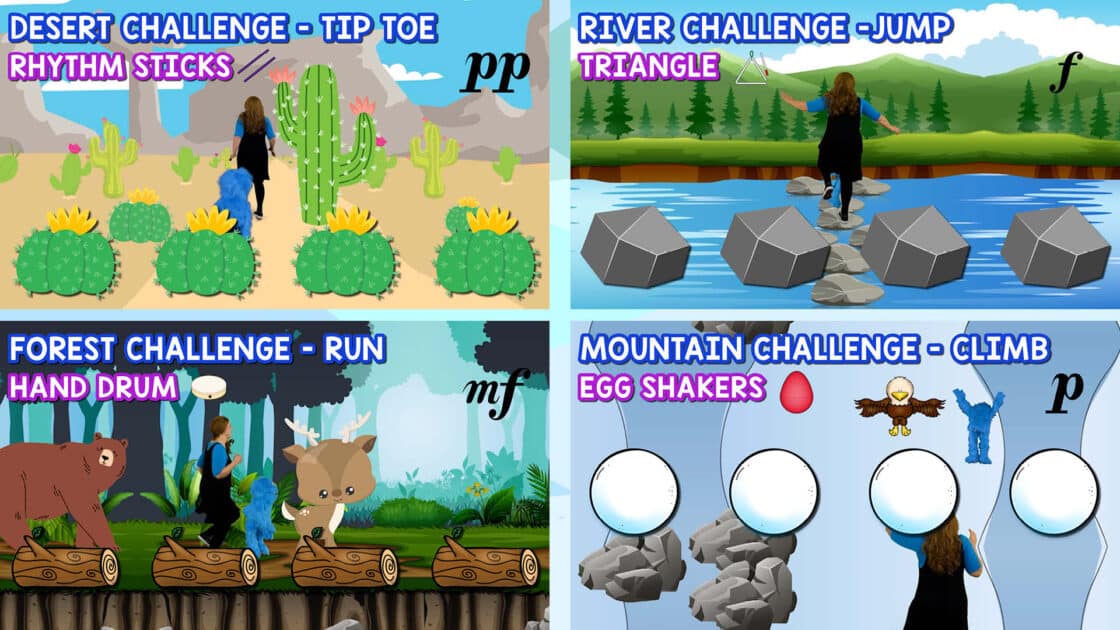 You will want to use the level of rhythms that grade needs to learn.
Incorporate the music concept goals into this activity to support your learning goals for that grade.
"Brrr. It's cold out here, that's for sure." Chimes, bells or xylophone melody
"I'M SNEEZING AND FREEZING AND SHIVERING TOO!" Chant and Play the rhythm of the words on rhythm sticks (6/8 Time Signature)
"ACHOO!" Jump up and clap ti taah!
 "MAKE ME BRAND NEW" Ta ti ti ta Drum roll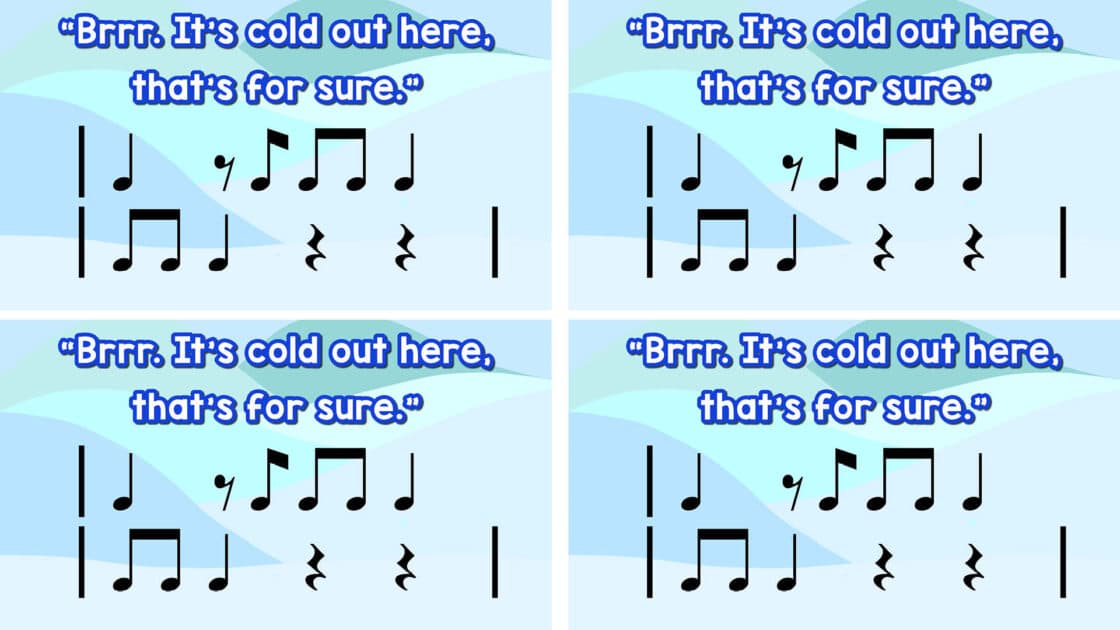 CREATING and COMPOSING ACTIVITY
It's important to include creating and composing activities that give students a chance to implement the skills they've used during the activity.
You can have students break into groups and create a rhythm pattern or melody for each of the repeating lines.
Have them write out their parts and teach the class too.
You can use some of the FREE RHYTHM WORKSHEETS from the resource library for this activity.
Be sure to SUBSCRIBE today.
I hope you got some ideas on how to incorporate movement and music activities with literature today.
LISTEN TO THE PODCAST
Let's Move and Learn with Music!