The long awaited summer's here and  it's the perfect time for teachers to purge, plan and prepare for the coming school year. If you're like me, you're lowering your shoulders a bit, de-stressing and doing things you don't get to do during the school year. So now it's time to set some summer goals!
I try to get out of the Arizona heat and get to the mountains or the beach. Another favorite place I love to visit is Utah where the trees are green, there are real mountains, sometimes with snow caps, and plenty of outdoor activities to choose from to get replenished and renewed.
That's why getting out of the heat is one of my summer goals.
A FREE PLANNER TO SET SUMMER GOALS
Keep on reading how to get the free planner to make the most of your summer goals. Or, if you're a subscriber, go the Free Resource Library and get your copy of the planner to help you make the most of your summer.  RESOURCE LIBRARY LINK
Want to subscribe NOW? SUBSCRIBE HERE TO GAIN ACCESS TO THE FREE RESOURCE LIBRARY.

SUMMER GOALS HELP ME REFLECT AND IMPROVE
Even as I drive out of the desert and into the green mountain areas I'm  reflecting on the past year. I'm asking questions like, "what went well?", "what do I need to do better?", "how can I make my job easier?" "How can I be a more effective teacher and person?"
I don't know about you, but driving or flying away let's me process my thoughts and feelings and allows me to do some big picture planning.
It's especially  helpful when the driving is during the summertime when I can focus more on how to bring more balance to my life. That's why I feel like my summer planner is almost more important that my school year planner-actually it's more fun because it's just "ME".
I've titled my summer planner "My Summer Dreams". I've got to go through stuff and PURGE, I desperately need to CLEAN and I plan on spending time PREPARING for the next school year.
Honestly- I feel like I have so  much to accomplish! That's why I created a planner just to use in the summer goals.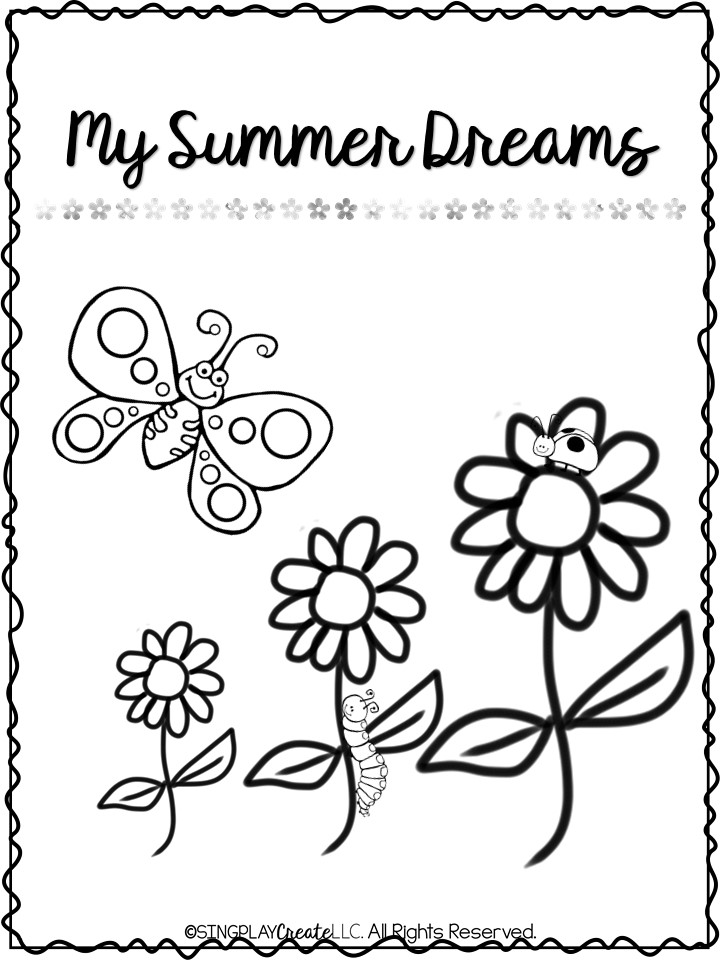 SUMMER GOALS ARE ACHIEVED THROUGH SMALL TASKS
When I return home from my vacation I know that it's time to get down to the summer purging, cleaning and then preparing for the next school year. The first thing I do is to purge some of the closets and drawers.
The method I use for purging may take you by surprise. If you've noticed I make a lot of brain break and creative movement activities–don't laugh-but it's because I NEED THEM!  I take regular "brain breaks" when I'm working at home.
I don't like to purge and clean out cupboards so I came up with a plan that works well for me. Instead of say that "today" is clean out the closet day, I break things into 10-15 minute tasks and knock them out one job at a time.
I've found that after 45 minutes to an hour, I need a brain break.
Sometimes I'll do some Yoga or stretching, make phone calls or clean  out a drawer.
That's why I decided to whip up a little planner so that I'd have all of the tasks organized so I could achieve my summer goals.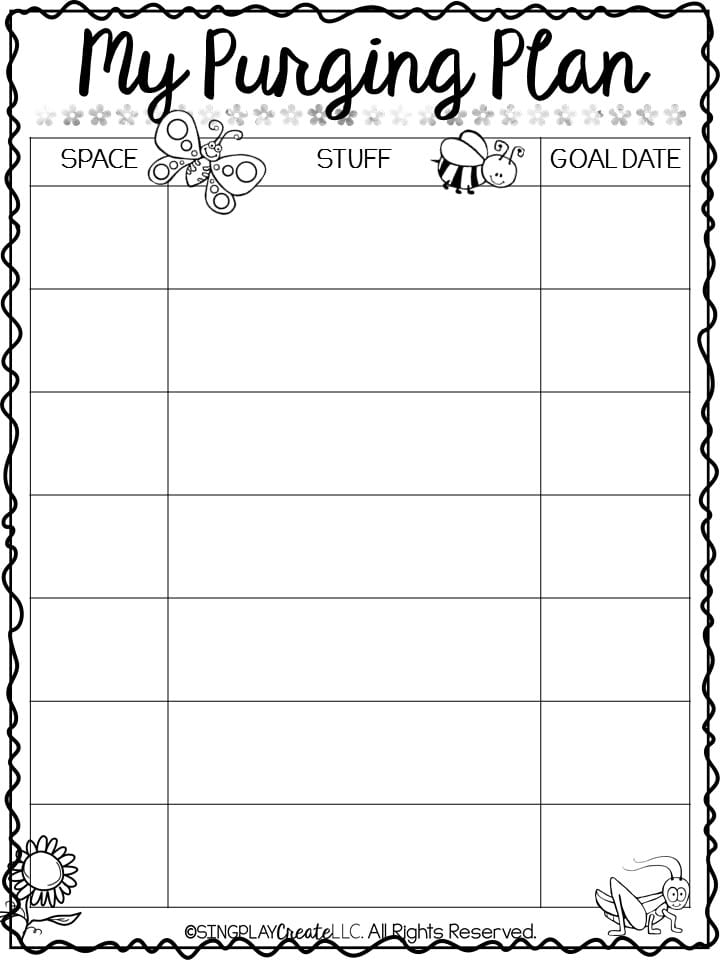 And since I didn't want to go crazy, I learned to just shut their doors sometimes, as we didn't always see eye to eye.
It's funny looking back and now I get to have it be the way I want it to all the time.  I use the same process with my house cleaning chores.
Since creating things is my passion, I have streamlined my house hold chores and found that doing small tasks works really well for me and keeps the house relatively clean all the time.
This kind of chunking works for me so that I can spend time getting outdoors and in my creative pursuits.
I find that keeping things put away and the house uncluttered helps-but it does take consistency and dedication.
Remember, goals are great as long as they don't cause guilt and stress.
Just like we all do with our music lessons, it's important to set small and manageable goals.
Click here to subscribe NOW: SUBSCRIBE HERE TO GAIN ACCESS TO THE FREE RESOURCE LIBRARY.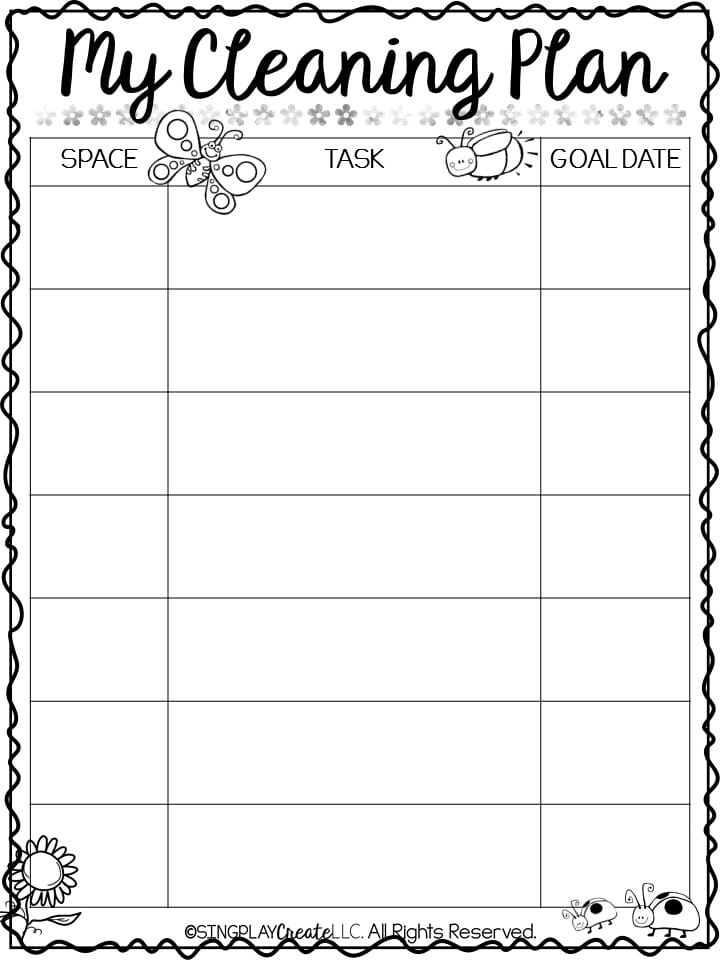 I have to admit that it's not a perfect situation and there's days when the dishes don't get done and my laundry piles up.
But overall, I feel like the plan itself works well for me. Here's two more tips for keeping your house "clean".
TIP: Clean one thing a day for a clean house all the time.
TIP: Put things away and clean as you go for an uncluttered house.
SUMMER GOALS HELP ME MOVE FORWARD
I'm a big believer in committing to plans. I was the kid who wrote in a journal and poured my heart and dreams out on every page.
Now I'm more into itemized lists and post it notes.
Before I became a teacher, I'd schedule my day in 30 minute  blocks.
When I became a teacher the schedule was an easy thing for me to fall into and actually made me feel at home.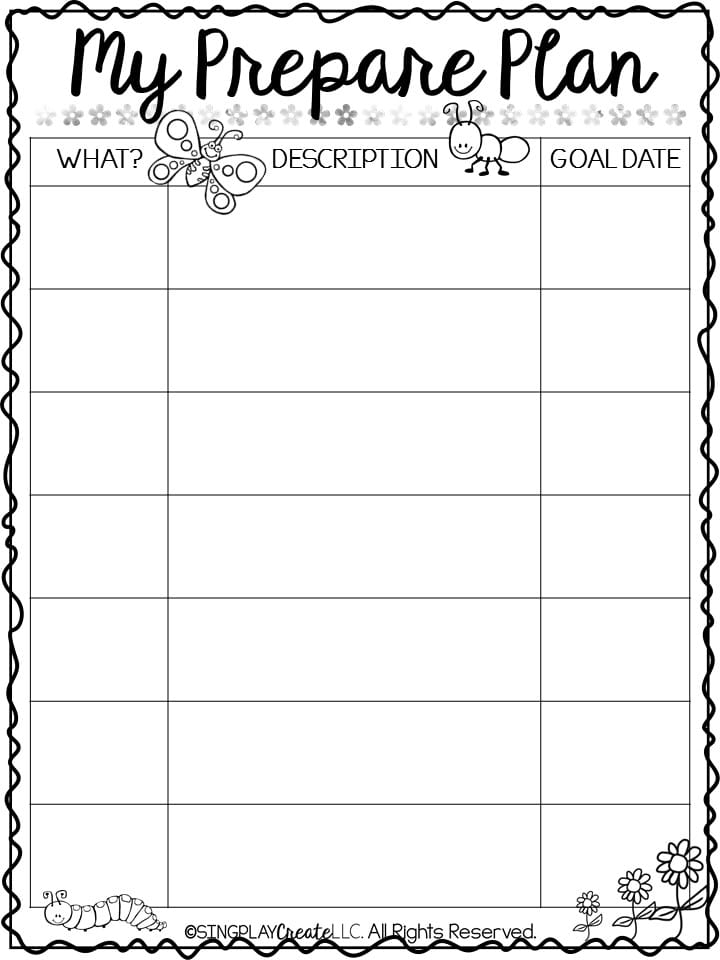 So setting small summer goals helps me because I feel like I'm moving towards the future and not cleaning out the past.
Although purging old stuff seems like it's "past", it's actually clearing space in my life for the future.
WHAT?
I want to accomplish-describe it, and then set a goal date. I"ll put this on the refrigerator for my husband to see too. I'm sure there will be some things on there that I'm hoping he'll help me get done.
SUMMER GOALS HELP ME GET READY FOR THE NEXT SCHOOL YEAR
Hope you're not laughing at my summer goals! I know it may seem a bit over kill- but- I've learned that goals really help maximize my summer time and really do help me feel more refreshed and ready for the next school year.
Honestly, sometimes my goals are as simple as "create a new morning routine", or "try a new recipe a week".
It's a fact that summer goals can get out of hand when I try to attend workshops, travel and have too many "house" or "personal" goals.
But overall, I've found that summer goals really do help me inside and out!
I hope you'll subscribe to the newsletter and learn how to get kids moving and learning music!
SUBSCRIBE HERE TO GAIN ACCESS TO THE FREE RESOURCE LIBRARY.
I'd love to hear about your summer goals!
Here's hoping your summer goals help you meet your dreams!
And, take a minute to share this post on Pinterest and Instagram with your friends.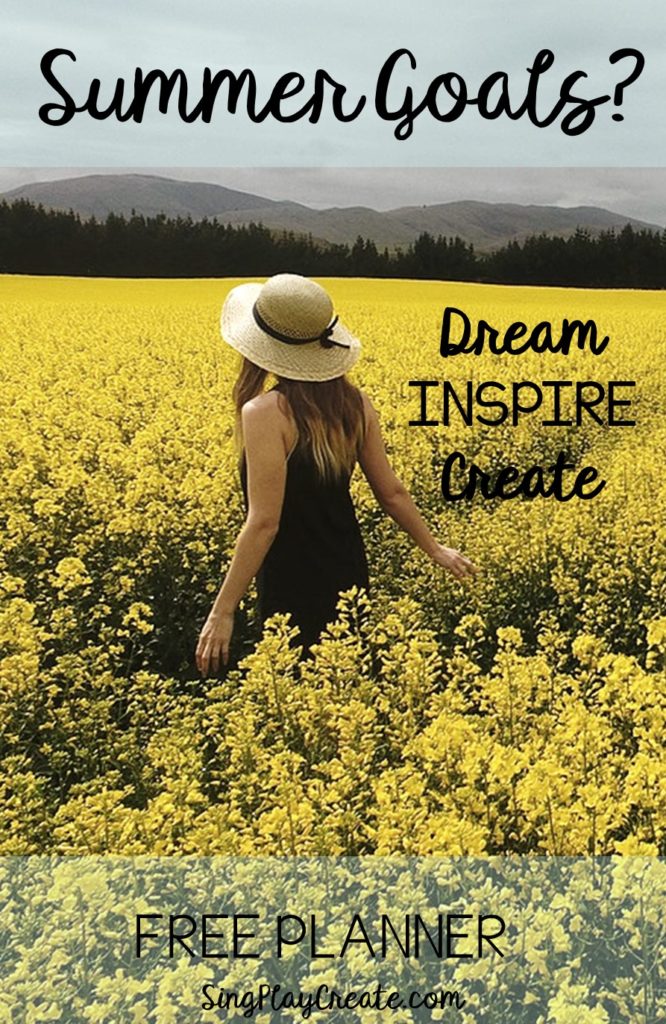 Thanks for reading about my summer goals. Dream Big!
CLICK HERE FOR YOUR FREE SUMMER GOAL PLANNER