I feel like I could write a whole book on helping music teachers get ready to go back to school, (and yes, I'm going to-). because there's just so much energy, planning, organizing, making, even thinking (!) that goes into the beginning of the school year. And, if done right, your preparation can set you, the teacher, up for success as a teacher and your students as learners.  Yes, there are more ideas and things to consider- and you can grab those ideas from some of the other blog posts I've written. You'll find the links at the end of this post. But to kick off the school year with confidence and success, you'll want to get the top five music class essentials.
MY TOP FIVE MUSIC CLASS ESSENTIALS
But this post is just the top five things that I feel are essential to my classroom. And they are the ones I've put the most time into as a teacher. Interestingly, some of these things aren't even covered in your teacher training.
And because teachers across the country and around the world teach in so many different and diverse environments and circumstances, every one of you may need something else in addition to these five things.
But still, I think that these are the top five essential things music teachers must have to be ready for back to school success.
 SONGS AND GAMES

CLASSROOM MANAGEMENT

CLASSROOM DECOR

MUSIC PROGRAMS

LESSON MATERIALS
1-SONGS AND GAMES
Most music teachers like to begin class with a chant, a song, or some rhythm echo activities.
Greeting students with a hello song is a great way to build classroom community and establish yourself as the teacher.
After the first week of school, I like to begin each class with a hello song. This is why I've established different songs for each grade level. I don't want materials to cross over the grades because I want the students to have fresh materials each year.
But but you can use one or two songs for those first weeks back to school.
When I first started teaching, I used the songs that I already knew.
For Example, in Kindergarten I use this song:
"This is the Way We Say Hello" to the tune of "Here We Go Round the Mulberry Bush".
I changed the words to be;
"This is the way we say hello, when we come to music."
"This is the way we clap our hands, pat our knees, stomp our feet, beat our chest, blink our eyes, nod our head."
You can ad lib. your own verses!
You can find this song with vocal and accompaniment tracks, Video Sing a Long and presentation posters in the TpT store.
There's also this fun favorite:
"Hello There"
Hello there (echo)
How are you (echo)
It's so good (echo)
To see you (echo)
We'll sing and –(echo)
Be Happy—(echo)
We're all here together again-(echo)
Check out the teaching VIDEO HERE (it's not me-another teacher created it)

Greeting students with a hello song is a great way to build classroom community and establish yourself as the teacher.
I walk around the room and look into each student's eyes as I sing to them. I'm letting them know that I care about them and that we're going to have a wonderful year together.
At other times, I've used songs with a theme. to welcome students back to the classroom. This year I wrote "I've Got the Back to School Blues". I wrote it to help students feel okay with NOT wanting to come back to school. It's got a bit of humor and truth in it and I've found success using it with my 5th and 6th graders. After I show the video I ask the students to get into groups and make up actions to the lyrics. Then I have them get up on the little stage in my room and perform the song. Everyone joins in on the Chorus. This is a Free Video Resource in the Sing Play Create TpT store.
Looking for more songs and games? Look no further!
Get some familiar and easy to use songs, games and chants for your K-6 music classes.
The Music Class Essentials is packed with materials. And the Music Class Essentials PLUS Back to School Bundle is LOADED with songs, games and activities!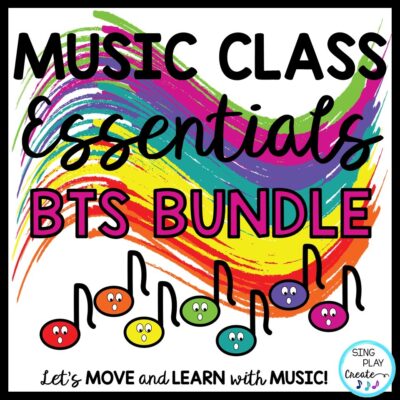 MUSIC CLASS ESSENTIALS BUNDLE RESOURCE INCLUDES:
Essentials Packet with Songs, Chants, Games, Sheet Music and Rules
Music Class Essentials Power Point & PDF with Songs, Chants, Games, Rules Posters
Décor Music Class Posters and Flash Cards
Solfege Posters and Games
First Week Activities with Lesson Planners and Name Tags
Music Teacher Essentials Complete Planner
Music Mp3 Files
Video Files
Hello Song Teaching Presentations, PDF, Mp3 and Video Sing a Longs
MUSIC LESSON RESOURCES INCLUDE:
1-Concert Manners Poem K-6
2-Positive Behavior Wrist Bands and Brag Tags "I'm a Super Star" K-6
3-Back to School Game Song "Apple Tree" Orff-Kodaly Lessons and Games 2-6
4-Choral Song "Come Along and Sing With Me" 3-6
5-Back to School Music Class Chant and Game: "Get to Know Ya" Rhythm Lesson 3-6
6-Back to School Kodaly "Hello" Song with Game and Lesson K-3
7-Back to School Body Percussion Activity "Clap-Pat-Snap" K-6
8- Resource Guide with a sample monthly lesson plan outline and blank Weekly planning sheets.
HELLO SONGS:
"This is the Way We Say Hello"
First Grade: "Hello My Good Friends"
Second Grade: "Hello, Hello Good Morning to You"
Third Grade: "Hello, Hello Good Afternoon"
"Good Morning to You"
"Good Afternoon"
"Hello, Hello How Are You"
Hello Songs Sheet Music
NAME CHANTS AND SONGS:
"Apple Tree" Name Game
Beat Ball #1
Beat Ball #2
 "Johnny Plays the Drum Beat"
Drum Beat Name Game #2
Hickety, Pickety
"Johnny, Johnny Will You Stand Up?" /"Mary, Mary Will You Stand Up?"
"Mary Wore Her Red Dress"
"Name, Name is who I See" K-1
Name Toss
We will Name You!
What's My Name?
Who's Got the Bean Bag?
"Who's That Tapping on the Window?"
CLASSROOM MANAGEMENT CHANTS AND SONGS:
Brain Break #1
Brain Break #2
Categories
Get Quiet Chant
Quiet Finger Play
Ready to Sing
Here We Go Round the Music Room
Keep Your Hands Feet and Words to Yourself-"Keep Your Hands, Feet and Words to Yourself"
Lining Up Chant
 "Following the Leader"
 "This is the way"
"Keep Your Hands, Feet and Words to Yourself" Sheet Music
Listening
#1 Movement Activity #1
#2 Movement Activity #2
Personal Space Song/Chant
Quiet Transition Activity
Scrambled Eggs #1
Scrambled Eggs #2
Silent Thank You
Sitting Down- "Criss Cross Applesauce"
Standing Up Stretch
Stand Up- Give Teacher Attention
Super Hero Line Up
These are The Rules Echo Chant
TEAM BUILDING GAMES
Concentration
Categories
"What Did You Do This Summer?"
2-CLASSROOM MANAGEMENT
Even this year, I had to change my first day lesson plan for one special class. I had a group of very young Kindergartners come into the music room and I knew right away that my planned lesson was NOT going to work.
So I went to an easy chant to get them settled in their spaces.
Next I sang; "Criss Cross Applesauce"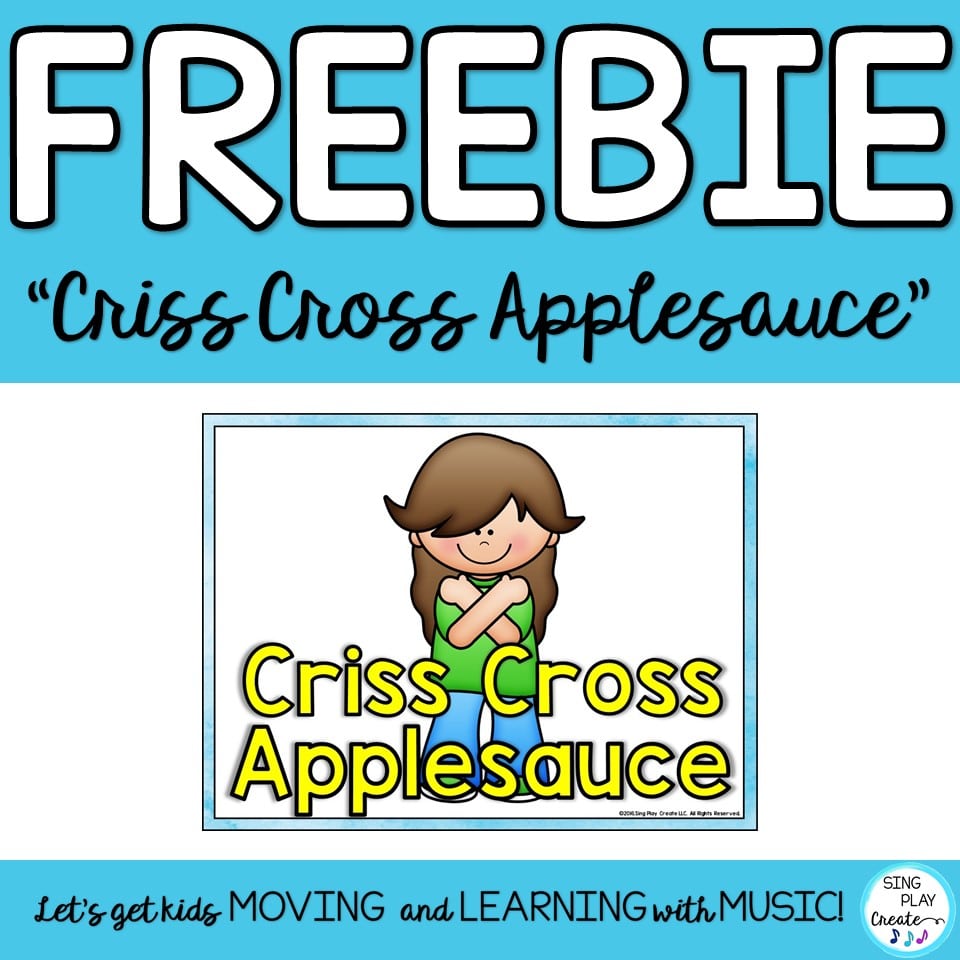 The students sit on sit spots in my room and I had them all sit down. "Hello Kinders!" I sang, hoping to get them quiet and to stay seated long enough to tell them my name and begin my "welcome back to school" presentation.
Then I sat down on my little stool and began patting my knees without saying anything. Pat-pat- pat-pat- waiting and watching.
Slowly everyone joined in and we were all patting our knees together.
Anytime someone blurted or yelled out I would stop talking and just pat my knees.
Then I began my story.( ad lib here)
"Let's go on a train ride!" pat, pat, pat, pat
"Let's take the train down the track" pat, pat, pat, pat
"See the horses in the fields" pat, pat, pat, pat
"See the cows eating grass" pat, pat, pat, pat
"Keep on going don't look back" pat, pat, pat, pat
"Let's go through the canyon" (sway to the side) pat, pat, pat, pat
"See the water rushing in the river" pat, pat, pat, pat
"Let's go up the mountain" pat, pat, pat, pat
"C'mon, we'll have to go slower" (slow the pats down until you get to the top)
"Now we're at the top of the mountain- high in the sky by the big sun"
"Oh, no! we're going down the mountain" pat, pat, pat, pat
"Faster, faster down the mountain" pat, pat, pat, pat (pat crazy- out of control- but stay in seat)
"Slowing down now as we get back to the station" pat, pat, pat, pat
"Slower, slower, slower- STOP!"
"Whew! We made it all the way around the track!"
"Did the engine fall off the track? What would happen if it did?  (It would crash)
That's right- and we must stay in our spaces too! Everyone show me your space."
I then took them to the jungle where we saw a lot of different animals (which they acted out). Finally the train had to be done for the day.
Transition!
Then I grabbed my guitar and went right into "If You're Happy and You Know It"- which most children know.
If you're looking for more classroom management songs and games, you can find them in the Music Class Essentials Resource.
Of course classroom management is supported by the classroom rules.
Take a look at some of these posters.
My Most Important Rule: I CAN STAY IN MY BUBBLE SPACE
And to help students learn the song I made up verses to "If You're Happy and You Know It"  to reinforce the concept of "personal space".
In between each verse I'd remind the students to stay on their dot and in their "bubble space".
"If You're Happy and You Know It"
Keep Your Hands, Feet and Words to Yourself"
Clap! Clap!
If You want to be Nice (point to face and smile),
Then follow this advice, (point in the air to give advice).
Keep your hands, feet and words to yourself!
touch your toes

shake your hips

touch your nose

wiggle around

jump up and down

hop on one foot

spin around

pat your knees

clap your hands
After I teach the rules I ask my students to sing this song to the tune of "If You're Happy and You know it".
Most of all, I'm hoping my students learned that we'll be singing, and moving in the music room and that they need to stay in their bubble space and to be quiet when we're not singing, and to listen to the teacher.
It was rewarding to hear from one little boy, as the class walked out the door, "my favorite part was the train ride!"
Be Thankful!
Another tradition I've established is that after I have students line up quietly, they give me a SILENT thank you-in sign language.
The teacher's like it because it helps the students transition from music back to walking quietly in line through the hallway. I also think it's good for the students to say thank you!
Building classroom community is so important in those first days of music class. I like to establish connections through games and songs. There's one game I like to play that helps me with names and also with learning something about my students. I'm not sure of the "title", so I'll call it: "My Name is ;"
Everyone stands in a circle.

Pat knees on the Steady Beat (I also use a small hand drum to keep us together).

Teacher begins:

"My name is Ms./Mr. ________________

I come from ________________________

And I like __________________________

1-2-3-4 (I count the beats aloud to give students time before their turn)
Connect!
After the game is over, I tell students to "connect" with other students who like the same things. If there's no one to connect to, then I tell them to use a second or third choice.
One thing I've done over the years is to establish different games for each grade level. That way I establish a tradition for that grade.
After all, you don't want your students to get bored with the same games.
On the other hand, you can use a new game every year for everyone!
VARIETY OVER THE YEARS!
Honestly, There's a lot of different ways to organize your back to school lessons.
Build Classroom community with songs and games like this one for primary grades:
 "I Like You and You Like Me"
Something else I've used that really captures the attention of my primary students is the word MAGIC!
LINK TO FREE MAGIC TOOLS RESOURCE
FREE MUSIC TEACHER BACK TO SCHOOL ACTIVITY
FREE BACK TO SCHOOL ICE BREAKER GAME
What kinds of traditions can you or have you established in your classroom to start or finish music class?
 #3 CLASSROOM DÉCOR
Who likes to decorate their classroom? "Not I" said all of the barnyard animals and ME.
It's true! Decorating is NOT my favorite thing to do for BTS.  Most of all I absolutely hate taking staples out of the walls and I hate stapling things on the walls.
I decorated my classroom with a black and white theme so that I could change the other colors or add to it easily through the years. And that worked!
Sometimes I put motivational posters in my room. I made this one. You can download the FREE RESOURCE HERE
But, I will admit, classroom décor is important because the kids need the VISUALS!
One thing I've learned is to put pictures and posters of music elements at EYE level so students can see them better. Another, is to make the decor fun yet, practical.
If you're looking for a colorful set of Music Class Decor, you'll want to check out the Music Essentials Decor Package. It will blend well with many other decor packages.
Get the FREE BULLETIN BOARD Idea and Music Posters for your music classroom!
4-MUSIC PROGRAMS
I like to have all my music programs chosen before school begins. Sometimes I don't have all of them figured out-but since I've been teaching for a while, I am now able to rotate my programs about every four years.
I like the programs to focus on the student's music skills. I typically don't do programs that have a lot of speaking parts either. Most of the teachers at my school do not want to practice parts with the students, and my schedule doesn't permit me doing it- so I've used chants, or jokes and short lines for most of the programs. The students really like the chants that we do in between the songs, and it's an effective way to keep the program moving along.
Many of my music programs involve the classes performing on instruments, showcasing a dance or game from another culture and demonstrating the singing skills of that grade level. For example; 1 class will be playing Orff instruments in one song, singing a round and performing a folk dance from Israel. Each class in the grade level will perform material from a different country for an amazing multi-cultural music program.
WHAT'S MOST IMPORTANT?
I think the most important thing would be to outline when the programs are going to be and to choose a "theme' or idea for the program and the skills you'd like the students to demonstrate. Then, most likely the songs will be easier to choose.
I created a Multi-Cultural Music program sampler LINK HERE  (I have not as yet, finished the completed program)
5-LESSON PLANS AND MATERIALS
Once I have all my dates in the planner including concerts and programs I can then go and organize my lessons. They are organized around the standards.
My state has it's own standards and I've gone through them and selected the essential ones that I can teach in a school year. I also have I CAN statements for each of them that I put on my board, or I write them in…
Since I've been teaching awhile, I have tons of lessons to choose from and have a sequence of skills worked out for each grade. I usually plan them by the month, or in 4-6 weeks/lesson units.
Here's my top ideas:
Organize the big concepts and standard lessons for the year and then leave some space for things I might want to do new or change.
Create an overview for the year- but with flexibility to change things if needed.
Block out the program dates in the calendar, count backwards about ten to twelve school weeks so that I know when to begin to get ready for the program.
Block in the essential standards the rest of the year, or create your scope and sequence.
Consider: 
Using music themes for the year like; Multi-cultural music theme, a Music History/Style Theme, a Connect to Social Studies Theme.
Once you have the year blocked out, the rest will flow pretty naturally.
If you're looking for a Music Teacher Planner, you'll want to check out the Music Essentials Planner: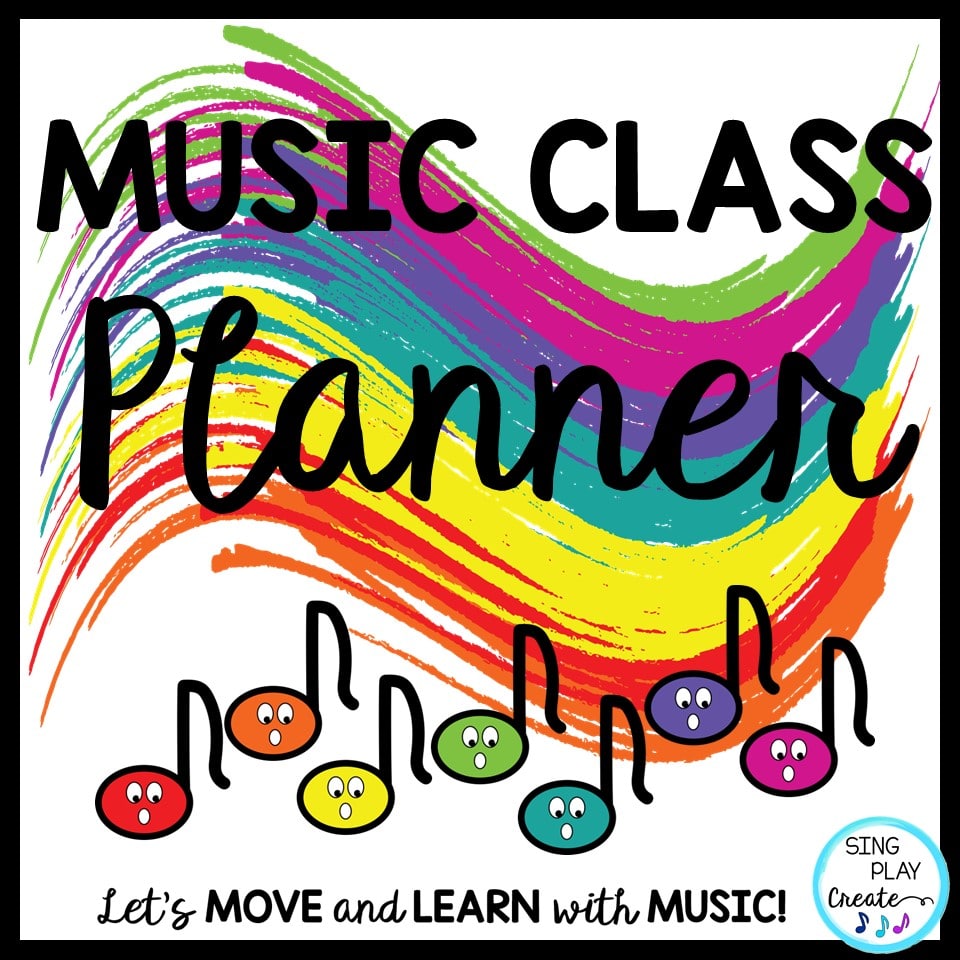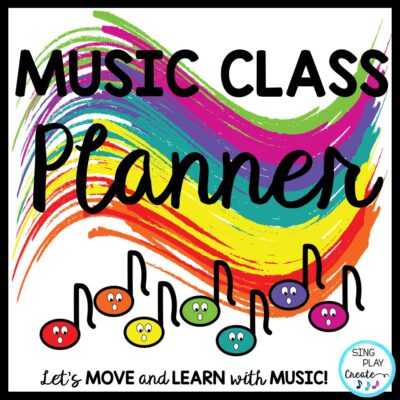 Of course, you need teaching materials. This is where I'm hoping I can be especially helpful. When you subscribe to the Free Resource Library, you'll get a sampling of songs, games, activities, manipulatives, posters and planning materials to get you started.
Don't Forget!
If you subscribe to the Free Resource Library, you'll be able to access over 40 Free Resources including these posters, planner pages, standards and I can statements.
There's also a ton of Free resources in my Teacher's Pay Teacher's store!
SING PLAY CREATE FREE RESOURCES
Check out all of the Music Class Back to School Blog Posts for more Free resources and ideas on how to make your music class a success!
I "sing"cerely wish you the best during your first week of school and hope that you'll be able to keep calm and centered throughout the year.
FREE SING PLAY CREATE RESOURCES
FREE BACK TO SCHOOL LESSON AND SONG
HOW TO ENERGIZE A MUSIC CURRICULUM WITH CREATIVE MATERIALS
Please share this with your music teacher friends!