Have your students got the spring wiggles?  Mine do!  I think it's because we're testing right now and they can feel the tension in the air.  It's the perfect time to bring out the spring movement activities. Keep reading to get the egg shaker and spring music activities freebie!
EGG SHAKER FREEBIES
#1 EGG SHAKER ACTIVITY SING-A-LONG
"Shake Your Egg Any Color" YouTube Video
The complete resource can be found here:  "Shake Your Egg Any Color" Song and Activity Resource
#2 EGG SHAKER SONG AND ACTIVITY FREEBIE
Are you ready to get shakin'?  Don't know what to do with your egg shakers?  Want to make your own egg shakers?
Take a look at this blog post where you'll learn how to make egg shakers from recycled materials.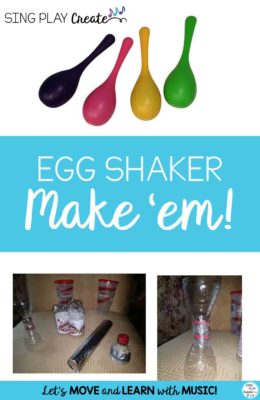 Get the activities in a FREE download when you subscribe to the FREE RESOURCE LIBRARY and NEWSLETTER.
Use the YouTube playlist in the blog post in your classroom.
Egg shaker activities were never so easy with this Teacher friendly booklet.
Already a SUBSCRIBER?
CLICK HERE TO GO STRAIGHT TO THE RESOURCE LIBRARY AND DOWNLOAD YOUR FREE ACTIVITIES BOOKLET.
Don't have any egg shakers?
What?
No worries!
#3 SPRING THEMED RHYTHM ACTIVITY FREEBIE
Looking for ideas incorporating Spring Themes into your music classroom?
Check out these Spring Beat and Rhythm Activities.
Try these Free flashcards in your music classroom.
Why not hand each student a card as they walk in- then ask them to make groups of 2 or 4 students.
Have them say and play their rhythms together, then go get some instruments (egg shakers!) and play them for the class.
This is an easy and very effective transition activity.  Although you will want your students to have had some experience doing this type of activity prior to using it as a transition.
After you use this type of activity, then you can bring it out as a transition.
Why do I love it?
It's ENGAGING-FOCUSED and FUN
Just subscribe to the FREE RESOURCE LIBRARY HERE.
Already a subscriber?  CLICK THIS LINK TO GO TO THE RESOURCE LIBRARY
I'm hoping these free egg shaker activities and spring beat and rhythm flash cards will give you some "wiggle" room during your spring music classes!
Please share this post!