MUSIC ACTIVITIES WITH SPRING RHYTHMS
It's time for some rhythm practice! Whether you're at school teaching, homeschooling or teaching online distance learning classes, your students will love clapping and tapping these spring rhythms.
Keep reading to find out how you can get the lesson ideas for FREE!
REVIEW THE NOTE VALUES
The first section of this teaching video will help students review the basic note values.
READ THE SOUNDS
Next you can read the sounds.
Want to practice your rhythms?
Check out this Music Theory resource with VIDEO practice activities.
TAP AND SAY THE SOUNDS
Then, tap and say the spring rhythm sounds together.
CHOOSE A SPRING RHYTHM
Finally, you can practice playing along with the beat track.
Rewind the video to practice all of the rhythms.
Grab a partner and have them play one part while you play the other.
RHYTHM MADNESS
Finally, use some instruments or home made drums, shakers or body percussion to play the Spring rhythms.
In addition, you can use your piano, guitar, ukulele or other pitched instrument to practice learning note names, strings and pitches.
Try playing all of the rhythms on one note.
Or, try playing the rhythms on the notes in one chord, like C.
You'd play C E G.
Great way to learn your chords!
CRAZY SPRING RHYTHM INSTRUMENTS
For a bit of Spring craziness, why not try all the different rhythms using different sounds you can find at home or in your classroom.
wooden spoons
silver spoons
pots
pans
oatmeal containers
cans
chopsticks
balloons
rubber bands
hair bands
wood floor
carpeting
tile floor
Want to make your own egg shakers?
Check out this Blog Post!
CREATE YOUR OWN PATTERNS
Freeze the video on the section that has all of the sounds on one slide/page.
Next, create a 4 beat pattern using the 1 beat rhythms.
What?
Use only, WORM, TULIP and VEGETABLES to create a pattern.
Play your pattern for a friend or teacher, or parent.
Next have the other person play only SUN or RAIN rhythms.
Put your parts together!
Now you are making music with your spring rhythms.
Like this activity?
Be sure to subscribe to the SING PLAY CREATE RESOURCE LIBRARY.
Music education Freebies for Preschool, Homeschool, Distance Learning, E-Learning and Online music education.
SUBSCRIBE HERE TO GET THE FREE REESOURCE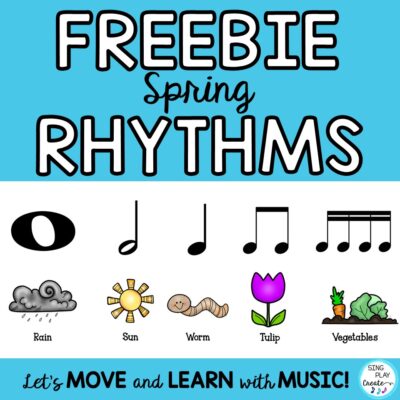 Most of all, have fun with these Spring Rhythms!