Why use springtime themed activities? It's because we are all thinking about Springtime and when we take a walk outside, see a butterfly or decide to plant a garden.
We want our kids to "buy" into our music lessons, and so doing activities that connect Springtime to a music learning goal can help students internalize music concepts. Keep reading to get the FREE MOVEMENT ACTIVITY RESOURCE.
SPRINGTIME MOVEMENT ACTIVITY IDEAS
Although it's springtime, many places still have snow and colder weather. Movement activities can help students get out the wiggles and have some fun.
You students will love moving to the SPRING FREEZE DANCE!
Springtime movement activities can evolve from books, songs, chants, poems and videos. Children respond well to rhymes and love to act out stories.
Try reading a book and then having the student play the characters. It's best to find a picture book with action words.
I love this spring book by Dr. Seuss "Spring Things"
You can incorporate movement and instruments into the activity too.
Start with reading the story, then movement, then have the students create sounds for the actions using classroom instruments.
This book is about spring animals and would be a great springboard for a movement activity about spring animals. "Animals in Spring (All about Spring)"
You can also find many stories on YouTube. Here's a spring picture book for young children.
You can use Sing Play Create Spring Music Tracks on Spotify or Apple music for this activity.
PRETEND PLAY
Use music tracks for students to pretend to be different spring characters. Here are few suggestions:
BEE
BUTTERFLY
FROG
SQUIRREL
BIRD
CAT
DUCK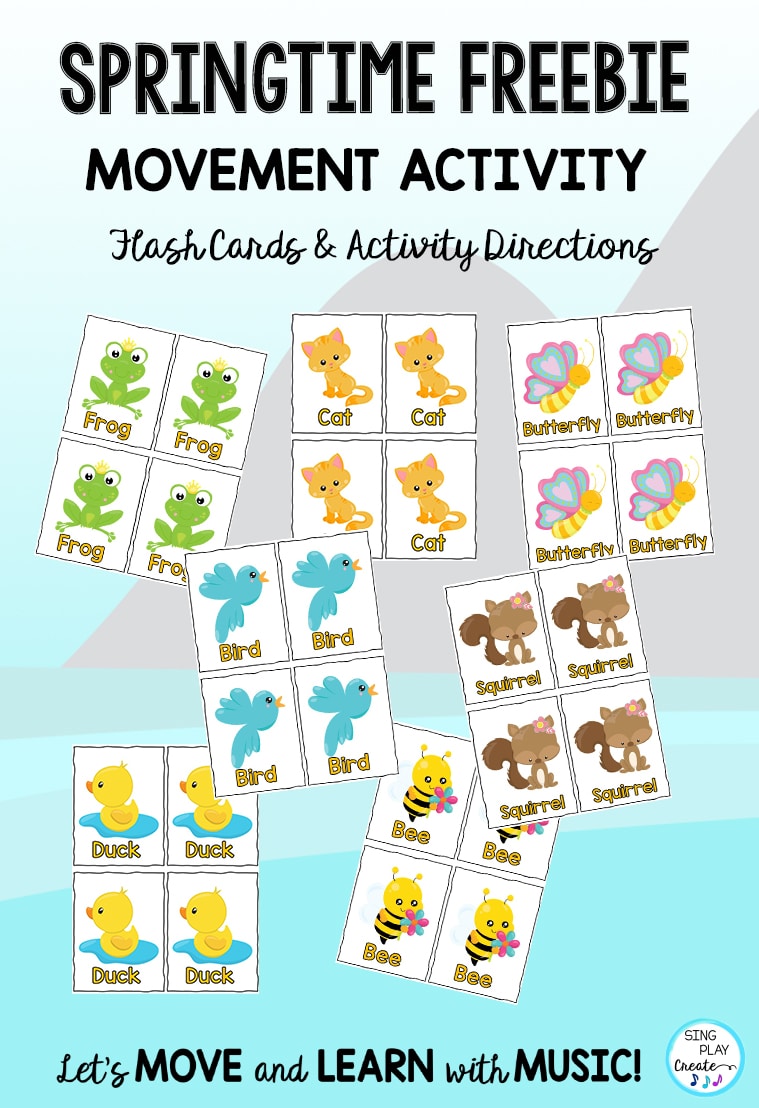 LEARN MUSIC CONCEPTS THROUGH MOVEMENT
Next, you'll want to focus on learning goals like rhythm, beat, pitch, dynamics etc.
So you can have students play pretend, but move on the beat.
You'll only need a drum or percussion instrument.
Be sure to show students where you want them to move. Give them a defined space.
I find that it helps everyone if they can watch what some of the other students are doing too. So, you may want to have part of the class do the activity and the other part play the beat.
You may want the students to experiment first with the movements. Have the class brainstorm ideas on how to move to the beat. I find that it helps everyone if they can watch what some of the other students are doing too.
SPRINGTIME MOVE TO THE BEAT ACTIVITY
Divide your class in half.
Group 1 will play the beat on drums or patting knees.
Group 2 will move to the beat.
Group 2 chooses a card from the pile and then shows the other group their beat moves.
Then, switch roles.
I feel like the children need space and freedom to experiment with their movement. It may be their first time doing this type of activity, so you may want to be pretty liberal with your expectations on how they show the "beat".
You can get this free set of activities when you SUBSCRIBE to the Sing Play Create Newsletter.
And, now you can find Sing Play Create instrumental music tracks on Spotify, Amazon and Apple Music, iTunes. They are perfect for movement, steady beat and rhythm play along activities.
MORE SPRINGTIME MOVEMENT ACTIVITIES
Finally, I like to have a movement activity either in the middle or at the end of class.
Kids love to move and the Springtime Freeze Dance Activity will definitely help with wiggles. It's a fun one for all grades.
It's also a good reward for students who have worked hard during the music lesson time.
Try this SPRINGTIME SCARF VIDEO with your Kinders and First Graders