I'm sharing 5 easy elementary music rhythm activities in this post today. Rhythm activities to help your students see, say, think and play rhythms.
STEPS TO DECODING RHYTHMS
Are you ready to help your students decode rhythms?
It sounds hard, but it's not.
You can get the FREE RHYTHM TEACHING GUIDE when you SUBSCRIBE to the Sing Play Create Newsletter and Free Resource Library with over 80 free resources.
Even though we're going to dive into rhythms, I like to begin with students playing the steady beat.
I'm using the song RAIN RAIN GO AWAY.
I like to use Icon charts like this one.
I have my students pat the beat as I sing and clap the rhythms.
Next, I tell them that we're going to clap the way the words go. We'll clap every time we make a sound.
And I ask them to echo me.
RAIN RAIN GO AWAY
COME AGAIN ANOTHER DAY
RAIN RAIN GO AWAY MUSIC LESSON LINK
I'll ask them to clap the rhythms while I pat the beat.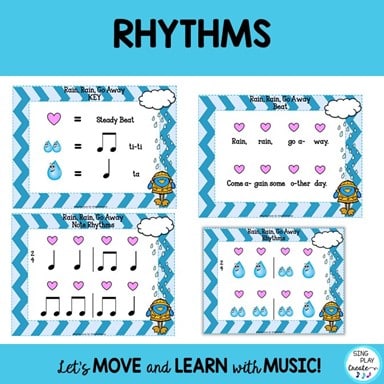 RHYTHM ACTIVITY WITH A SCARF
You can also do this activity with a scarf.
Play the beat on a drum and have the students play the rhythms using a scarf.
This is a great way to help them feel the rhythms and prepares them to use inner hearing.
DEVELOP INNER HEARING
Now I can ask them to play the rhythms using their inner hearing.
This means they won't speak-just show the rhythms.
Have them clap the rhythms without saying them.
Or, use the scarves.
Think the words- show the rhythms.
Sometimes it helps if they close their eyes too or turn around an not look at the board.
SOUNDS IN A BEAT
Now it's time to go through each line and have them tell you how many sounds are on each beat.
I'm going to call one sound ta and 2 sounds on the beat ti-ti.
We'll SAY AND PLAY the rhythms several times.
USE A PLAY ALONG VIDEO TO DECODE RHYTHMS
I created several series of rhythm videos to use for decoding rhythms.
I like using the video because it's hands free and I can use it in many ways.
When I'm using one of the rhythm videos, first I have the students identify the beat icons.
How many are there? 4
Count them out loud- nice and steady. 1 2 3 4
Now let's pat them. 1 2 3 4
I will have them pat their knees and play the beat through one section.
Now we'll look at the rhythms.
In this example I'm using ta and ti-ti.
There's a rhythm for each beat.
PLAY THE RHYTHMS TA AND TI TI
How many sounds is this note?
Okay, this note is ta and this note is ti-ti.
Let's clap the ta and ti ti patterns.
Play the rhythms in the video. Stop after each section and review as needed.
Next, I'll have them do the exercise using the words.
I'll review the beat icons and then go through each word asking them how many sounds on this beat?
After we finish a pattern, then I'll have them say and play it for me.
CREATE THE PATTERNS
Now they can recreate and create the patterns using flash cards or manipulatives.
These are my favorite rhythm activities.
I love watching the students put things together and make important connections.
The important points in this process are comparing beat and rhythm, decoding the rhythms and then understanding that one sound is a ta and two sounds on the beat is ti-ti.
RHYTHM GAME 1
DIVIDE THE CLASS INTO 2 GROUPS
I pass out drums for Group A and Rhythm Sticks for Group B.
Drums play the beat and rhythm sticks play the rhythm.
Then I start the video.
Everyone then plays together.
At the end of a section or the video, we then switch.
We can play this game using ta and ti ti or using the words.
RHYTHM GAME 2
Now it's time for students show what they know!
This is a whole class activity.
They are going to create four beat rhythm patterns, say and play them. The class will echo them.
Draw four spaces on the board like this,
or use the google slides rhythm activity in the sing play create resource.
Place all the cards in a stack.
Have the students take turns drawing cards and placing them in one of the beat spaces.
Then I have them play the rhythm.
Have the class echo the rhythm.
Repeat as many times as needed.
After practicing, then you can use activity as a game.
Divide the students into small groups and have them take turns putting the flash cards in 4 beat patterns. Be sure to have them say and play them out loud.
You can also have them play on instruments. I like them to echo play so I would only use rhythm sticks for this rhythm activity.
RHYTHM GAME 3
Divide the class into two teams.
You'll need the presentation in the resource or some rhythm cards.
You can choose to have the entire team play the rhythms or take turns.
Team A will play the rhythm that's on the screen 2 times.
Team B will play the beat.
If they do not play the rhythm correctly, then it passes to the other team.
You can keep score if you want.
For some extra fun, use a rhythm instrument like rhythm sticks for students to play the rhythms.
Be sure to have them count in so that they play together.
Like this: 1-2-ready go.
An adaptation of this game is to have a variety of instruments in a bucket. The student who plays the rhythm can choose which instrument they are going to play.
SPACE ALIEN RHYTHM ACTIVITIES
We have an entire series of Space Rhythm Activities with Icon Level, Quarter and Eighth Notes, Quarter Rest, Half Note, Sixteenth Notes and Whole Notes.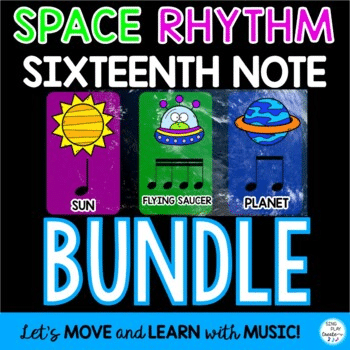 And I've put together BUNDLES of music lesson activities for grade levels.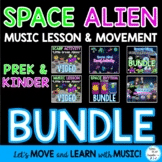 RHYTHM STATION ACTIVITIES
After you play the game as a whole class, you'll be able to use this activity for small groups.
Have the students use the flash cards to create 4 beat patterns or print out the slides.
Have them play the rhythms for their group.
Have the group echo play the rhythms.
Rhythm activities can become the foundation for all of your music activities. Students will respond and play music better when you consistently incorporate rhythm activities into your lessons.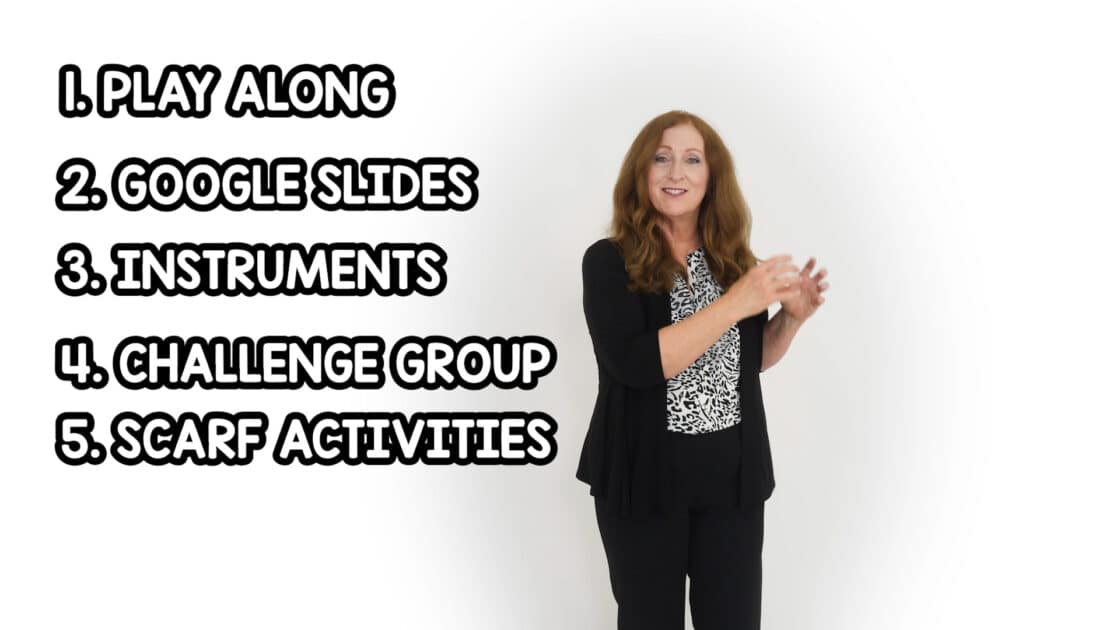 I'm hoping these easy rhythm activities help you in your elementary music teacher journey!
Get the FREE RHYTHM ACTIVITY GUIDE AND WORKSHEET ACTIVITIES
Looking for more rhythm activity ideas?
Elementary Music Class Spring Rhythm Activities
Rhythm and Body Percussion Teaching Tips