Looking for some unique and time tested elementary school brain breaks and transition activities?  Keep reading to get some FREE ideas and Links to resources you can use today.
We see it in their bored eyes, or their hands start to fiddle with shoe laces, or they start talking. They finish their work early, or they come into the classroom with a glazed look over their eyes. That's when it's time for elementary school brain breaks and transition activities.
Teaching Kindergarten? First Grade?  Preschool?
MOVEMENT
I'll share 3 different types of BRAINBREAK & TRANSITION ideas to get you started.
FREEZE DANCE
Kids love FREEZE DANCE!
Here's my favorite one!
FREEZE DANCE  is a fun elementary school brain breaks and transition activity you can use anytime in your classroom.
You don't need props.
You just need some space.
Play the video and let the kids work out all of their wiggles.
DINOSAUR FREEZE DANCE ACTIVITY
READ MORE ABOUT FREEZE DANCE ACTIVITIES HERE:  BLOG POST ABOUT BUILDING COMMUNITY WITH OCEAN FREEZE DANCE
SCARF ACTIVITIES
It doesn't take much effort to use scarves in any preschool or primary classroom.  You can toss them in the dryer to disinfect!
Put them in a mesh bag to pass out- or assign a scarf to a student and make it their for the school year.  
You'll find that many of your shy students will love moving the scarves around to music.  
Sing Play Create has instrumental music tracks on SPOTIFY and APPLE MUSIC
SUBSCRIBE AND GET YOUR FREE SCARF ACTIVITIES HERE
DRAMA
I've used  pantomime types of activities for BRAIN BREAKS AND TRANSITIONS too.
Winter Activity:
I promise you that younger children will love to come into the room and pretend to build a snowman, make a snow angel and take our "winter" clothes off and hang them up. Remove our boots, unwrap our scarf,  or shovel the snow before we get into the regular lesson. 
PANTOMIME ACTIVITY IDEAS:
BAKING COOKIES
SKIING
SKATING
RIDING A BIKE
PAINTING
BALLET DANCINE
SWIMMING
These activities are great to encourage creativity and help make brain connections between the right and left brains. 
Try "THE SNOWMAN DANCE" Action Song and Brain Break!
The kids love these creative and engaging activities and I know yours will too!
ELEMENTARY BRAIN BREAKS ON AMAZON!

ELEMENTARY EASY CLASSROOM MANAGEMENT SONGS (TRANSITION ACTIVITIES)
So I put together some really fun BRAIN BREAKS FOR WINTER & HOLIDAYS *PRINT & GO *TEAM & INDIVIDUAL ACTIVITIES.
It has more than just 30 second individual activities. I created activities that also encourage TEAM BUILDING and COOPERATION.  You'll get 2 versions of several of the BRAIN BREAKS to choose from for your classroom needs.
You might want to do the individual ones first and then do the group ones at a party!
YOU GET:
24 cards for GRADES K-6
Large PRINTABLE cards for easy cutting and reading.
You can choose to have the students do the activities in SILENCE or allow them to talk.
JUST PRINT/SLICE and GO!
Be prepared for the next three weeks of wiggles, jiggles and excitement as the Holidays grow closer. I'm ready–are you?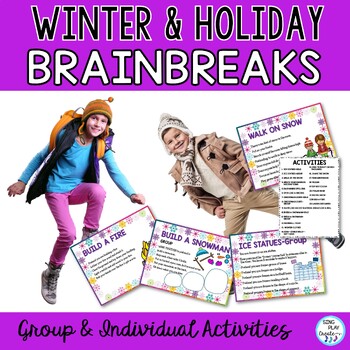 MUSIC
Play music as your students come into the classroom.  Encourage movement and dancing as they work their way towards their desks or spots.

You'll want to check out the variety of Brain Breaks and Transition activities we offer at Sing Play Create.
Please share this post!