MONDAY MOMENTS "DON'T SAY IT; SING IT"
Lately we've heard all about use the "force" or may the "force" be with you…I'd like to think that the "force" in any classroom is MUSIC.
I just took a trip to visit my grandchildren who are 5, 4 and 1.5 years old. The oldest one just started Kindergarten. What a handful! Since we don't live in the same state I was very curious about what was going on in my oldest grandson's Kindergarten class and was delighted to hear that his teacher has a song for everything! When it was time to clean up the Christmas toys, I asked my grandson to sing me his "cleanup" song. While we were waiting for his mom to pick him up from swimming at the hotel, I asked him to sing his "lining up" song. Later as we were doing the dishes, I asked him if he knew this song;
As I began to chant he joined in. He chanted high when his finger got bit and low when he explained why and we laughed when it was finished. I was delighted to hear that he knew this chant and could sing all these fun songs to me. I've found that kids will respond quicker and happier when directions and requests are put to a rhythm, rhyme and music.
IDEAS on HOW to INCORPORATE Music more into your classroom:
DON'T SING IT; SAY IT: RULES
Instead of; "Please be quiet…" why not sing it? It doesn't have to be Mozart for the kids to like it either…you could just sing it to the tune of Frere Jacques.
I use this song for my K-2 students to transition from a circle to their seats. It's free!
With older students you can use the same idea but change it to fit what's relevant to them. If they are into Rap-have your students write a rap. Keep it simple. Use the same words above and have them rap it for you. If they are into country, hold a vote on their favorite song and every time you want them to get back to their desks and be quiet-play that song. Enlist their help in creating a classroom environment where you are using music cues instead of verbal ones. You might find it easier to do this if you have set songs for set activities. You won't want to use it for every transition-but use it for specific activities all the time. I might use it for getting students out of cooperative groups and centers and switching to sitting at their desks and reading silently. The music would provide a calming influence. I'd probably choose something classical for this kind of transition. Here's a list of resources where you can find transition music for your classroom:
Singing can be a fun and new way for you to teach concepts too. Your students will love singing about Penguins, math facts and more if you add singing to your curriculum..Got 2 minutes? Why not sing that vegetable song just before lunch!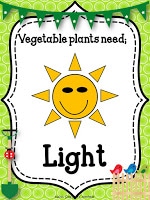 It also has a couple of writing activities you can use.
Overall, Music in the Elementary Classroom is an essential tool for any teacher. Singing through the day will help your students feel joy, a sense of community, and most of all learn at their best.
CLICK ON THE LINKS BELOW TO GET SOME MORE MONDAY TEACHER MAGIC
document.write(");