Feeling tangled up? Stressed? Overworked? Sick?  Hmmm… and still have to get to the classroom? Welcome to the teacher world. No one comes to teach every day with nothing else going on in their life…unless someone hasn't spilled their beans about this, it's normal! And it CAN be tough to deal with the kids when you're not in the best place. What to do?  I like to add movement activities to lessons to help my students channel their energy into learning. There are tons of activities that can help teachers add some creative movement to their daily routines. Let's face it! Kid's love to move. Movement activities used as brain breaks, transitions can help students CHANNEL negative feelings to positive and ENERGIZE student interest.  That's why I'm sharing creative ways to use Stretchy Bands in the classroom. In fact, I know you can stretch learning with Stretchy Bands.
WHAT ARE STRETCHY BANDS AND HOW DO I USE THEM?
It happens to all of us–the demands of the music teacher are seldom acknowledged by our "Core"education peers.  Teaching 7-9 classes per day, teaching 7 different grade levels, remembering 500-1000 student names, needs and interests, setting up instruments and equipment, moving, dancing, singing..and that's just the tip of the ice berg when it comes to being a music educator. So here's all about Stretchy Bands and how you can use them in your classroom.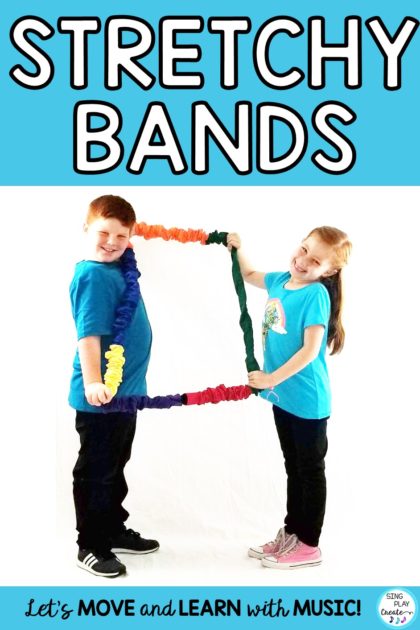 Amazing!
Easy to Use!
Sooooo kid friendly!
Not only are they perfect for music class, but they are perfect for any group of students who need to use their bodies and MOVE!
And, here's what you'll find on their website:
These bright Stretchy Bands** are made of latex or latex free tubing covered with fabric and include a hook and loop closure.  They are great for practicing numerous goal areas and group activities. Practice making shapes, rhythm, and boundary issues. Music Therapist, Music Together, and Music Educators love using these with their clients and students. Kids also love to play group games with the stretchy bands. Includes a drawstring bag, activity sheet, and is machine washable.  Available in five different sizes.
Latex vs. Latex Free?
We have been using latex tubing since 2000.  In 2012, at the request of a customer we began offering latex free as well.  I always recommend the latex version if latex free is not a concern.  The latex has more of a bounce feeling and give than the latex free.  Since latex is a main component of rubber, that makes sense! We are happy to be able to supply latex free for those that need it, and have had no complaints about the feeling of it.  Your choice!
I have the Stretchy Band and the Connect-a-band and I use them throughout the school year!
In fact, I keep coming up with more and more ways to use my stretchy bands.
ACTIVITY IDEAS WITH STRETCHY BANDS
I've come up with a list of some activities you can do in your classroom.  Got more ideas? Please leave a comment with your ideas!
Believe me when I say that there are so many ways and settings where you can use Stretchy Bands.
Team Building

Calming Down Activities

Reward Days

Classroom Parties

Mindful Teaching

Special  Needs

Music Teachers

P.E. Teachers

Elementary School Choirs

Elementary Classrooms

Camps

Clubs

Day Care

After School Programs

Preschools
Wow!  The list of ideas just keeps on growing!
Check out this Stretchy Band activity from Bear Paw Creek:
"MR. STRETCHY"
I call mine "Mr. Stretchy", or, sometimes the "Magic Rainbow".  He comes out whenever I need to do some TEAM BUILDING, CREATIVE MOVEMENT and MINDFULNESS activities. I've found it especially helpful teaching Kindergartners bubble space and practicing the steady beat using the stretchy band.
Here's how I introduce "Mr. Stretchy":
Looking for more ideas on STEADY BEAT?
TEAM BUILDING
Every teacher does team building, classroom community, character education or respect lessons. You can help your students express their feelings while teaching them the importance of team work and respect when you use a stretchy band.
Seriously!  I've used the stretchy band with students from K-6th grade and all of them love it! I gave it a try with my chorus students.  They are a group of 3rd to 6th graders who come one time a week and sing together. We put on 2 shows per year. Since they come from multiple grades, they don't really know each other.
Before we begin with the music, I like to do a couple of Team Building activities with them with the stretchy band.
First, we make a big circle.  Everyone finds a place on the band.
Then I ask the students to step back as far as they can and stretch the band.
Now we bring in the fun!
I call out a grade level to let go of the band. Soon there's just a few students holding on and trying not to let it go.
Finally, I start a discussion that focuses on how each chorus member is important to the group and without everyone participating we have gaps in our ability to perform well.
An Alternative Activity:
We also get SILLY! I will have the students hold on to a color in the band so that no one is in between colors. Then I will ask the blue group to pull towards the middle and the other color groups to try to hold firm in their place. There's a lot of pulling and tugging–but the students get how important it is to work together from these activities. I like to weave the team building activities in with the Creative Movement activities, then flow right into some calming down routines.
These activities help students channel their feelings. I've found it useful to use these activities at the beginning of school, right before and after breaks and during or after testing periods.
With my younger students I'll have them hold on to Mr. Stretchy and march around the circle to Sousa marching music.
Or, we might sit in a circle holding Mr. Stretchy and show the Steady Beat by bouncing the band.
Here's how I do it:
Hold the magic rainbow in your hands.
Walk on the beat around the circle.
Keep your feet with the beat.
TEACH MUSIC CONCEPTS
How about teaching music concepts using the stretchy band?
The easiest ones are HIGH/LOW and FAST/SLOW.
I'll also have them use the band to show HIGH and LOW. They especially like this one. I encourage them to really stretch up high and then go all the way down low.
Try using a story like the "The Three Bears".
Another ideas is to use the xylophone or the piano and have them hold the stretch band high or low depending on what they hear.
EXPRESSION:
Stretchy band activities are a great way to add in some creative movement to any Composer themed lesson. Students can experience the music while moving.
Then you can discuss how the music feels and sounds. I find these conversations to be more lively and intuitive after students play with the stretch band.
MOVEMENT ACTIVITIES
MINDFULNESS ACTIVITIES
Helping students transition with Mr. Stretchy is another great use for this versatile resource. After a tough rehearsal or class I like to help my students calm down and relax. There's a lot of giggling that goes on with this activity, but eventually we get there.
First, I have all my students lay down with the stretchy band across their bellies- hands holding on.
Then I play some soothing music and ask them to hold very still and breathe deeply-in through the nose and out through the mouth. Of course not everyone can get calm–and the band bounces.
Next , I start a discussion asking them how they feel when they are trying to focus and relax and someone else is being silly.
Finally, we talk about how we affect others through our feelings, performance and actions.
After a music program, I can use this activity to help students self-assess how we did in the program. This an especially helpful activity in a performing group.
Try this-
"STORM'S OVER" is a way to bring students back to calm.
Play some quiet music as you talk to students:
First:  Sit in a circle.
Next:  Hold the magic rainbow in your hands.
And:  Move your arms slowly and gently in and out.
Please:  Move with the music.
Chopin: "Raindrop Prelude"
or
Haydn: "Water Music"
and-
DIRECTIONS:
Sit in a circle.
Hold  the magic rainbow Stretchy Band in your hands.
Move your arms in and out like the waves of the ocean.
Move with the beat of the music.
Mr. Stretchy has helped me keep calm and teach on…to quote an over used phrase.
Not only do I find that Mr. Stretchy helps all of us calm down, work together and be nice. What a wonderful way to spend the day!
REWARD AND ACTIVITY DAYS
And, I've used them on reward days with my students. I select songs that my students like and make a playlist.
Try using the ideas of high/low, fast/slow, in/out, and standing, sitting or marching- gives me plenty of ideas to use the stretchy band with their music.
STRETCH BAND LINK:
I am in no way affiliated with this company but want to provide you with links to resources as a service.
And, if you'd like to subscribe to my Youtube channel, you'll have access to my playlists for teachers. I have one called Stretchy Bands that you'll be able to use in your classroom.
If you're looking for some resources to help you with activity ideas and music, you'll want to check out the Sing Play Create Teachers Pay Teachers Store where you'll find these resources for stretchy bands.
The Stretchy Band Activity Bundle combines 6 resources filled with sing a long and move a long videos, activity directions, movement cards and presentation power points.  Click on the link to go to the resource and you'll see the variety of materials you'll get to use with your stretchy band.
LINK TO STRETCHY BAND ACTIVITY BUNDLE
You can purchase a stretchy band from Amazon too!  (If you're like me, I get points when I shop on Amazon)
 AMAZON LINK
You'll find so many different ways to use your stretchy band in your classroom.  I hope this article has given you some great ideas.
Like this article? I hope you'll share it on:
PINTEREST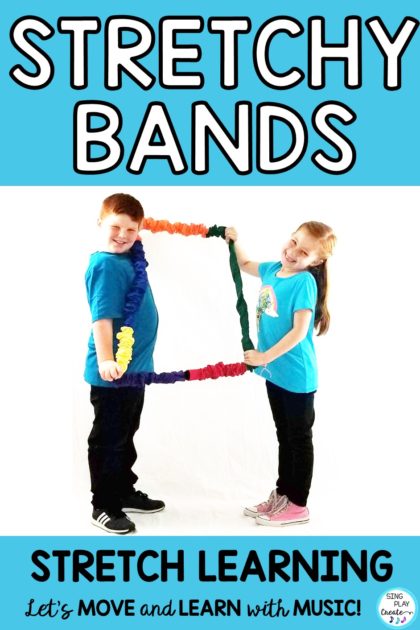 INSTAGRAM and FACEBOOK
Here's more ideas on STRETCHY BANDS: