Wow! Did September go by quickly or what? I'm so glad we're having cooler temperatures, aren't you? Fall is my favorite time of year. I love the changing colors and all the fun things you can do outside–biking, hiking, and just walking without the summer sun beating down.  Hopefully, you're enjoying some cooler temperatures too. I'm sure the students are happy to be able to run around during recess without breaking into a sweat. So, that's why I begin integrating more creative movement activities in my music class lessons. This post focuses on a fall music lesson with creative movement and improvisation.
Fall themed songs are perfect for students to "fall," "drift," "blow," "slide," sing and play instruments. There are many songs about fall and leaves falling, but I thought I'd put one together with a twist. Children love stories, action, and instrument playing, so I combined these three elements into a music class lesson with an original song, "Leaves are Falling All Around." Not only can the children tap the beat, sing the solfa and the lyrics, and play instruments, but they can dramatize leaves falling in the activity and also improvise some rhythm patterns.
You'll want to SUBSCRIBE TO THE FREE RESOURCE LIBRARY to get your FREE FALL RHYTHM LESSON, FLASH CARDS AND MANIPULATIVES.
Here's a preview of the song and lesson for  "Leaves are Falling All Around" Improvisation and Orff Resource:
I love watching the children pretend to be falling leaves as they sing  and improvise a rhythm pattern that's supposed to mimic the sound of "falling leaves" at the end.  "How do I get there?" Let's talk about helping students to feel, hear, and see visual representations of long and short.
HOW TO IMPLEMENT CREATIVE MOVEMENT AND IMPROVISATION IN YOUR FALL LESSONS
You'll want to incorporate many different ways of learning in your fall leaves music class lesson. Here are some of my ideas to get you started:
SOUNDS, MOVEMENT, INSTRUMENTS, LITERACY
LET'S CREATE THE MOOD USING RAIN ON LEAVES TO HELP STUDENTS IMPROVISE.
It is nice to use video to help students visualize falling leaves–especially here in the desert where the students at age 5-7 may not have seen or remember what "fall" looks like".
IMPROVISE SOUNDS
LONG:  "ah…." and "shhhhhhhh,", "whoooooosh"
SHORT: clicking, "bbbb", "kkkk", "st, st, st, st,", "sh, sh, sh, sh" pop, stop, drop, plop, pit, pat,
IMPROVISE CREATIVE MOVEMENT
LONG: sway, glide, arcs above and around the body,  whole body down and up
SHORT: flicking, rolling, skip, tip-toe, marching, clapping, snapping, patting
IMPROVISE INSTRUMENTS
LONG: xylophone, glockenspiel, chimes, slide whistle, triangle, cymbals
SHORT: drum, wood block, rhythm sticks
With Kindergartners and First Graders, we gather in a circle. I will stand in the middle of the circle and begin to move my branches. I ask the students to copy me. Then I ask some students to be my leaves. I will ask a few to come inside the circle and I will ask them to make sounds and movements of leaves falling on the ground. (I ask everyone to make the sounds.) What if the wind is whipping fast? How would the leaves sound and move? What if it's a gentle breeze? A storm?
I encourage them to make long and short sounds with sounds and their bodies. (You may need more pre-practice with this activity.) (Also … no ghostly sounds.)
Then I ask students to take my place as the "tree" and switch out the "leaves." After singing the song and experiencing long and short sounds, we add instruments and connect to patterns.
Finally, I have them play an Ostinato and a Steady Beat part while they sing. Then during the improvisation part of the song, they get to choose what instrument and rhythm part to play.
(It would be a great idea to bring in some fall leaves, right? But I live in Arizona so I use "fake" ones in the lesson.)
These ideas will work with any fall song that you have in your collection. You can use the creative movement and improvisation ideas as extension activities. Perfect for a "teacher observation"!
Here are some more ways to reach all learners and give everyone the experience of falling leaves in the music classroom.
CONNECT WITH LITERACY
I love connecting literacy with music, and "Leaves" by David Ezra Stein is a nice addition to singing fall songs. Here is a nice reading of the book if you don't have it.
After singing the song and reading the book, I have the students experiment with some creative movement. I ask them to show me how a leaf falls to the ground. If anyone falls with a thud (which I know they will do), I ask the class "What kinds of sounds do leaves make when they fall to the ground?" This would be a gentle reminder that leaves do not "thud."
CONNECT WITH FALL SONGS
I love this gentle song and the video graphics. It shows falling leaves, which is important for the students to see, especially if they have not experienced the fall season.
Why not use a parachute as creative movement for your fall music class lessons?  Here's a fun fall lesson over at Emily's Kodaly Music:3 FALL SONGS FOR HIGH AND LOW
MY STEPS TO IMPLEMENT CREATIVE MOVEMENT AND IMPROVISATION
I use the "Leaves are Falling All Around" song for 2 to 4 classes. Here is how we progress through the lesson.
I introduce the form of the song.
I have the students tap the rhythms and add in the words.
We take a look at the solfege and practice so-mi-la and do.
I have the students sing the song and challenge them to be silent during the "falling leaf" section.
We get out sand blocks and shakers and, (while standing in a circle), we play the sound of leaves falling during that section of the song. I challenge them to sing the song and only play instruments during the falling leaf section. The students get very excited when they all follow the pattern.
We then trade instruments. This takes our whole class time. I take my time to teach each section and let the students get the full experience of learning, rhythms, solfege, patterns, form and relating it to "fall."
Included in this resource is a teaching video, the sheet music for all of the parts, an MP3 of the vocal and the accompaniment tracks, teaching pages for Beat, Rhythm, Solfege, and a printable for students to make their own "Leafy" rhythms.
CREATIVE MOVEMENT AND IMPROVISATION ARE EASY TO ADAPT  FOR K-3
I also think this is a nice lesson to teach across several grades. I think Pre-Kinders will love playing as leaves falling from the tree, patting the beat, and experiencing LONG and SHORT sounds. Kinders will also love to sing and do the activities too. First graders will sing and work on "la." Second graders can work on the rhythms, and third graders will enjoy the improvisation. Of course, this depends all on your students and your classroom situation. What's nice about this resource is that it's so adaptable for K-3. That way you can use it the way you need to for your curriculum needs.
If you still need some steady beat practice, you may want to check out this blog post, which has five ways to teach the steady beat. It's full of free lesson examples, graphics and links to teach a whole unit on the steady beat. Just click on the graphic below.
 
I think that "Leaves are Falling All Around" is a nice addition to some of my other tried and true fall classics. It works nicely with Rain, Rain Go Away, Doggie, Doggie Where's Your Bone, and I Had a Dog. If you're interested, you can find these resources in my store by clicking on the graphics below. Finally, you can find the complete lesson plans for Leaves Are Falling All Around in my store or click on the graphic below.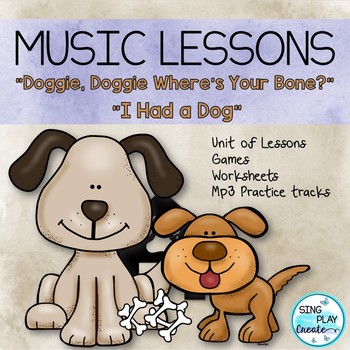 Finally, here are some other blog posts on Fall Music Lessons. Simply click on the graphics below to access each one:

If you enjoyed this post, please consider sharing it on social media.