Over the last few years, more and more of my students struggle to stay focused for more than a few minutes and lack interest in the things I liked as a kid.  It's a daunting reality for an experienced teacher. After all, you've put the time in and you think you've got everything covered. But it's NOT true! Every new school year brings a new set of students and possibilities. It takes a lot of effort, time and creativity to keep up with the new kids and their needs year after year. That's why this blog post is loaded with awesome, easy and free creative movement activities.
And who has the TIME?  After all, creating new lessons and materials every year for every grade level is near IMPOSSIBLE!
If you're like me you're thinking "I can't learn new songs, games and activities and create the materials for all grade levels every year!"
But you don't have to! The good news is that this blog post is going to give you one easy and free solution to keeping your students engaged.
Yes! One. Solution.
CREATIVE MOVEMENT
Yes! Creative movement is the ONE thing you can do to keep your students engaged and learning.
WHY CREATIVE MOVEMENT?
You and I know that creative movement strengthens students' abilities to CREATE, PERFORM, RESPOND, and CONNECT to music because movement activities ask them to imagine, analyze, and express and:
It's NATURAL-Movement is a natural way for children to respond to music.
How We LEARN-Movement is how many children learn.
Makes SOUND REAL-Movement makes aural sound more real.
AND-
Movement is supported by the National Standards.
Here are just a few ways Creative Movement is supported by the National Standards:
PERFORMING:
Analyze: Analyze how the content of varied musical works inform the response.
Enduring Understanding: Response to music is informed by analyzing content (social, cultural, and historical) and how creators and performers manipulate the elements of music.
Essential Question: How does understanding the structure and context of music inform a response?
CONNECTING
Connect #11: Relate musical ideas and works with varied context to deepen understanding.
Enduring Understanding: Understanding connections to varied contexts and daily life enhances musicians' creating, performing and responding.
Essential Question: How do other arts, disciplines, contexts, and daily life inform creating, performing and responding to music?
Once you understand how you can use creative movement in your classroom, you can use the ideas and activities in the freebie from this blog post, over and over again in a million different ways to support all of the standards that you'll be teaching for every grade level throughout the year.
3 WAYS TO USE CREATIVE MOVEMENT
Maybe you're frustrated or don't know how to implement creative movement, or even know why students need creative movement. You're NOT alone! It's easy to put on a Youtube playlist and let the kids go crazy! (Although that is FUN!), or teach a folk dance or body percussion. But it's harder to use creative movement as a concentrated strategy to help students learn concepts, burn energy and connect emotions.
Orff, Kodaly, Eurythmics and Dalcroze methodologies teach creative movement applications. Here's some ideas based on what I've garnered from studying them and also from my personal experiences teaching in the classroom.
(Disclaimer) This is my way of breaking things down, i.e. simplifying-. Just so you know, there's a lot more research, resources and creative ideas out there. But I'm sharing the ideas that I think will help ANY teacher integrate creative movement in their lessons and support the music standards.
After all, we all want to keep kids focused and excited to learn! Here's my 3 ways to CONNECT LEARNING to MOVEMENT!
Through a LEARNING GOAL- Where movement supports aiding learning and/or learning the standard in the lesson.

To a NEED- Where movement provides a brain break, or is being presented as a standalone activity that may have a separate learning goal but is not the same as the lesson.

Through EXPRESSION- Where movement is free and supports a broader idea in the lesson.
SO NOW WHAT?
Now, the one solution is integrating creative movement into your lesson plans so that you can keep your students engaged. When you get intentional about creative movement, you'll find out that your students are actually learning faster and learning more!
After all, we take our lesson planning seriously- right? So why not get the most out of the time you've already invested in your lessons?
Here are some ideas on how to integrate creative movement into your lessons.
CLICK HERE TO FIND OUT HOW I USE BALLS FOR CREATIVE MOVEMENT
To make it a little easier for you, here is a FREE CREATIVE MOVEMENT PLANNER with worksheets that show how to integrate creative movement into your lessons and specific ideas for activities.

CLICK HERE to get the FREE CREATIVE MOVEMENT PLANNER NOW!
But here is the gist of what you'll get:
You'll find a chart with the three strategies explained in greater details with a CHEAT SHEET of different activities that can used for each category.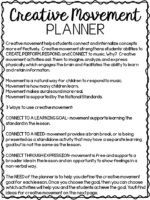 You'll also find a chart for you to plan your activities as you connect them to your current lesson plans.
And, you'll find some charts to put in your planner so you can keep a record of the ideas you'll be using.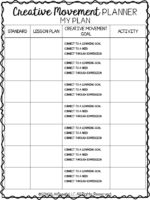 After you go through the worksheets (which are easy to fill out since I've included so many ideas), You'll have some new tools to use in your classroom to be a more effective teacher.
To get the most of this blog post, and really understand how to implement creative movement into your classroom, you'll want to download the free sheets and put them to use right away.
Keep reading to learn the specifics-
CONNECT TO A LEARNING GOAL
There are many songs and games in different music curriculums that support creative movement, but the dances and activities don't always support a learning goal. If you're trying to increase learning, you may want to implement creative movement activities that support the learning goals.
No one should feel guilty doing Freeze Dance activities- but choosing the types of moves, so that the movement connects to a broader learning goal will give the students that much needed "break" and help them learn concepts faster.
So what kind of activity could you integrate into that lesson that would have your students "showing high and low?"
What kind of creative movement activity would you use to activate Right and Left hands for students learning recorder, ukulele, guitar, and Orff instruments?
READ HERE about Stretching Learning with Stretchy Bands
You can get Stretchy Bands Here
That's why you need to CLICK HERE to get the FREE CREATIVE MOVEMENT PLANNER NOW!
CONNECT TO A NEED
Creative movement can be used for many reasons. It can be used to give students a needed break, a reward, or outlet. It's a really good transition activity too. My music classes often begin with a movement activity to help students acclimate to the music room.
It's TRUE! Creative movement activities are perfect for this reason because giving the students a five to ten minute break will get the brain connections going and have them ready to learn again.
Here are some common ways to use creative movement for a NEED: (You'll find resources for these activities at the Sing Play Create Store.)
Freeze Dance

Scarf Directional Movement

Move Your Body Video Activity

Movement Cards

Bean Bag Activities

Stretchy Bands
You can get Scarves Here:
CLICK HERE TO SUBSCRIBE TO THE FREE RESOURCE LIBRARY and GET YOUR FREE SCARF MOVEMENT CARDS
And-
Read about 5 Ways to Use Bean Bags in Your Classroom HERE.
Get Bean Bags Here
CONNECT THROUGH EXPRESSION
Creative movement activities that connect to a theme help students internalize through experience and provide opportunities for them to be creative. It gives students an opportunity to become more musical and a chance for the teacher to know if the students "get it". Beginning lessons with selections of music, literature (picture books or poetry), artwork and pictures, is the perfect way to get the creative juices flowing and inspire creative movement. Which lessons do you implement expression as your creative movement activity?
A student favorite is "Carnival of the Animals" creative movement activities. Students receive a scarf to use to "show" how the animal in the music moves. You can color group the students with the scarf colors and give smaller groups of students the opportunity to express music through movement.
CLICK HERE FOR THIS FREE SCARF MOVEMENT ACTIVITY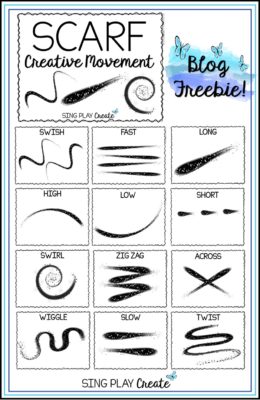 THE END GOAL = ENGAGED LEARNERS
Now, the whole idea of using creative movement may still seem overwhelming, but I know that if you begin incorporating different types of creative movement activities into your lessons each week, it will get easier.
My tip is that selectively choose which concepts and lessons you want to start incorporating creative movement. Implement activities one unit or one grade level at a time until you feel confident about the methodology. Then you can apply that learning to more lessons and more grades. This way you'll gain confidence as you change and grow your mindset.
Just think! Your students will be excited about the new movement activities and you'll be pleasantly surprised at how they are learning and loving your classroom.
More awesome, easy and free creative movement activity posts you'll want to READ:
Share this post with your friends!