Halloween week is coming soon, so I'm working on gathering my Halloween songs and coordinating my creative movement activities. Music class during Halloween week is perfect for creative movement. I'm using scarves and stretchy bands along with some new movement activities. I'm always on the lookout for new Halloween materials, so you'll find some fun Halloween songs and a freebie in today's post!
HALLOWEEN SONG FREEBIE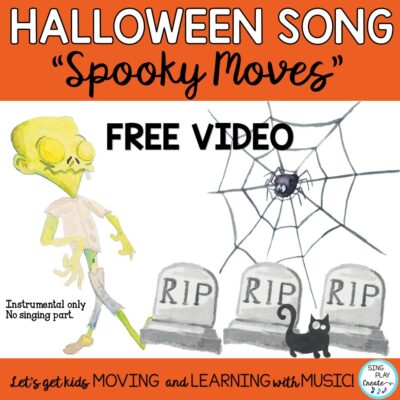 You'll want to get your students doing some "Spooky Moves" using this HALLOWEEN SONG FREEBIE!
Who doesn't love Halloween songs?
This free video and song is perfect for Halloween creative movement activities. Be sure to download all the resources that accompany the video.
Resources Include:
Teaching Ideas FORM A BB AA or (ABA) for primary students
Activity Ideas for Creative Movement
6 Creative Movement Cards
FORM Cards
"Spooky Moves" MP3 Performance Track (no vocal, music track only)
Creative movement video–free!
Click on the graphic below for a blog post that has more creative movement activities for Halloween! 
HOW TO USE THIS HALLOWEEN SONG FREEBIE
This Halloween song freebie is adaptable for preschool through 8th graders. Here are some activity ideas:
Halloween Singalong
Lesson activities, including Improvisation, Singing, Playing, and Moving Ideas
Use the performance tracks for your creative movement activities using scarves, bean bags, movement cards, stretchy bands, and parachutes.
Halloween concert or classroom performance
Lesson on MUSIC FORM.
My blog post "Halloween Music Class Tricks or Treats?" has some more great ideas for music class lessons. Click on the graphic to read the post.
There's no reason to "howl" about your Halloween music class lessons. If you subscribe to the Free Resource Library, you'll be able to download the following freebies for October. Click on the graphic below to subscribe. 
Here's a look at what you'll find in the free resource library!
MORE HALLOWEEN SONGS
The "Spooky Moves" freebie is also part of the Halloween Music Bundle of Songs, Activities, Actions and Music. I had a lot of fun composing and arranging these new Halloween songs. The bundle includes six different Halloween songs with activities and actions.
Check out some of the favorites like "The Ghost of John"!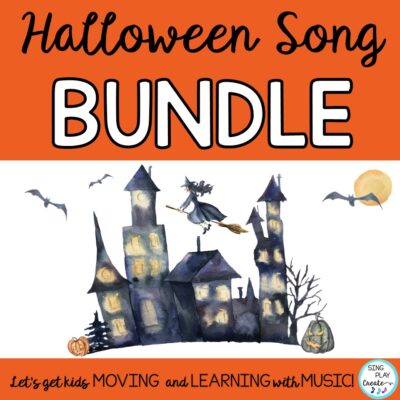 The bundle includes Halloween songs for choir, music class, and creative movement activities. Below is the list of songs in the bundle. You can also download individual songs at the Sing Play Create Teachers Pay Teacher store. To get the individual songs instead of the bundle, just click on the graphics below.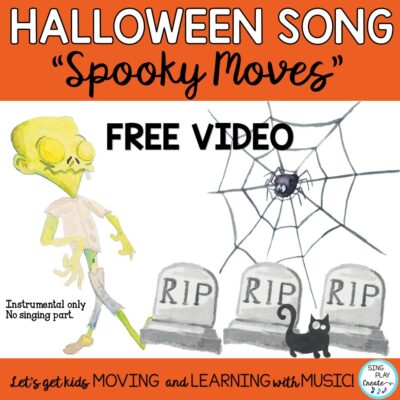 MORE HALLOWEEN MUSIC CLASS ACTIVITIES
Did you know that you can purchase many other items in the Sing Play Create Shop?  We're adding new items every day. Here's some of the Halloween Favorites!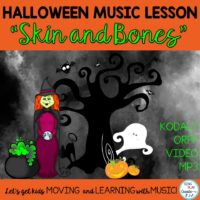 At my Teachers Pay Teachers store, you'll find many more Halloween Resources for your students! Halloween songs are great to keep learning and keep students engaged. Here are just a few of the Halloween-themed resources you'll find there. Just click on the graphics below.
Halloween songs are a fun way to teach music concepts and keep students engaged.
Worrying about your classroom management? Check out this blog post on "How to Manage Monsters in Your Classroom."

And be sure to check out more teaching ideas in this favorite: "How to Have a Howling Good Time in Music Class."
Happy Halloween!

If you enjoyed this post, please consider sharing it on your social media!