Elementary music lessons for November can be a time for refining music skills learned in the first quarter.  
To make lessons engaging, I've come up with 3 ways you can use Thanksgiving themes in your November rhythm activities.
MUSIC CLASS NOVEMBER RHYTHM ACTIVITIES
LESSON OUTLINE FOR NOVEMBER RHYTHM ACTIVITIES
Want to get your class singing right away?
Try using a welcome song on thankfulness: "I'm Thankful"
Rhythm Practice: 
You can use the activities as outlined in these YouTube Videos.
Elementary Music Class Lesson to practice basic rhythms. Whole note, half note, quarter note, eighth notes joined, sixteenth notes joined.
Use this video to introduce or review basic rhythms during November music lessons.
Ask your students to play the rhythms and say the words.
Next, assign students percussion instruments and have them say and play the Thanksgiving themed rhythms.
Use the ideas to inspire improvisation activities by combining the pictures in 4 and 8 beat patterns.
PLAY RHYTHMS USING INSTRUMENTS
After playing rhythms using body percussion, bring out the percussion instruments.
Assign groups of students similar instruments and have them sit together.
SING AND PLAY A SONG
"Five Fat Turkeys" Music lesson is packed with resources for your music classes. Beat, Rhythms, Melody, Ukulele and Guitar Chords.
And- FREE RESOURCES.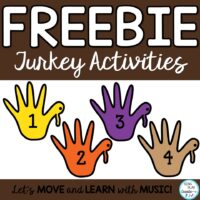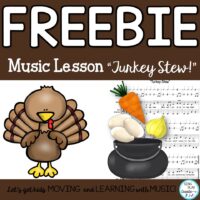 SUBSCRIBE to get the lessons HERE!
Go to the RESOURCE LIBRARY HERE!
Now students will be ready to move!
You may want to try this Turkey Movement Activity:
"The Turkey Lurkey"
For more terrific tips on using creative movement in your music lessons, check out this blog post:
November Music Lessons "It's Not Just About Turkeys"
Here's more ideas on using instruments in your November rhythm activities:
"How to Get Students to Gobble Up the Beat"
Here's a fun game song to teach syncopated rhythms:
"Turkey, Turkey, Where Are You Hiding?"
Here's a great lesson on 6/8 time signature:
"Over the River and Through the Woods"
PRACTICING RHYTHMS IN MUSIC STATIONS
Try using stations in your classroom for interactive learning opportunities.
Ideally, stations can be a great way to diversify your activities so you can work with small groups.
First, you'll want to establish the activities in your lessons, then combine them in one class as music stations.
Next, organize your stations.
STATION #1- Worksheet

STATION #2- Rhythm playing activity with body percussion.

STATION #3- Create a rhythm

STATION #4- Play a chant rhythm

STATION#5- Play the Beat and the Rhythm (the group divides into 2 sections and each plays a different part)

STATION #6- Play a Rhythm card with instruments.
In addition, you can find more details about Music Class stations in several other articles.
WHY USE RHYTHM ACTIVITIES?
Using rhythm activities as a foundation learning experience for your students during November will speed up learning pitch and playing songs throughout the rest of the school year.
Looking for some free and interactive November music class lesson ideas for your K-6 music classes?
Read this blog post: "YUMMY NOVEMBER MUSIC LESSON IDEAS" which includes interactive and visual teaching strategies that can help your students learn music concepts.
These ideas are adaptable for grades K-6 and applicable for: TEACHING, PRACTICING, PERFORMING, and CREATING learning opportunities in your music classroom.
Grab these FREEBIES!  (no subscription needed)
I'm hoping your students will love these November rhythm activities.
Please share this on Pinterest!