Elementary Music Class Lesson Ideas for November. Looking for some free and interactive November music class lesson ideas for your K-6 music classes? Looking for some new ways to teach your old materials? Keep reading to get these easy to use and very adaptable yummy November music lesson ideas.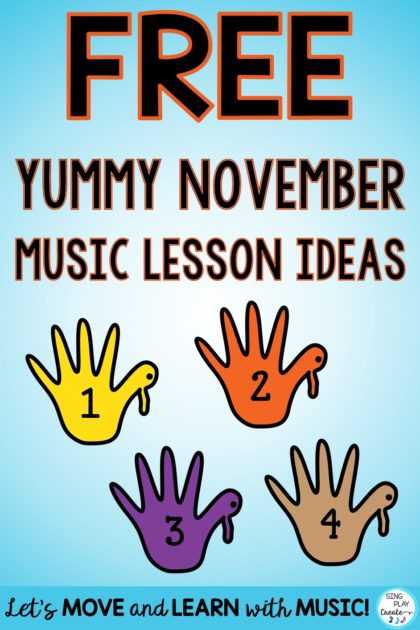 YUMMY NOVEMBER MUSIC LESSON IDEAS
INTERACTIVE and VISUAL
YUMMY NOVEMBER MUSIC LESSON IDEAS are interactive and visual teaching strategies that can help your students learn music concepts.
These ideas are adaptable for grades K-6 and applicable for:
TEACHING, PRACTICING, PERFORMING, and CREATING learning opportunities in your music classroom.
#1 RHYTHMIC PRACTICE ACTIVITIES ARE A YUMMY LESSON IDEA
Use your rhythm or melodic flashcards in this activity.
You'll need to make the turkey manipulatives, or a big turkey with feathers that are separate from the turkey body.
Set up:
1-Put rhythm flash cards on the back of your turkey manipulatives, or on the big turkey feathers you've made.
2- Put the turkey feathers around the room, or have them ready to use as your students come into the classroom.
3- Have students choose a turkey feather. Play the rhythm as a class or individually.
4- Continue the activity until all of the feathers are completed.
Reward students with a "TURKEY TROT!" Let the students gobble like a turkey around the circle. Use a drum or tambourine to signal when it's time to stop the "trot".
FREE HAT TEMPLATE when you download this resource.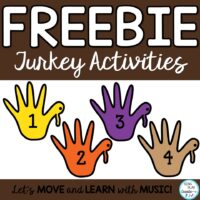 #2 A GAME FOR REVIEW AND ASSESSMENT IS A YUMMY LESSON IDEA
This idea is similar to activity idea #1, but you'll be splitting your students into two teams.
You may want to use this idea after practicing rhythms, solfege or songs.
1- Each team takes a turn answering the questions/or performing what's on the back of the turkey feather.
2- If the students get the answer correct, then they put their feather on one side of the turkey. The other team will place their feathers on the other side.
3-See who can collect the most feathers.
4-Let the winning team perform the "TURKEY TROT!" as the other team cheers.
If you're looking for a fun "turkey game" you'll want to check out this resource that's a spin off of "Black Snake" with orff arrangement, solfege lesson and mp3 tracks.
Orff Song and Game "Turkey, Turkey Where are You Hiding?"
#3 PLAYING PATTERNS IN SMALL GROUPS FOR A YUMMY LESSON IDEA
The ultimate goal is to get students making music. This game will help them make the connection that patterns make up a song or piece of music.
Put a pattern on the back of each small turkey manipulative.
You can choose to do this activity in several ways.
1-You can have students in 4 groups work on one of the turkey rhythms, then everyone can play their parts going in sequential order.
2-Or, you can leave the turkey's blank and have the students create a pattern/melody.
Then share their creations.
3- Use the turkeys to perform a song. Give each turkey a different part like MELODY, BASS, OSTINATO, MOVEMENT.
4- Have each small group work on their part, then perform for the class.
Finally have them perform together. You could use this activity over several class times allowing students to experience each learning opportunity.
#4 CREATE STATIONS USING ALL OF THE ACTIVITIES
Choose your favorite activities and create stations in your classroom.
Differentiate the learning goals for each grade level.
Set up the stations so that students get to work on all of the activities in one class or over several classes.
Be sure to include creating and performing opportunities.
Overall, the goal of using these manipulatives and visuals is to help students make learning connections through a variety of musical experiences.
In addition, activities could include opportunities to practice and assess dynamics, timbre, beat, melody, solfege, harmony, ostinato, reading music, singing and playing instruments.
You can easily adapt your learning goals using these manipulatives in your classroom.
Here are some more November music lesson ideas you can use with these yummy November music lesson ideas.
NOVEMBER MUSIC LESSON RESOURCES
NOVEMBER MUSIC CLASS LESSON IDEAS AND ACTIVITIES
"Terrific Tips for Your November Music Lessons"
"November Music Class Stations"
"How to Get Students to Gobble Up the Beat" 
Get the FREE Turkey manipulatives and these lesson ideas when you subscribe to the Sing Play Create Newsletter and Resource Library.
LINK
Get all of these FREE NOVEMBER MUSIC LESSONS when you subscribe!
Already a SUBSCRIBER?  CLICK THIS LINK to go to the FREE RESOURCE LIBRARY!
I'm hoping that you'll gobble up these easy to use ideas for your November music Lessons.
Like this post?  Please share with your teacher friends.