Just in time for March music lessons! Sing "Michael Finnigan" and "This Old Man" using my tips for teaching partner songs.
WHY TEACH PARTNER SONGS?
I'm sharing some of my tips on helping elementary students to sing partner songs.
Singing harmony doesn't come naturally for everyone- and music teachers want to help students sing harmony, so singing partner songs is a great way to prepare students for singing harmony parts.
As students gain confidence singing partner songs will help students learn to sing parts.
TIPS FOR TEACHING PARTNER SONGS
I'll be using "Michael Finnigan" and "This Old Man" as partner songs.
I implement these lesson steps over several classes.
I'll use "This Old Man" as the first song to learn.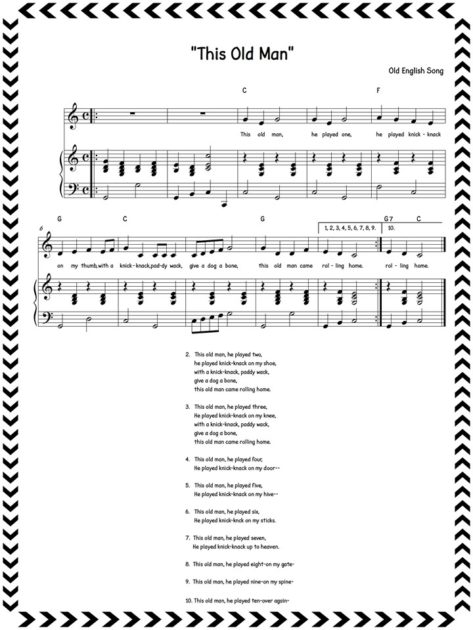 SUBSCRIBE TO GET THIS FREE RESOURCE
Have students listen to the harmonic relationship between the melodies of the 2 songs.
You'll find vocal and accompaniment tracks in this FREE resource.
PARTNER SONG TEACHING BASIC STEPS
Tap The Rhythms To The First Song  "This Old Man"

Sing On A Neutral Syllable Like Oo

Student Sing The First Song With The Lyrics

Students Sing The First Song As You "Ooo" The Second Song

Teacher Sings "Michael Finnigan"

Teacher Sings "Michael Finnigan" As Students Sing "This Old Man"

Tap The Rhythms Of The 2nd Song

Be Sure To Point Out That "Michael Finnigan" Has A Pick Up Note And Begins Before "This Old Man"

Sing The Song On A Neutral Syllable- Oo Or Hum.

Teacher Sings "This Old Man" As Students Sing Oo "Michael Finnigan"

Teacher Sings "This Old Man" As Students Sing Lyrics"michael Finnigan"

Then Switch-

Next Teach The Second Song And Have Students Sing Ooo Or Hum.

You Sing The Lyrics Of The Other Song.

Finally, Divide The Class Into Two Groups.

Have Each Group Practice Alone.

Then Put It Together.

Focus On The Downbeat- Which Words Are On The Down Beat Of The Phrase?

Which Notes Are Pick Up Notes- Words?

What Are The Rhyming Words?

Sing And Play The Song Several Times So That Students Are Super Comfortable With Their Parts.
CREATE MOVEMENT PATTERNS
After students have learned both songs and can sing together, consider adding in some body percussion ostinato patterns.
Have students create a body percussion pattern like;
PAT
CLAP
SNAP
CLAP
Sing and play the song several times so that students are super comfortable with their parts.
Next, transfer the rhythm pattern to a percussion instrument.
Encourage experimenting with different instruments and sounds.
GET THE MUSIC LESSON " MICHAEL FINNIGAN" and "THIS OLD MAN" Partner Song
All you need to do is SUBSCRIBE to the Sing Play Create Newsletter
I'm hoping this music lesson and tips for teaching partner songs helps you this month in your music classes.
Please share this post with your music teacher friends!