Did you know that bean bag activities help children develop movement skills? Yes! That's why they are perfect for music, PE, home school and preschool movement activities. Keep reading to learn why bean bag activities are important child development activities.
HOW BEAN BAG ACTIVITIES DEVELOP MOVEMENT SKILLS
Bean bags are easier to use than a ball because the child can hold onto it tightly.
I'm sharing some of the basic reasons why bean bag activities are important child development activities because they develop movement skills.
Take a look at all of the types of movement and skills that are strengthened by doing bean bag activities.
BALANCE– either in a stationary position or moving.
COORDINATION– getting the arms and legs to work together.
HAND-EYE COORDINATION– eye following the path of the bean bag helps with following words in written text.
CROSSING THE MIDLINE TO MAKE BRAIN CONNECTIONS– movement across the midpoint of the body.
MANIPULATIVE SKILLS– help to give or receive force to and from objects to achieve an outcome.
OBJECT CONTROL SKILLS– The use of an object to perform a task either sending it away or receiving.
LOCOMOTOR SKILLS– when crawling, walking, marching, jumping, running, galloping, sliding, leaping, hopping and skipping.
NON-LOCOMOTOR SKILLS– stability skills moving the limbs or body parts when bending, stretching, pushing, pulling, swaying, twisting, and balancing.
As you can see, bean bag games can incorporate all of the important movement skills.
MUSIC ACTIVITIES WITH BEAN BAGS
That's why I've put together several bean bag activity resources that you can use in your music and movement activities.
Not only will you help your students develop movement skills, you'll also help them learn music concepts.
Use bean bags to learn:
HIGH/LOW

FAST/SLOW

STEADY BEAT

PLAY RELAY GAMES
You'll want to read these blog posts to get more ideas!
"Free Bean Bag Activities for Music Class" 
and-
"Five Reasons to Play Bean Bag Games" 
Want the Free Bean Bag Activity?
Get the easy to use "Toss and Pass" Bean activity for elementary music students, families and music and movement activities.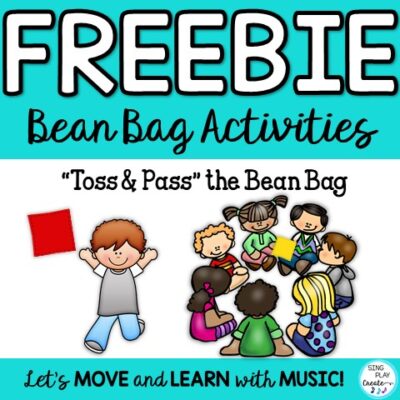 CHECK OUT THE BEAN BAG ACTIVITY "Do the Bean Bag Twist" on the Sing Play Create YouTube Channel
If you are working with younger children, you'll like this bean bag activity song. It will help you introduce bean bags to your students.
It's perfect for Preschool and Kindergarten music activities.
"It's Time to Say Hello!" LINK HERE
Looking to buy Bean Bags?
BEAN BAG ACTIVITIES TO DEVELOP MOVEMENT SKILLS
Get these fun bean bag activity songs HERE:
TEACHERS PAY TEACHERS STORE
Music Class Bean Bag Games:
Animal Themed Bean Bag Activities
BEAN BAG ACTIVITIES IN THE SING PLAY CREATE SHOP
Music Class Bean Bag Activities
https://singplaycreate.com/product/music-class-bean-bag-games
Bean Bag Activities for PE, Music and Classroom Community
Bean Bag Activities and Games: Music, PE, Classroom Community
Bean Bag Activity Songs, Brain Breaks, Team Building, Mp3 Tracks and Video
Bean Bag Animal Activities Animal Theme: Music, PE, Preschool and Movement Class
https://singplaycreate.com/product/buggy-bean-bag-activities
And- If you really want to get your students excited about playing bean bags, you'll want to check out these Bean Bag themed T-Shirts that are perfect for Bean Bag Activity Days!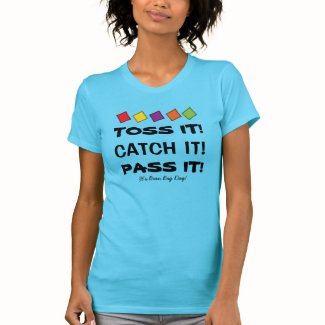 You can choose your own STYLE and COLOR!
I'm hoping that you found some great ideas in this post on how bean bag activities develop movement skills.
Don't forget the FREEBIE!
Please share this post!