Today I'm sharing hello songs as well as some name games and goodbye songs for the elementary music classroom and preschool music classes.
Singing a hello song at the beginning of class or circle time can help children feel included and safe.
It's an easy way to build your classroom community. It makes everyone feel a part of something when they're all singing and moving together.
Repetition also helps children feel safe and part of the group.
Repetition is great for kids. They love to repeat those songs. So if you choose a hello song, you can use it for the entire school year.
HELLO SONGS
This is a super simple song that you can sing in your music classes as well as in a preschool music class.
"Hello Tommy" Sung to the tune of "Are You Sleeping".
Hello Name
Echo
How are you?
Echo
Stand and wave hello!
Echo
Then sit down.
Echo
At the beginning of the school year, students may not know to sit down after they sing their name. But that's okay.
You're learning the names, but more importantly, everybody's learning each other's names and it makes everybody feel special. 
If there's a child that doesn't want to stand, that's okay. Try and get him to at least wave. If they don't want to stand and say hello, wave. They can just sit in their seat later. You can have all the students tap their knees and sing the song.
Just keep the song going. You can go nice and slow, so that everyone will eventually sing and stand, wave and then sit down.
This is part of an elementary classroom songs resource with other classroom songs to line up, learn names, transition and celebrate birthdays.
Elementary Classroom Songs: Lining Up, Hello, Name, Transition, Birthday
Elementary Classroom Management Songs, Games, and Rules K-3: Back to School
Create the perfect elementary classroom culture through songs, chants and rules.
With a focus on manners and classroom community, you'll have all the tools you need at your fingertips all year long.
This song is also on the Sing Play Create Kids Music Channel, and it's the first song in a compilation of Hello songs and Get to know You activities.
FRIENDSHIP HELLO SONG
"Hello My Good Friends"
Hello, my good friends.
How are you today?
Come and sing a song with me, then let's run and play.
I usually repeat the song three, maybe four times. And once the kids know the song, you can walk around the circle or you can use it as a mixer and have the students walk around and sing. Hello, my good friends. How are you today?
As I look at everyone and then you time again to sing the song three times.
By the time they get done singing on the third time, they have to be in their spot. And it's just a fun little game. I break her name song You can do it the beginning of music class and it just works great for first, second and third grade.
This freebie goes with the Hello Songs Video
Are you ready to learn the names of your classmates? Sing this hello song and name game in your preschool and kindergarten circle time classes.
Singing songs and playing games will help your children learn and grow.
Movement and music helps the brain make important learning connections.
Sing, Play and Move with Sing Play Create in your classroom everyday to foster creativity and classroom culture.
The freebie includes the lyrics and a get to know you activity.
The same video has two hello songs and name game activities.
HELLO HELLO WHAT'S YOUR NAME?
Hello, Hello! What's Your Name?
Name Game
"Hello, Hello! What's Your Name?"
Is also in that compilation video. And it's really cute.
It goes, Hello, hello, what's your name?
And then the student sings. My name's Sandra. That's my name.
And then everybody sings, Hello, Sandra, How do you do?
And then everybody sings together. It's so nice to meet you. And they all point to each other.
This is also a good mixer activity. Once they sing the song all the way through, you can have them do it with each other walking around and they're singing to each other. Put them in pairs.
'Hello. Hello. What's your name?'
And then the other person says, 'my name's Sandra', that's my name'.
1st student: 'hello, Sandra, how do you do?'
Together they sing 'It's so nice to meet you!'
After they learn how to do it in pairs, you can take it another level up. You can have two circles, so you're going to have one circle on the inside and they're going to face everyone on the outside of the circle.
And when they sing the song, they'll face one person. And then at the end of that, the middle or the outside, you could choose. But the middle people, they just move one spot over.
So eventually everyone will move around and sing with everyone else in the class.
It works really great for third, fourth and sometimes fifth graders.
Hello songs and name games help everyone have fun. These hello and name games are to help children learn how to introduce themselves, say hello and learn names.
Use this Hello song for children and the name game as well as goodbye song at the end for 9 minutes of music class and circle time fun.
Sing this easy to learn goodbye song in your classes to build friendships between your students. Sing along with the video or Mp3 tracks, color the friendship sheet, read the lyrics on the pocket chart strips and presentation.
Teach students what it means to be a friend using the posters and flashcards.
Building a classroom of friends helps children developmentally and will help with your classroom management too.
This is a fun and engaging song Best for PreK-2nd Grade.
Goodbye Song for Circle Time, Kindergarten Classes, Music
Goodbye Song can be changed to be "Hello My Friends, Hello".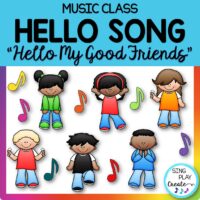 Music Class Hello Song: "Hello My Good Friends" Video, Mp3 Tracks
HELLO MOVEMENT SONG
One of my favorite hello songs is called Everybody Say Hello. It's on our Sing Play Create YouTube channel and it goes like this.
Hello Song for Children |Morning Dance Song| Action Song |Preschool | Kindergarten |Sing Play Create
If you like that song, you can use the YouTube video, but if you want the literacy activities and get to know activities, you can head on over to the links at the TPT store and get the product and use that in any classroom.
Classroom Hello Song: "Everybody Say Hello" Video & Activities Pre-K – 2nd Grade
If you are looking for a hello song with movement, your students will love this Hello Song for Children. It's packed with easy actions and is upbeat.
Perfect for Circle time, Morning Meetings and Kindergarten music classes.
Action songs are a great way to wake up little bodies and get ready to learn.
HELLO SONG WITH BODY PERCUSSION
Everybody say Hello is also a body percussion activity and we've got that on the Sing Play Create YouTube channel
Children's Hello Song| Body Percussion Activity| Elementary Music Activity| Sing Play Create
Sing the fun children's hello song and play the body percussion in your elementary music classes.
I like to use it as a transition activity.
Students can walk into the music room and sing and move before class even begins.
Challenge them to be on their spots before the song ends.
It makes starting class easy.
Helps students get into "music land".
Gives them a chance to move in between classes.
HELLO SONG AND GAME
Easy game you can play with preschool and kindergarten children.
Stand in a circle.
Everyone pats their knees.
Have the students echo chant.
Clap your hands.
Stomp your feet.
Say your name.
Take a seat.
Or,
Feel the beat!
This activity is great to get everyone clapping and moving on the beat.
If you're using this for the first time or if you like, they can be in their circle and you're going to go around and you'll just say it to two or three students to teach everyone the song.
Then you can do it with the whole class where you could have them go in order around the circle.
So everyone would say, Clap your hands, everyone echoes you, clap your hands, everyone stomp your feet, everybody stomp their feet.
And then. Student Number one, we're going to say, Say your name. And, student Number one says Sandra. And then everybody says, Feel the beat, Feel the beat. And you can have them pat or clap to feel the beat.
There's some modifications you can do with that chant.
You can have everyone sit down and pat the beat, or, Clap your hands, jump up, stomp your feet, say your name, and they can just turn to their neighbor and say their name just for a quick game.
And then you could say, take a seat and then have everybody quickly sit back down.
This hello song and activity is also a great way to help students transition from walking in line to the music room.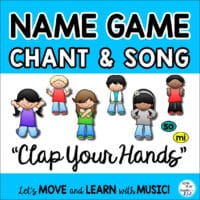 Name Game Chant and Song with Activities: "Clap Your Hands" PreK-1st Grade
KINDERGARTEN HELLO SONG
When I first started teaching music, I learned that it was important not to teach the same thing to too many grade levels. Otherwise I just got too bored.
I ended up creating a different hello song for each grade level. I actually combined four, five and six into one song because of the teaching situation that I had, but the K through fourth grades had a different song.
That meant at the beginning of the year, the new first graders coming in from kindergarten would learn a new song. It actually really helped to streamline my lessons. It meant I didn't have to come up with a new hello song every year or two.
I had a specific song for kindergarten, first grade, second grade, third grade, and four or five six were one song that I used that really helped with streamlining my lessons.
So these next songs I'm going to share are those songs that I made up. I found that in kindergarten that the students weren't really even sure what their personal space was.
So I took a simple song called This is the Way we, you know, Wash our Hands or This is the way we march our feet and I just wrote some new verses.
I started at the top of the body and worked my way down. This helped calm the students and helped them transition to music class.
It also helps them learn about their body, personal space and singing voice.
This is the way-
Nod my head
Pat my cheeks
Tap my shoulders
Finally, touch my toes.
You can check out the preview on TpT.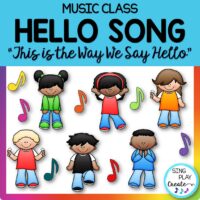 Music Class Hello Song: "This is the Way We Say Hello"
FIRST GRADE HELLO SONG
This is one of my favs. It can be used with Prek-3rd graders.
Hello my good friends, how are you today?
Come and sing a song with me, then let's run and play.
The children especially love singing to their friends. They point at each other and pretend to run and do jumping jacks on the word 'play'.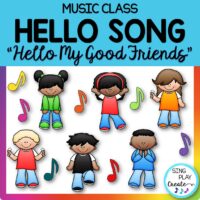 Music Class Hello Song: "Hello My Good Friends" Video, Mp3 Tracks
VIDEO with vocal and practice tracks to help you teach your students how to move and sing together.
HELLO SONG FOR AM AND PM
I wrote this song for my second graders, but you can use it with any grade.
It has two versions, one is for the morning and the other for the afternoon.
Hello, hello good morning to you!
Hello, hello it's time to sing too!
Sing high, sing low.
We'll sing, sing, sing, sing, sing until we go!
Hello, hello good morning to you!
Hello, hello it's time to sing too!
GOOD MORNING HELLO SONG
You can tell by now that I think all those songs are an important part of music class.
I just found they were a great transition activity. I think that's why they worked for me.
They help get the kids in, get them singing and moving, and then after we sing our Hello song, I always sing the student names and have them echo back to me.
And when I sing their name, that would be their cue to sit down and help us echo sing all of the names. I just found it solved a lot of problems in classroom management because it let them know that this is the way we do things. We repeated it every class time. I honored everyone by singing their names, and showed my respect to each student.
Music Class Hello Song: "Hello, Hello Good Morning to You"
HELLO SONG WITH RHYTHM
This hello song has some fun clapping when students are not singing or there's a "rest".
X= clapping
Good morning to you. XX
Good morning to you. XX
It's time to sing XX a song or two. XX
Good morning to you. XX
Good morning to you. XX
It's time to sing XX a song X for X you! XX
For the afternoon classes we sing "afternoon" instead of morning to you-
I always have fun teaching the end of the song. It took some of the students a couple of class times to get exactly when to clap, but then they just loved singing it.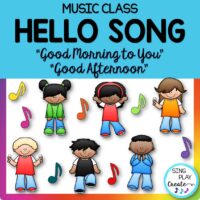 UPPER ELEMENTARY HELLO SONG
The last little song in this series is the fourth grade song. And this one we used solfege. The students sing a capella and it is a round, so it can be a bit of a challenge for them at the beginning of the year, but it is a good one to work on all those things every class time to review and bring them back up to speed.
If you are a Kodaly teacher, this song is a nice hello song for 3rd-6th grades.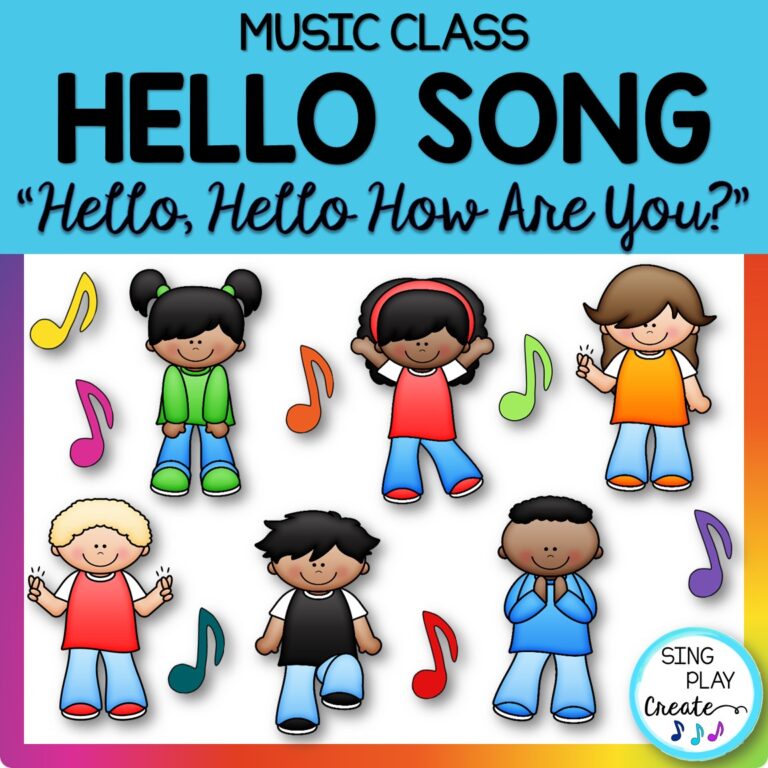 KODALY HELLO SONG
This song is the easiest song to learn. It also has a music lesson for sol/mi and quarter and eighth note rhythms.
If you are a beginning teacher and need a hello song and game for Kindergarten through 2nd grade, you may want to look at this song.
Sing or chant this fun back to school "Hello" song and play the game to build classroom community and develop solfege skills.
It's also a fun learning opportunity for your elementary music back to school activities.
Music Lesson, Song and Game "Hello" Kodaly |sol, mi
SING AND PLAY A NAME GAME
"The More We Get Together" I like this song as a transition activity.
Have students move to their spots and begin to do the body percussion and sing along.
You can use the video to teach them the song and actions.
Later they can sing alone or with piano.
After they sing the song continue with "there's 'name' and 'name'".
At the beginning of the year there may be students who are shy and don't want to say their names.
One thing I've done that worked well is I used the class lists.
I sing the names and ask them to wave as I sing the name.
The next class time I have the students echo me.
Then, on the 3rd class time I ask the students to sing their name and we go around the circle.
This hello song and name game activity helps build that classroom community and respect that you want in your 3-5th grades.
Then you can add in some body percussion.
With the upper elementary students you can have them make up patterns to go with the song.
Make only one change per class time and review as needed.
You can use the song all year long by coming up with ways to challenge the students.
Try using instruments, playing an Ostinato, barred instruments, choosing student leaders, students can work in groups to create body percussion.
Children's Game Song "The More We Get Together"| Friendship Song| Nursery Rhyme| Sing Play Create
HELLO SONGS ESTABLISH COMMUNITY
I've shared a lot of different hello songs and teaching ideas to help you find a hello song that will work in your classroom.
The most important thing is that you are helping the students transition to music class, establish a community of learners and experience music and movement.
If you are looking for more back to school music class activities and tips, these videos will be helpful.
NEW ELEMENTARY MUSIC TEACHER TIPS
FIRST DAY UPPER ELEMENTARY ACTIVITIES
10 BACK TO SCHOOL MUSIC ACTIVITIES
Thanks for reading this post!