Desert Habitat Educational Song "It's Hot in the Desert" makes it fun to learn about the Sonoran desert.  It's perfect for preschool, elementary, homeschooling earth habitat science lessons and music activities.
DESERT HABITAT EDUCATIONAL SONG "IT'S HOT IN THE DESERT"
Sing this desert song "It's Hot in the Desert" with your students to learn about earth habitats or the weather. Desert science lessons are so easy when students sing, read and write about the desert.
The variety of activities you'll find in one resource enables you, the teacher to use in class, distance learning or for your Sub Plans.
Writing, Coloring, Singing and Hand Actions using this rockin' upbeat song with vocal and karaoke tracks, "It's Hot in the Desert".
Music Teachers-Why not use it in a western themed music program?
"It's Hot in the Desert", you rule the Sonoran skies.
It's Hot in the Desert", you are a desert surprise!"
Use the video in your homeschooling or distance learning classes too!
Your students will love learning about desert habitats when they get to sing the It's Hot in the Desert" song!
All of the desert habitat resources come with sing along videos!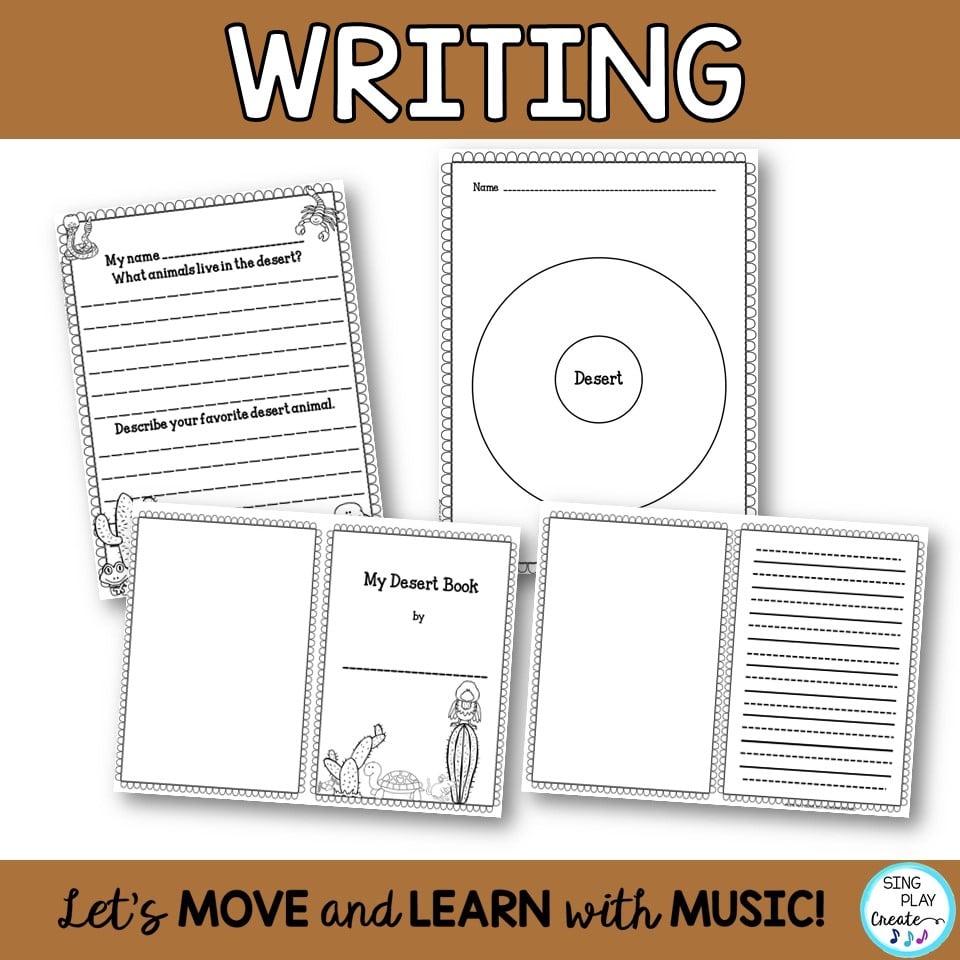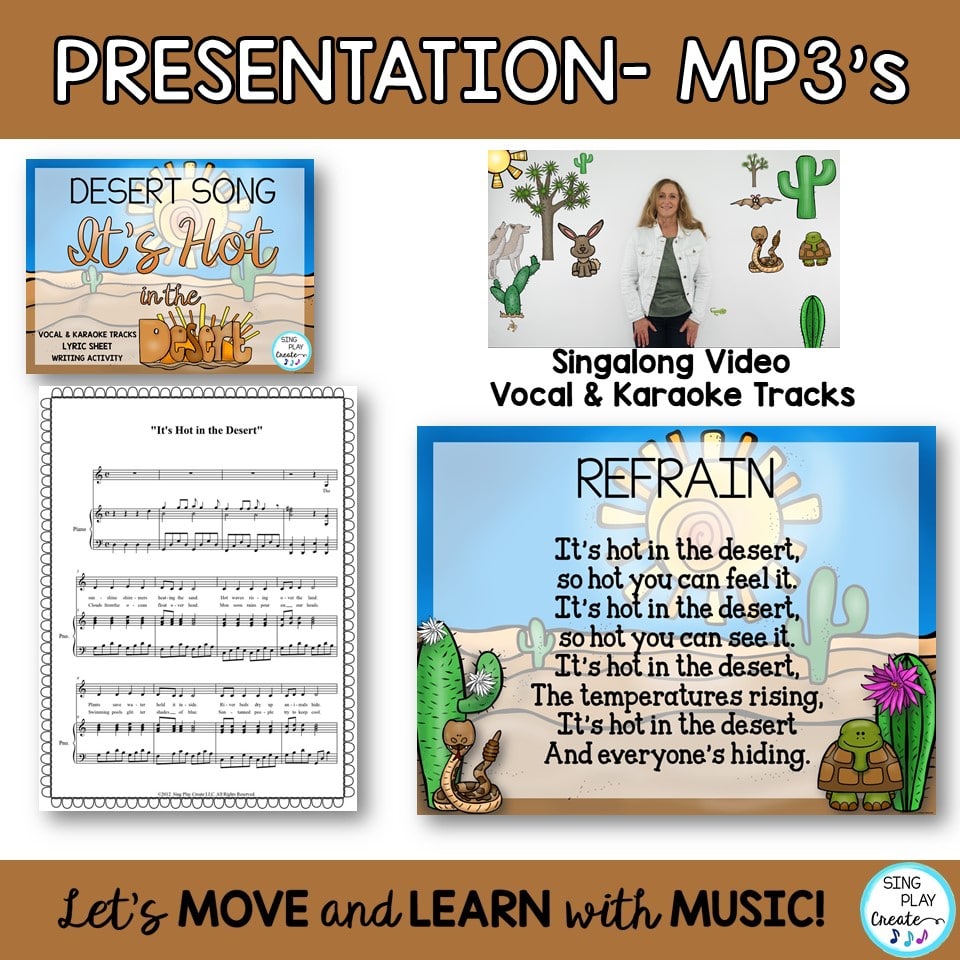 USE SONGS TO TEACH CONCEPTS
To be sure, children love to move and sing!
For one thing, that's why this resource is packed with a variety of materials and activities to help your students learn about the saguaro cactus.
Specifically, the activities include:
Imagine having all of these materials that include those activities in one resource!
Ultimately, you'll keep students engaged with the Coloring Pages, Teaching Presentation, Sing along Video and Writing activities.
Power Point presentation with lyrics
Storybook pages
Mp3 Tracks for Vocal and Accompaniment
Sing along Video
Hand Motion Directions
Science Standards Connections
Lyric Sheet students can color (black and white)
Writing Activities
Coloring Pages
HOW TO USE THE DESERT HABITAT EDUCATIONAL MATERIALS
Combine the song and writing activities with your existing habitat lesson materials.
Try using the video during your morning meetings, brain break time and reward activities.
Combine all of the desert songs and activities in an easy to use desert habitat learning unit.
These resources are perfect for Pre-K, Kindergarten, First, Second and Third grade Habitat lessons.
Music Teachers! Add this song to your desert and western music programs.
MORE DESERT HABITAT EDUCATIONAL SONGS AND ACTIVITIES
Coyote Desert Habitat Song and Writing Activities "Coyote, Coyote" Video, Mp3's
Learn all about the Saguaro Cactus and it's friends in this desert habitat song and activities.
Desert Habitat Song and Activity "Saguaro Cactus"
MORE SONGS AND LITERACY ACTIVITIES
Weather, Sun, Science Desert Habitat Song and Activities "Sunshine, Sunshine"
In addition, students can Sing and Learn about "Sunshine" as part of your weather, literacy and science centers. Perfect for the STEAM Classroom teacher using music to reinforce science concepts.
Or, music teachers who wants to incorporate Science into the Music curriculum. Video and Mp3 Tracks for easy teaching.
SONGS THAT CONNECT CONTENT HELP STUDENTS LEARN
Moreover, you'll want to check out these blog posts for teaching tips and strategies.
"Steam Ahead with Science and Songs and Activities"
Get Free Resources when you Subscribe to the Sing Play Create Newsletter and Library
I hope these desert habitat songs come in handy for your science and music lessons.

Please share this post!