Because we don't know if we'll teach online or in person, I'm sharing sharing interactive online learning music activities.
INTERACTIVE ONLINE LEARNING MUSIC ACTIVITIES
Because we don't know if we'll teach online or in person, we do know that interactive activities keep students engaged and learning music concepts.
I'm extremely excited about the new types of google slides activities that I've been creating for my students and for you.
DIGITAL DRAG AND DROP ACTIVITIES
Mainly, I'm loving these types of activities because each student will be able to do all the activities.  Whereas in the regular classroom, they would need to take turns.
These new Rhythm Activities are perfect for music activities for online learning
I think my favorite interactive online learning music activities are the new drag and drop google slides resources.
There are so many possibilities for teachers in these resources.
Here's a short video on how to use in google apps.
Teachers can record themselves teaching the lesson and demonstrating how to use the drag and drop features.
Teachers can use the presentation and activities for small groups, individual use on tablets and for the entire class.
Sharing the activities is easy in google classroom!
Fun, Easy, and INTERACTIVE rhythm activities for the digital classroom and in person classroom. Students will love the relatable images, easy to follow directions and dragging and dropping their own images into the boxes.
The presentation covers rhythm review with practice activities.
Music educators will love having the options in this essential resource for your primary classes.
Help your students get on board the rhythm train with this classroom and digital distance learning resource.
Students play the rhythms, create movement, say and play the sounds, play instruments, and finally create their own rhythm patterns.
Easy to adapt across several grade levels.
Distance Learning interactive Google Slides Presentation with activities for students to create their own body percussion movement patterns.
Body Percussion Activity presentation, practice the moves and then create your own.
Perfect for Kinder (with help) through 3rd grade.
VIDEO LESSONS ARE INTERACTIVE ONLINE ACTIVITIES
Interactive online learning music activities give the students opportunities to practice and respond to the materials.
That's why I've been working through as many of my resources as fast as I can to create student video activities.
And, another reason I've been uploading more videos to the Sing Play Create YouTube Music Channel. 
I've realized that videos are great for the google classroom and for sharing too.
Many resources now have short teaching videos or sing along videos that teachers can upload to google classroom, share and use in their online music activities.
Here are some of the new and updated interactive online music activities with teaching videos:
BODY PERCUSSION CLAP, PAT SNAP ACTIVITIES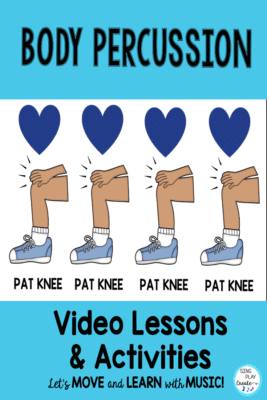 VIDEOS for DISTANCE LEARNING
Music Class Students love these interactive body percussion activities that can be used with or without music.
K-6 applications with Ideas for Stations, Lessons, Small and Large groups. Motivational posters with lesson ideas included.
Great for beginning or end of year classes and building classroom community. Perfect for K-6.
Primary Music Classes: GET TO KNOW YA CHANT LEVEL 1 

Rhythm games are an essential part of the music classroom experience. "Get to Know Ya" Rhythm game can kick start your school year off to a great beginning.
In class or online, you can use these materials to get to know your students and get them back into music land reviewing and learning rhythms.
Level 1 is perfect for your primary classes.
Upper elementary students will enjoy Level 2
Upper Elementary Music Classes:  GET TO KNOW YA CHANT LEVEL 2 

Primary Music Classes:  APPLE TREE MUSIC LESSON LEVEL 1 

One way to use this resource is in your back to school lessons.
Review rhythms and notes and get to know all your student names.
Pull out this resource throughout the year by playing the song and game as review and assessment of skills.
Use the "Interactive/Smart Board" graphics and pages for whole class or station activities.
  APPLE RHYTHM AND MELODY DIGITAL ACTIVITY LEVEL 1
Interactive melody and rhythm activities for your online or in class lessons.
Students will love the cute apples and get excited to have the chance to move the images and create patterns.
Then, they can say and play/sing their compositions.
Use this resource in your distance learning or in class activities.
LEVEL 1 Best for grades 1-2-3

LEVEL 2 Best for grades 3-4-5
Upper Elementary Music Classes: APPLE TREE MUSIC LESSON LEVEL 2 

APPLE RHYTHM AND MELODY DIGITAL ACTIVITY LEVEL 2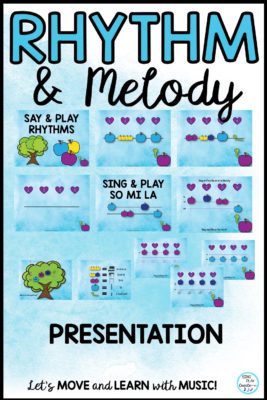 Hello Songs are a great way to begin music class.  There are VIDEOS of each of the songs which you can upload to your online learning platform.
BUNDLE INCLUDES:
5 VIDEOS
5 Songs with Vocal and Accompaniment/Performance Tracks
5 Presentations/PDF files
(Grades 4-5-6 can use the same hello song- Kodaly inspired)
Here's some tips and ideas on How to Begin Music Class
Check out this post with  more Digital Resources!
 MUSIC EDUCATION RESOURCES WITH VIDEOS
Rather than listing all of the resources that have videos, I've compiled a list in this FREEBIE DOWNLOAD:
TUTORIALS FOR LEARNING TO USE GOOGLE APPS
You'll want to check out these VIDEOS with more "how to's" on teaching online.
HOW TO USE VIDEOS IN GOOGLE APPS

HOW TO MAKE VIDEOS IN POWER POINT

Overall, learning technology opens up more ways to diversify teaching and reaching all students.
So acquiring some interactive online music activities in our teacher tool belt will help all of us in the long run.
I really hope that this year we can move from online to in class activities- but until then, let's get kids learning and moving with music no matter what!
Please share this post with your teacher friends!