Many teachers are worried about literacy due to online teaching. So, I'm sharing some ways music activities strengthen literacy skills.  Literacy skills are more than just reading. Literacy skills are reading, writing, listening, speaking, and social skills. Music educators can provide many literacy learning opportunities in their classrooms.
HOW TO INCORPORATE MUSIC ACTIVITIES THAT STRENGTHEN LITERACY SKILLS
Music educators can provide many literacy learning opportunities in their classrooms. That's why I'm sharing some of my songs that also have literacy activities.  This fun action song "Come On Down to the Barnyard Dance" is one of my favorites for fall movement activities.  Preschoolers and Kinders are learning about farm animal so this activity connects music and science together.
Move and dance in this farm animal song and farm animal movement activity with Sandra and the farm animals as she sings and dances to "Come on Down to the Barnyard Dance"
 Gallop Like A Horsie-
Waddle Like A Duck—
Skip Like A Goat—
Hop Like A Bunny—
Tip-Toe Like A Sheep—
Sway Like A Chicken—
Wiggle Like A Pig-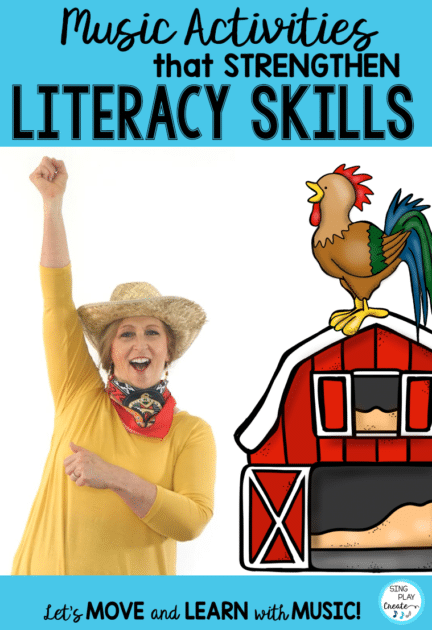 It's important to remember that literacy skills are more than just reading. Literacy skills are reading, writing, listening, speaking, and social skills.
WHY INTEGRATE MUSIC AND LITERACY?
When children hear and see words in a different context, like music, the brain makes new and stronger connections.
Singing songs, reading, and writing music and moving to music strengthen phonemic awareness and help children learn to express themselves.
Overall, music activities can help children strengthen oral language skills, enhance phonemic awareness, letter sounds and phonics, strengthen spelling, vocabulary, reading fluency and expression, reading comprehension, writing and general knowledge building.
I know that Reading and learning music require similar skills.
Think about it!  We rhyme, we move, we dance, we "act", we memorize, we interact, we compose. Language is part of all these activities.
TIPS FOR MUSIC ACTIVITIES IN YOUR CLASSROOM
And, here are some ideas to help you get started on integrating music and literacy activities.
CONNECT WITH CLASSROOM TEACHERS
Connect with classroom teachers about their social studies, science, math and literacy activities. You may want to begin with one grade level in just one subject area and continue from there.
I wrote some songs to specifically connect with the social studies curriculum in first grade.  Here is the "Coyote, Coyote" song.
This song is part of the Desert Habitat songs I put together for a music program.
"Saguaro Cactus"  and "It's Hot in the Desert" are also about desert habitats.
I share some spring themed literacy and music, drama and art activities for the music room that strengthen literacy skills.
 Spring into Literacy Skills Through Singing, Writing, Drama and Art Activities
COMPOSING ACTIVITIES
Get your students composing. Helping students to get to the composing level is a rewarding goal.  Once students get "beat" they can begin to create their own chants.
Then as they gain skills in rhythm and pitch, the opportunities are endless. Asking students to create simple chants and melodies about relevant topics is an easy way to integrate composition into your classroom activities.
These Spooky Halloween chants are perfect for Upper Elementary Students.
POETRY AND SONGWRITING
Another way to strengthen literacy skills is through writing poetry and songs.
You can get the FREE RESOURCE HERE: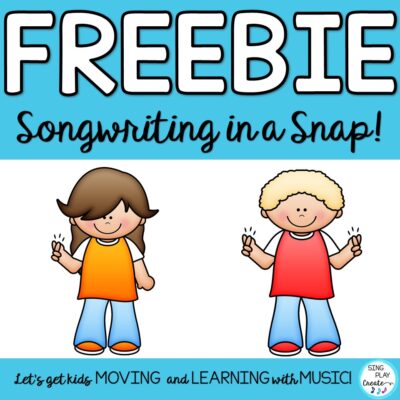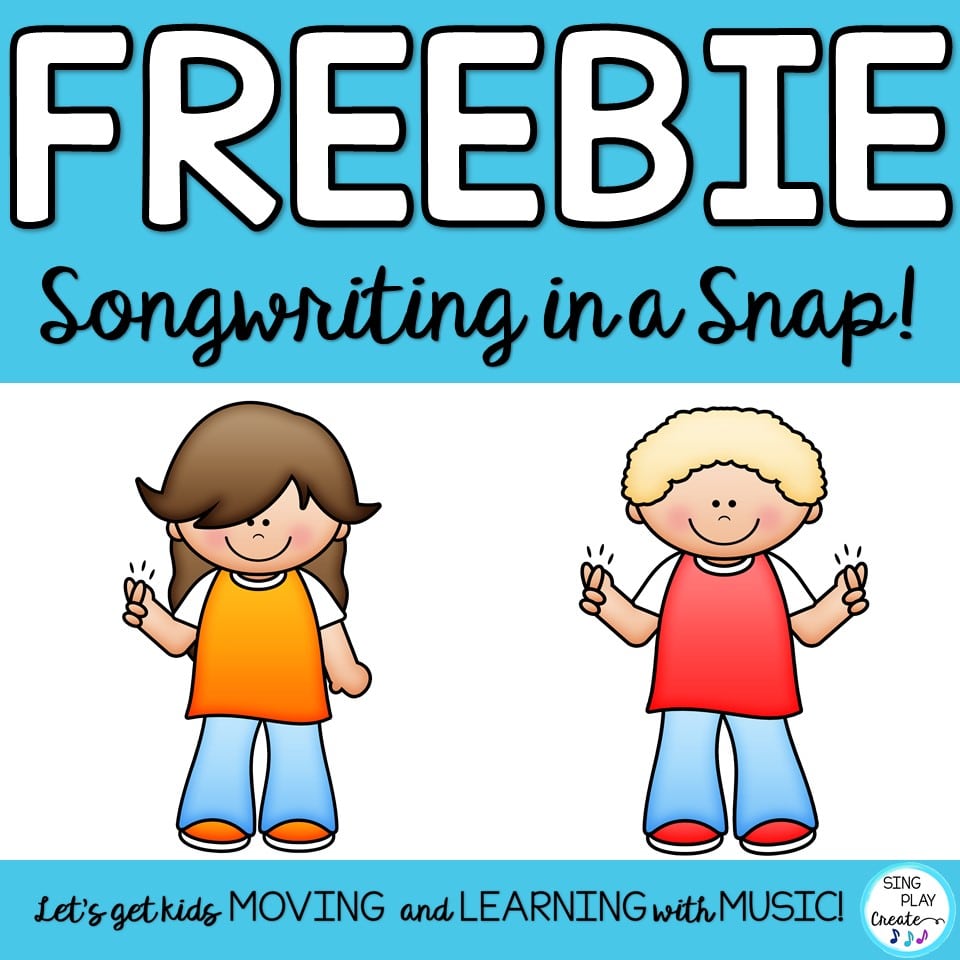 Read the post HERE:
 TEACHING SONGWRITING IN MUSIC CLASS: 
USE SONG BOOKS TO HELP MAKE CROSS CURRICULUAR CONNECTIONS
Here are some of my favorite books that I use during different times of the year.  I like how they can introduce a music concept or learning goal and connect to literacy skills too.
(these are amazon links and I do get a small kickback if you click on them)
"Never Play Music Right Next to the Zoo by John Lithgow
I use this book during "READ ACROSS AMERICA" week. And when we are learning instruments.

"Zin! Zin! Zin! A Violin" (Aladdin Picture Books)
Paperback – Picture Book, May 1, 2000
The Wonky Donkey Paperback – Illustrated, May 1, 2010
by Craig Smith  (Author), Katz Cowley (Illustrator)
Let's Dance! Hardcover – March 3, 2020
by Valerie Bolling  (Author), Maine Diaz (Illustrator)
There Was an Old Lady Who Swallowed a Fly! Paperback – Picture Book, August 26, 2014
by Lucille Colandro  (Author), Jared D. Lee (Illustrator)
The Carnival of the Animals (Book & CD) Hardcover – August 24, 2010
by 
I'm going to be using more books this year as I'm teaching online.  I'll be able to record myself reading the book and then share that video with the class to introduce lessons.
Making the recordings will help  me save my voice too. And, I can use them as substitute lessons.
Reading books with music and movement themes is a great way to connect music with literacy skills.
Feeling overwhelmed?  No worries!  We have so many things we can and want to teach in music class. So I'm sharing some of my music blogger friends articles here to give you some more ideas.
Here's a great story that connects with math from Linda over at Floating Down the River
And, this article is PACKED with resources.  Jennifer Bailey has outlined books for different holidays, instrument exploration, song books, rhymes, stories, movement, Black History Month, Patriotic and Classical suggestions.
Check out my friends post over at Sing to Kids
CONNECT SONGS TO CULTURAL EVENTS
Singing Patriotic songs is one way to help students make cross-curricular connections.  I've composed several patriotic songs and have some FREE resources for teachers to use to integrate literacy and music in their classrooms. It's so important for our children to have opportunities in music that strengthen literacy skills.
In addition, I am sharing my music and my literacy activities with you because many music, preschool, regular classroom and homeschoolers love to use music with holidays. These resources have readers theater scripts,  songs, poems, chants, actions and writing activities or crafts.
LEPRECHAUN LITERACY ACTIVITIES, SONGS, POEMS, WRITING, GAMES AND CRAFTIVITY
DINOSAUR SONGS, POEMS, CHANTS, ACTION AND LITERACY ACTIVITIES
You may find that you'd like the entire BUNDLE of LITERACY ACTIVITIES for your music room.  The scripts, songs and actions are perfect for a music program.
Most of all, remember that you the music teacher have a special opportunity to strengthen literacy skills and help children make long lasting connections to content. Meaning- YOU MAKE A DIFFERENCE!
I hope these tips inspire you to use more music activities to strengthen literacy skills in your music room.
Please share this post.