I'm sharing tons of pirate themed music and movement activities to sing, move with scarves and dance and play instruments like a pirate!
SING LIKE A PIRATE
Ahoy! Dance and sing like a pirate with this original Pirate Song and Dance "I'm a Pirate" for "Talk Like a Pirate Day.
Children all ages will love pretending to be a pirate. ( I know I do!) The Song and Dance are part of a Music Lesson Resource with Music Lesson Video for the Orff parts, Song and Dance video too!
Get this teaching treasure! It includes a Teaching video, Vocal and Mp3 Tracks for K-6.  And, your upper elementary students can play the Orff Arrangement with the Sheet Music.
Pirate Song and Dance: "I'm a Pirate" Video Lesson, Video Dance, Orff Music
Find some mighty fine teaching treasure in this here blog post!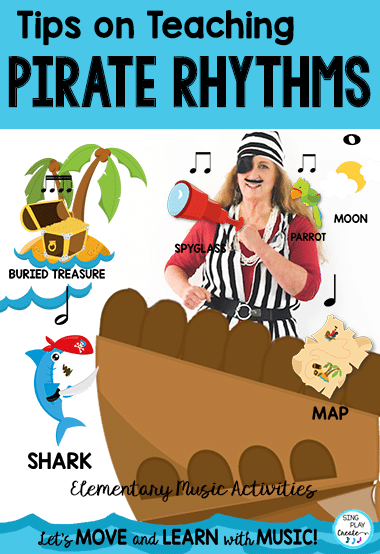 MOVE LIKE A PIRATE
Got Scarves?  Pirates do!
Help out yer maties with  movement activities this fall!  Movement helps kids deal with stress and  fosters creativity!
Pirate Scarf Activities: "Talk Like a Pirate Day" Movement, Brain Break
These here activities be purrrfect fer ye stations and social distancing. Ye can even do them out under the sun!  There be a VIDEO and Music tracks in this here resource too!
(I get a kickback from Amazon when you click the link)
Avast me hearties! Pirate Freeze Dance Creative Movement Activities fer "Talk Like a Pirate Day" ( and Halloween!)
Ye found the teacher treasure in this here resource! Movement activities fer ye scallywags and sea dogs to help yer restless pirates!
Whether ye be virtual, hybrid on in person, this here activity will stop a mutiny!
Music and Movement activities, Brain Breaks are perfect for Elementary Music class, PE, Preschool, Kindergarten through 3rd Grade Classes.
Video and Music Tracks! 18 minutes of movement activities for your scallywags and sea dogs!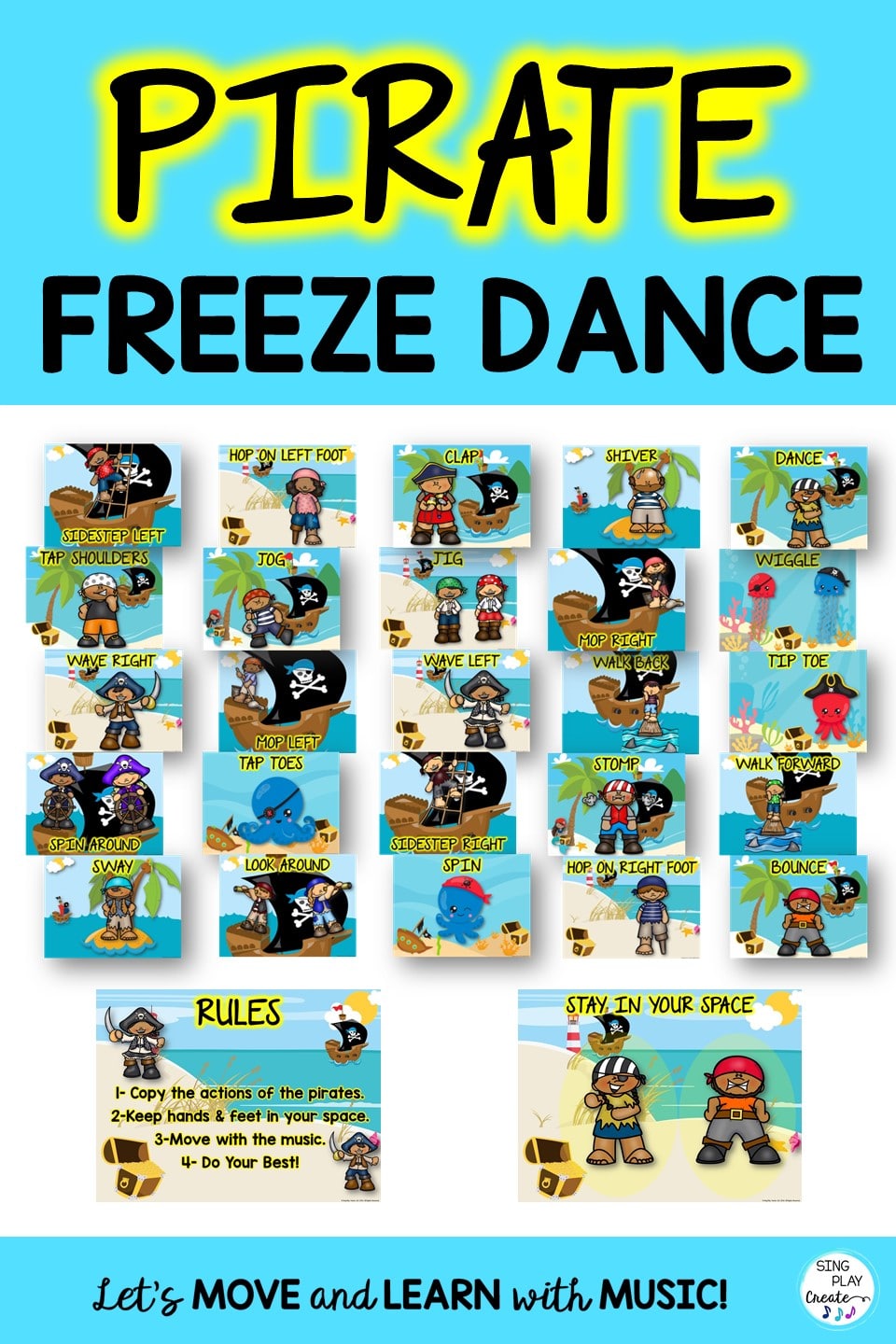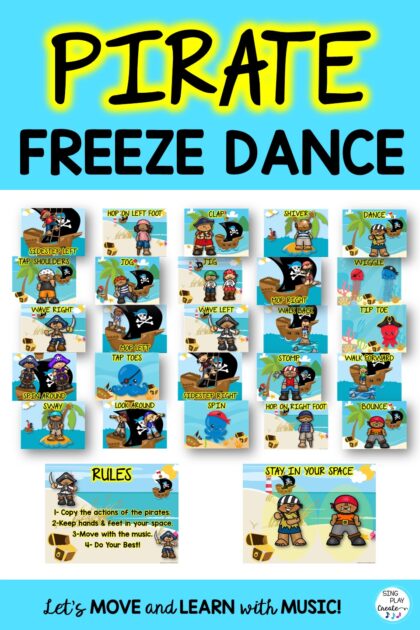 PLAY LIKE A PIRATE
Pirate rhythm activities for yer online music lessons!  Use the digital images on tablets, computers, interactive white boards too!
These be purrrrfect fer ye 1-2-3 graders!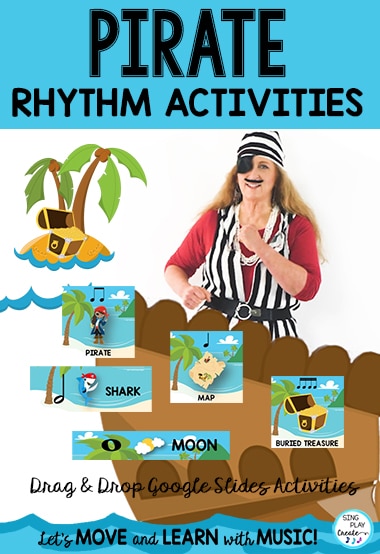 Fer ye old sea dogs (4-5-6th graders) haul out these pirate chants fer some reading and playing activties!
Chant the rhythms, chant the pirate poems.  Student LUV 'EM!  Pirate chants for elementary music classrooms.
Students memorize, perform and play the rhythms and chants.  This set of materials is perfect for stations and "social distance" teaching.
Print enough copies for all of the students using the mini cards and then have them all practice their parts.  Picture them spaced out in the classroom.
You call out "chant #1" and just those students stand and read their card.  During the next class they can memorize and create some movements for their chants.
Pirate Rhythm Chants: Music Lessons, Activities and Printables K-6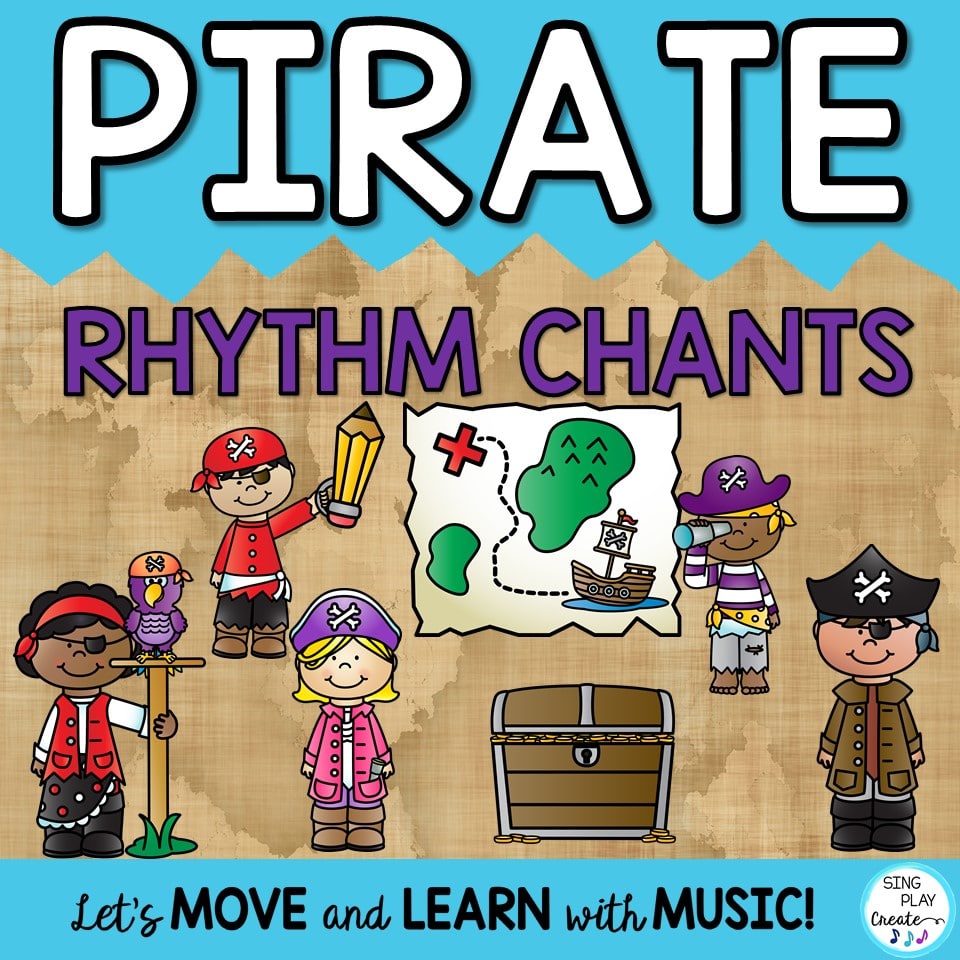 National Talk Like a Pirate Day Music Education Treasures  (has freebies)
Teach rhythms, practice, and assess using the presentation, video and google slides drag and drop activities. Use the videos for your sub plans, online or in person.
Students will love the Pirate music lesson activities.
How arrr ye celebrating "National Talk Like a Pirate Day?" Will ye be a good ol' seadog and pillage and plunder? Arrrgh ye scallywags, or will ye walk the plank?
Well, blow me down! I've got some great music lesson treasures fer ye!
It's the purrrrfect way to celebrate with these "National Talk Like a Pirate Day" music education treasures.
Ye can find more treasure from me old sea dog music teachers in this post:
Follow this map to the complete PIRATE ACTIVITIES BUNDLE: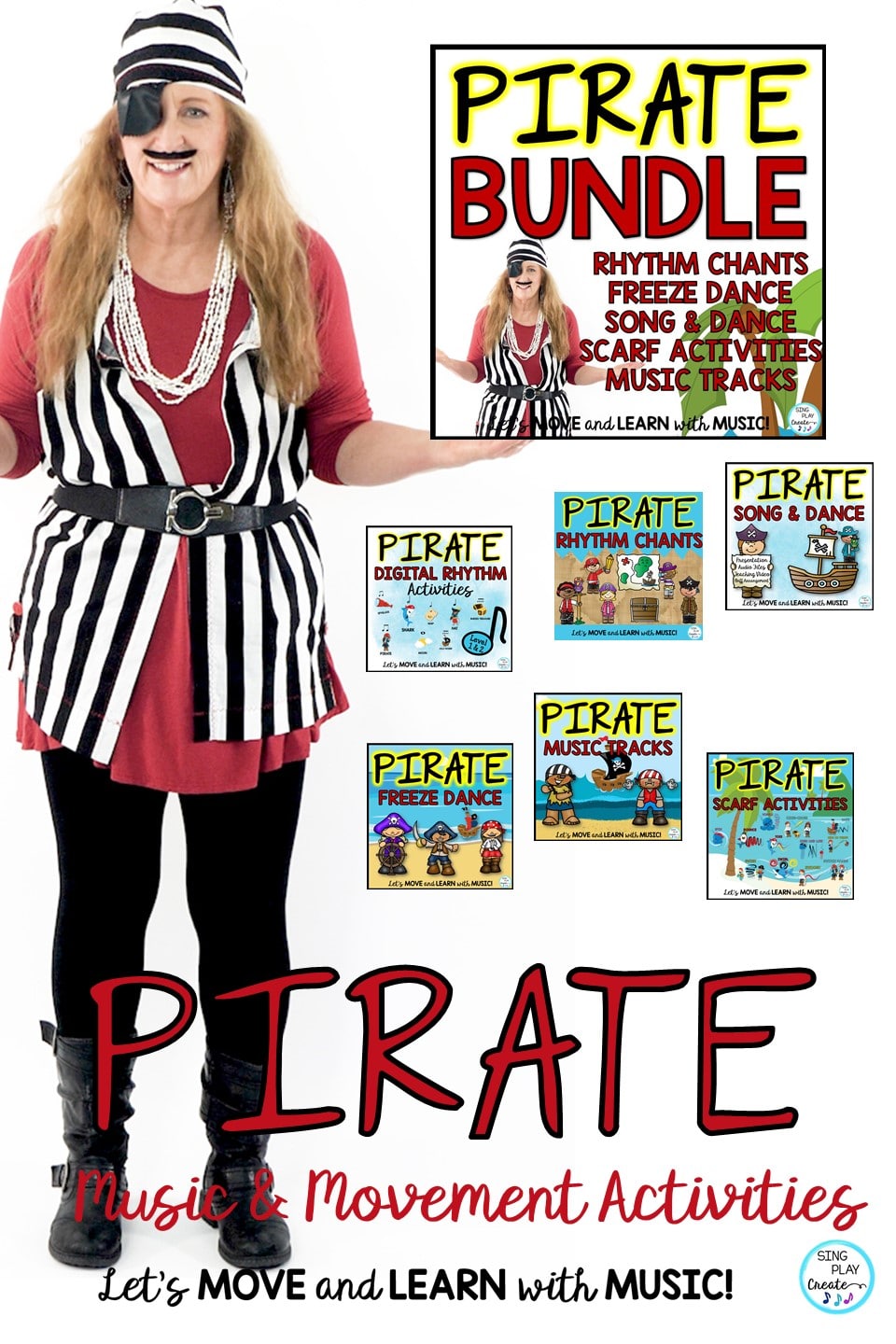 Pirate music and movement activities with VIDEO and MUSIC for a complete set of materials for all ages. Dance, sing, Play instruments, practice rhythms, move with scarves and Freeze Dance Activities!
Finally, to insure ye don't have a mutiny on yer hands….. keep lessons "fun" and "humor" will go a LOOOONG way in keeping focused on the learning treasure!
Be prepared with this here map of music and movement Pirate activities to sing, move and play like a pirate.
Teach Rhythms, Play Instruments, Move and Sing all through the month of September!
It's easy with this bundle to Sing, Move and Play like a pirate!  You're students will have this treasure forever.
Please share this post with your friends hearties!