I'm sharing some elementary music holiday rhythm activities you can use to keep engagement high in your December music classes.
Holiday Rhythm Play Along and Drag & Drop Activities are the way to go!
ELEMENTARY MUSIC HOLIDAY RHYTHM ACTIVITIES
Whether teaching virtual classes, or in person, using interactive google slides activities will help you keep on teaching rhythms, provide students practice activities, and enable different ways to assess students.
Holiday drag and drop rhythm activities with VIDEO for online and in person music class lessons. These activities are interactive and engaging as well as seasonally friendly for December elementary music lessons. Students love moving the images into the boxes to create their very own rhythm patterns. Keep engagement high in your virtual classes using interactive google slides activities.
RHYTHM ACTIVITIES ARE HIGH ENGAGEMENT
Students are saying and play the rhythms-
Clapping and chanting-
Counting and Tapping-
That's why my students are loving these types of activities. It's easy to keep students focused using the presentation practice pages.
I can share the screen with my online students and together we can do the drag and drop activities.
I always have my students SAY AND PLAY the sounds and rhythms.
It's hard for many of them- and I'm sure it feels weird doing it in their living rooms!
But- it's a very effective activity.
STUDENTS LIKE TO CREATE!
I love watching the kids play their home made instruments.
They love to play their own rhythm patterns. Many of them will sing the patterns too.
Here's some pictures to help you see what's included in this resource.
Holiday Rhythm activities for elementary music class activities can be done in so many different ways. You can review and assess the same rhythms using a variety of teaching strategies and activities.
One fun way is to have students use body percussion along with these rhythm activities. In addition, Students love using body percussion, instruments and creating their own patterns.
Using thematic activities helps students relate to the materials, stay engaged and get "excited" about the activities.
You'll want to check out some of the blog posts where I share more holiday rhythm activity ideas.
SIXTEENTH NOTE DECEMBER RHYTHM PLAY ALONG
Give this additional December Rhythm Video with different images for the rhythms and see how it works for your classes.
SUBSCRIBE to get the FREE RHYTHM ACTIVITIES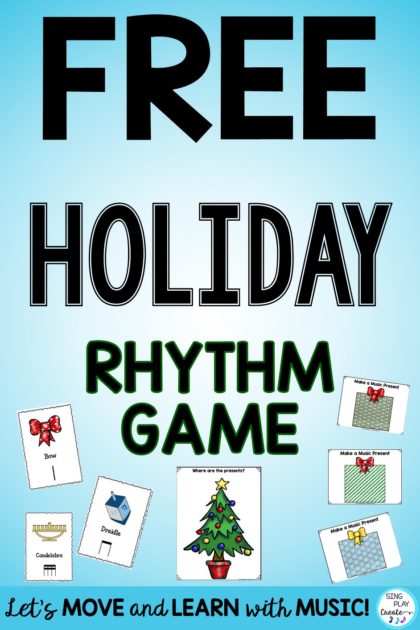 I hope these holiday rhythm activities keep your students learning throughout the holidays!
Please Share this Post!