I'm sharing some exciting Holiday music and movement activities for children in this post.
There are a lot of ways to incorporate music and movement activities into any classroom.
In this post I'll share some activities using scarves and dancing.
HOLIDAY MUSIC AND MOVEMENT ACTIVITIES
Whether teaching virtual or in person- Children (And some adults too), love to wave scarves around!
Be sure to keep reading to get the FREE SCARF ACTIVITY.
WHY SCARF ACTIVITIES ARE BENEFICIAL
Scarf movement activities increase Reading skills because they help students with tracking, concept identification, visualization, and sequencing.
Movement is a powerful learning tool, particularly for students who are bodily-kinesthetically inclined.
Perfect for exercising and developing gross motor skills.
Teachers and parents all agree that movement activities encourage brain connections and help children in so many ways!
This month's scarf activity is "Holiday Monster Scarf Activities".
HOW TO DO SCARF ACTIVITIES
No scarf? No worries!
Try using a towel, bandana, scarf, tissue wrapping paper, washcloth- even a tissue as a scarf.
Give students lots of space to make big movements.
The HOLIDAY SCARF ACTIVITIES resource has a video with music and presentation of movement cards.
You can show the students each picture in the presentation and demonstrate how to do the actions. Then show them the FREE CHOICE poster. You'll be able to assess if they are ready for the video.
Seriously, movement is a powerful learning tool, particularly for students who are bodily-kinesthetically inclined. Best for Preschool through 4th graders.
Honestly, scarf activities are perfect for the P.E., Music, Special Education, Preschool, Kindergarten and First Grade children.
Try some of these ways to make your own scarves!
HOW TO DO SCARF ACTIVITIES AT HOME
TIPS FOR SUCCESSFUL SCARF ACTIVITIES
Encourage students to switch hands every other slide. Encourage high/low, cross-body, small and big movements. These movements will help their brains make connections. Tell them it will make them SMARTER!!
Choose music selections from a variety of music styles, with various dynamics and expressions.
You may choose to use your iTunes playlist or create a slide show (basic directions included). You can play one selection of music and change the slides every 15-20 seconds.
Use the movement pictures to guide students through the activity.
It's important to demonstrate how to use the scarves or how you want the students to move before you do the activity.
Ask students to stay in their bubble space.
Decide if you want students to "toss" their scarf or always keep it in their hands.
You can model the whole activity too, or allow students to follow their ideas.
Organize the music so that there is a variety of tempos and expressive elements. Give students opportunities to move fast, slow, high, low and to calm down at the end of the activity. You may want them to sit down for the last song.
INCORPORATE SCARF ACTIVITIES INTO YOUR LESSONS
I've found that my best lessons incorporate some listening, some movement and some creating activity or playing instruments.
Using scarves as part of the learning process is a great way to reach your physical kids.
And, with everyone on computers more and more, it's a good way to help them get some exercise.
Here are some ways to incorporate scarf activities into your lesson plans.
SUBSTITUTE LESSONS:
Scarf Activities make a great Substitute Lesson. Print the posters for your substitute if they cannot use the classroom technology.
FREEZE DANCE ACTIVITIES are also perfect for subs.
You may want to take a look at the Holiday Freeze Dance Activities. You can purchase it in my TEACHERS PAY TEACHERS STORE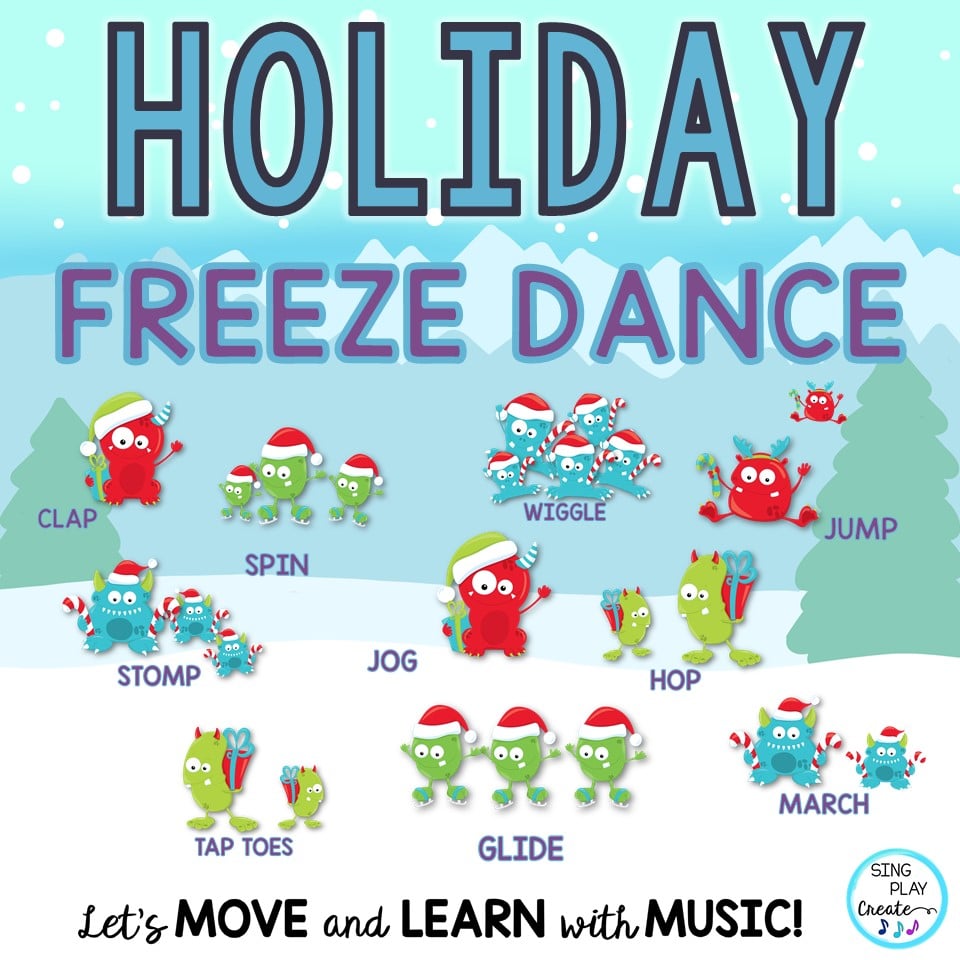 STATIONS:
Scarf Activities can also be used in Stations or Centers. Print the cards and choose several for each station. Students lay out the cards and perform the movements. When the song ends, ask students to rotate to the next station.
 HOLIDAY MOVEMENT WITH LISTENING ACTIVITIES
Try pairing scarf activities with your listening activities. Save the worksheets for a different class time!
Have students listen to the music with their scarves and afterwards, move to the same music.
In this blog post I share more ideas on why scarf activities are great for kids.
SING MOVE PLAY- IT'S IMPORTANT!
And if you want some holiday music without vocals for your Beat and Rhythm activities, you may want to check out the HOLIDAY MUSIC TRACKS RESOURCE at the TpT Store or at the SING PLAY CREATE WEB SHOP.
Sing Play Create Scarf Activities include Rules and Movement Directions!
You will love having the rules and directions as well as the specific movements for optimal gross motor action!
You may want to look at all the scarf activities for your music and movement activities.
Engage your Elementary, Preschool, P.E., Special Needs and Home School Students with this BUNDLE of Scarf Activities using Directional and Movement Slides.
Build GROSS MOTOR skills while having fun. Add in your own music. Video Activity includes music. A Great addition to your movement activities.
And I'm very excited about our new product line! MUSIC TRACKS!
You can get 8 music tracks to use with your rhythm and beat activities and they have NO VOCALS. I've composed 8 tracks of varying styles and tempos specifically for the music classroom.
Get the music tracks at the TEACHERS PAY TEACHERS STORE
or
Watch the video:
Looking for Scarves?
These are some dance scarves for movement activities for sale on Amazon (via affiliate link).
Can you tell? I totally believe that movement activities are critical to child development because they encourage brain connections and help children in so many ways!
MORE HOLIDAY MUSIC AND MOVEMENT ACTIVITIES
ORFF MUSIC LESSON "WE WISH YOU A MERRY CHRISTMAS"
ORFF MUSIC LESSON "JOLLY OLD ST. NICHOLAS
ORFF MUSIC LESSON "JINGLE BELLS"
HOLIDAY THEMED VOCAL EXPLORATIONS
HOLIDAY RHYTHM CHANTS AND ACTIVITIES
DECEMBER LIGHTS ORFF ARRANGEMENT
HOLIDAY MUSIC CLASS WORKSHEETS
No matter what time of year, scarf activities can help students work out, express and have fun! I'm hoping that these holiday music and movement activities help you in your class today!

Please share this post