Happy Valentine's Day! It's time for some fun and interactive music and movement activities to keep students moving and learning! This post has some ideas for movement, rhythm, body percussion and game activities.
VALENTINE DANCE MOVEMENT ACTIVITY
Let's dance your way through Valentine's Day this year with "Valentine Dance" Video activity. 
"Valentine Dance" brain break, action song, movement activity will give your students a fun and easy to do dance online or in person classes. 
Break up your "core" learning activities with this fun dance.
Students can do the dance in their own spaces right behind their desk too.
Music teachers can use the dance for small groups and have students practice together.
Which group can do the actions best?
And, have students create their own actions to share with the class.
Now you can listen to "Valentine Dance" on Spotify!
VALENTINE'S DAY RHYTHM ACTIVITIES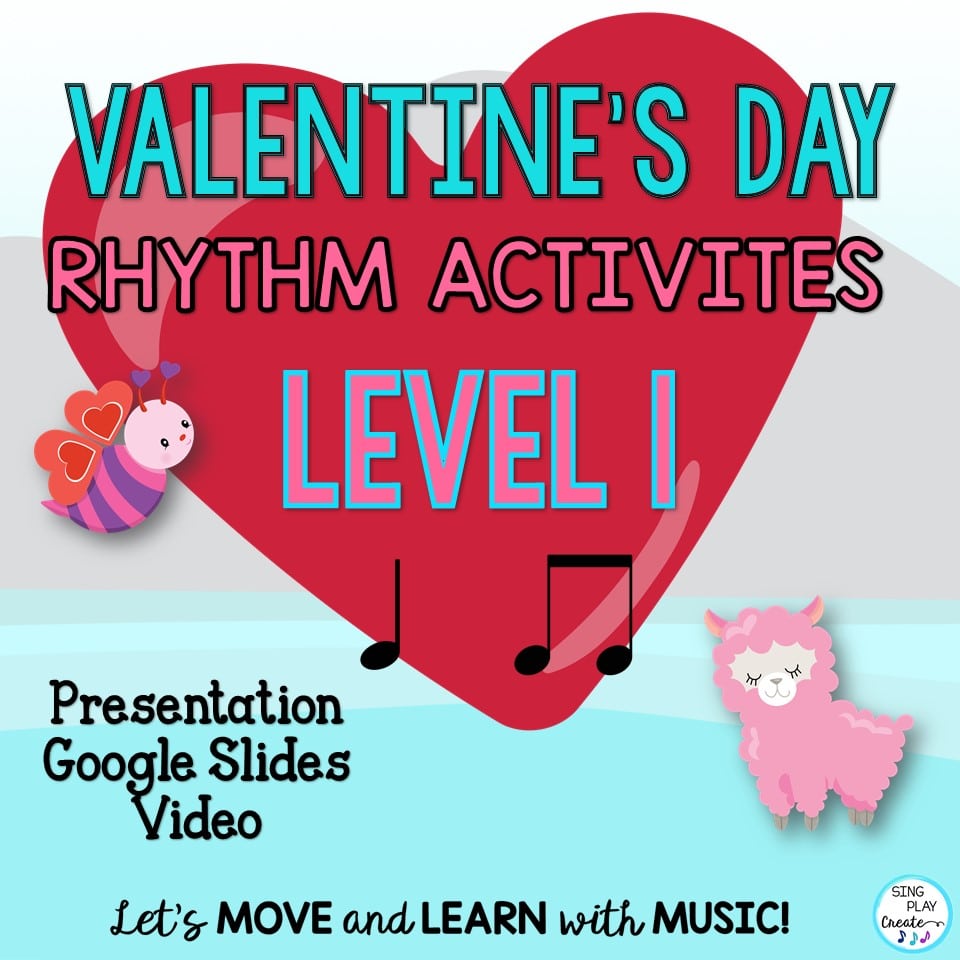 Let's play Valentine's Day Rhythms! Level 1 Valentine's Day Rhythm Activities includes video, teaching presentation and google slides activities.
Elementary LEVEL 1 music rhythm activities with drag and drop google slides, digital images for online and in person music class lessons. These Valentine's Day themed activities are interactive and engaging elementary music lessons for in person and online teaching.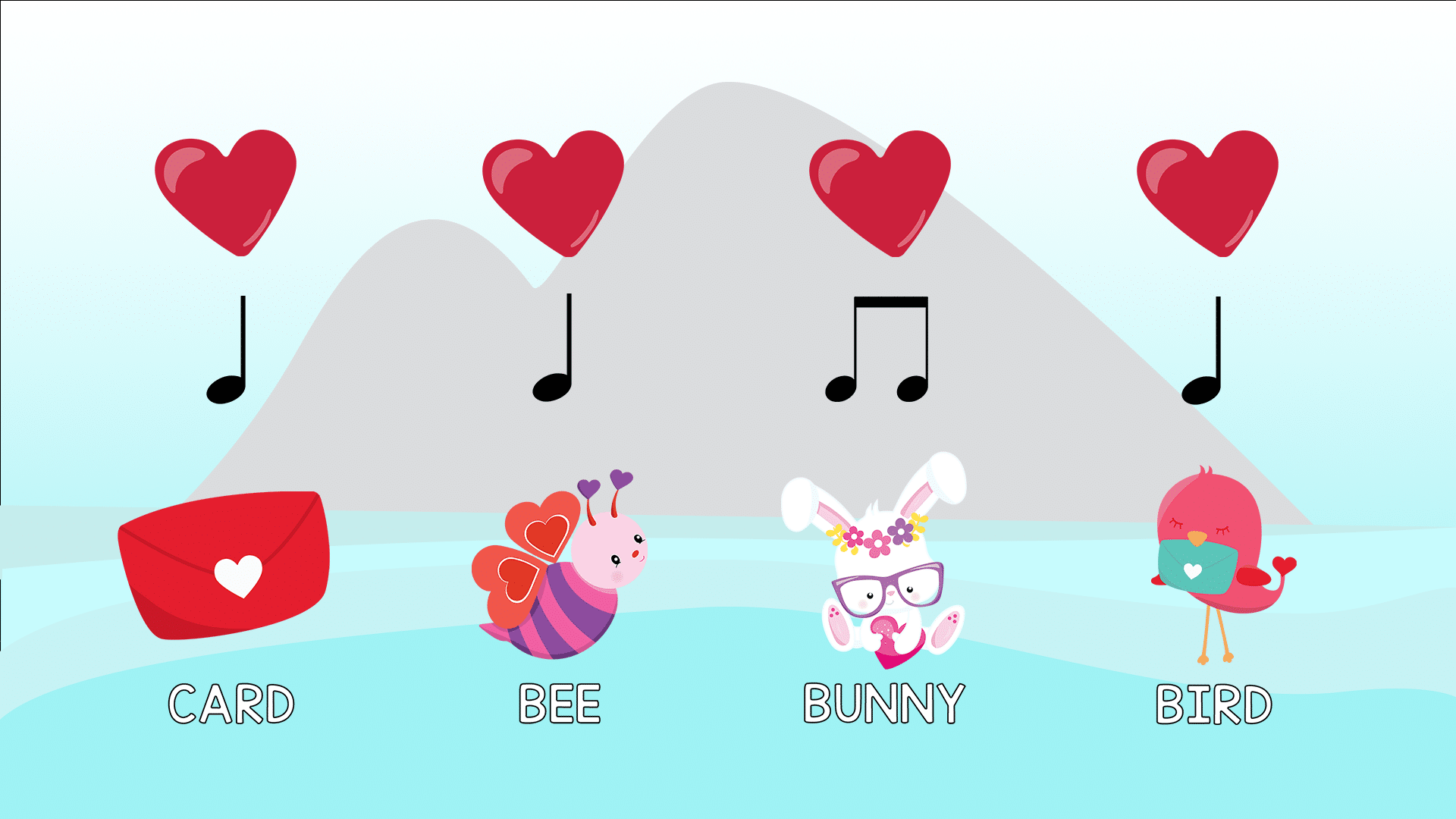 into the boxes to create their very own rhythm patterns. Keep engagement high in your virtual classes using interactive google slides activities. Keep on teaching rhythms, practice, assess using the presentation, video and google slides drag and drop activities.
with video, presentation and google slides activities.
 for students to say and play rhythms. First students learn one sound on the beat. Then practice saying and playing the quarter note patterns using the pictures. The next section introduces joined eighth notes with pictures, notes and words. After practicing the joined eighth notes there are mixed patterns with varying combinations of quarter and eighth notes.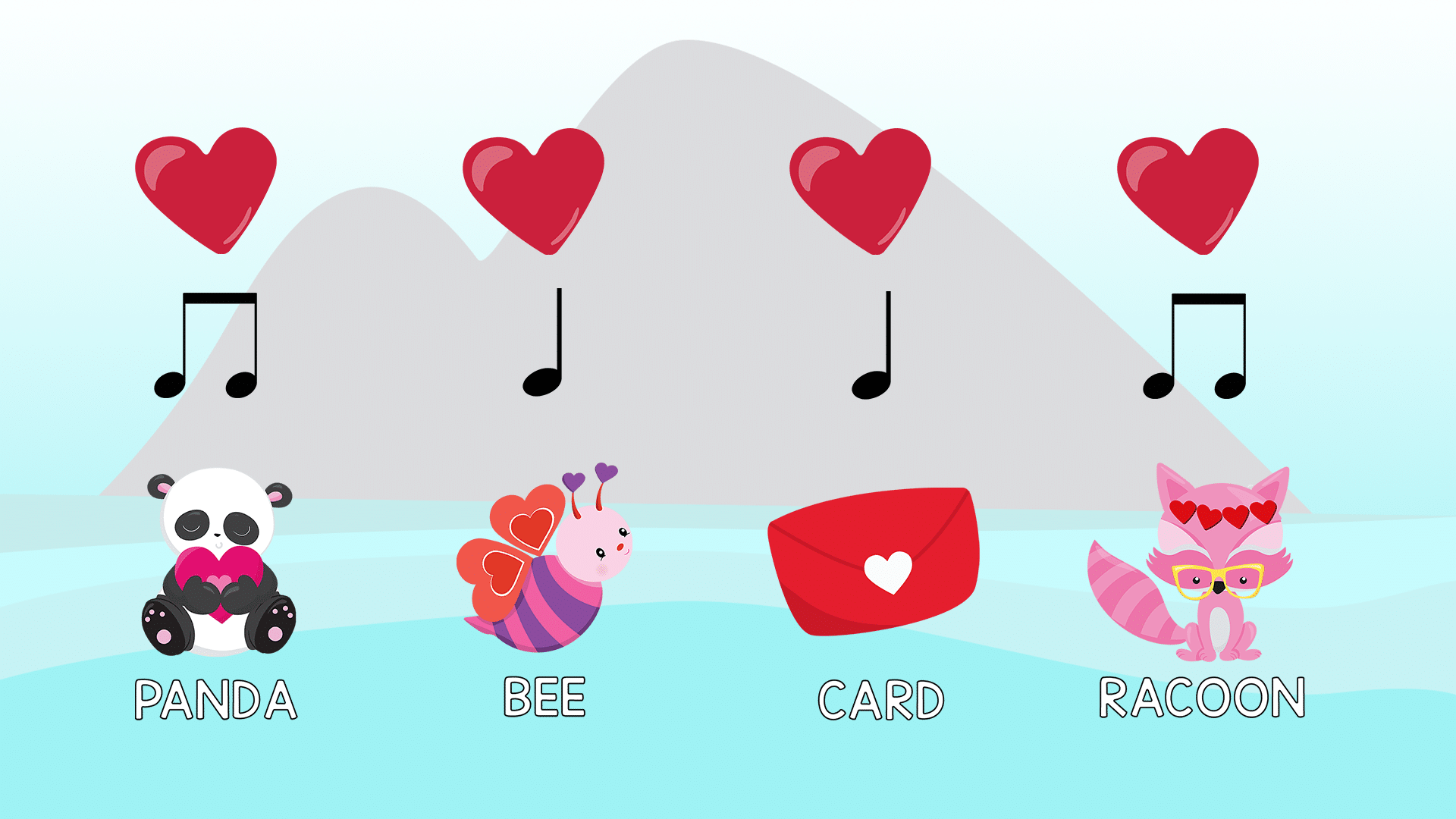 VALENTINE'S DAY BODY PERCUSSION ACTIVITIES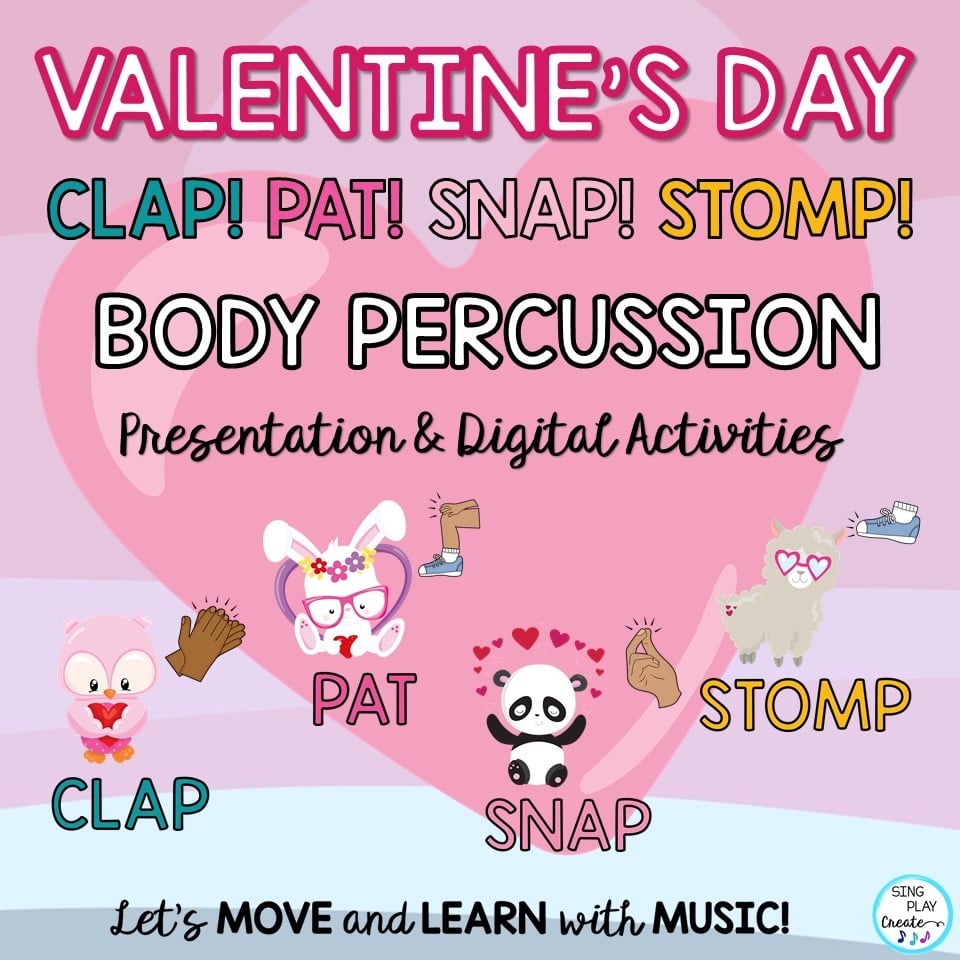 Let's play body percussion patterns this Valentine's Day! Students will love the cute animal characters as they CLAP, PAT, SNAP & STOMP. Patterns are STEADY BEAT no rhythms and vary from single action to 4 action patterns.
Just think! You can use them for your Kinders through 3rd graders. The google slides are easy to use in your online teaching and classroom activities. You'll get the graphics to create your own patterns.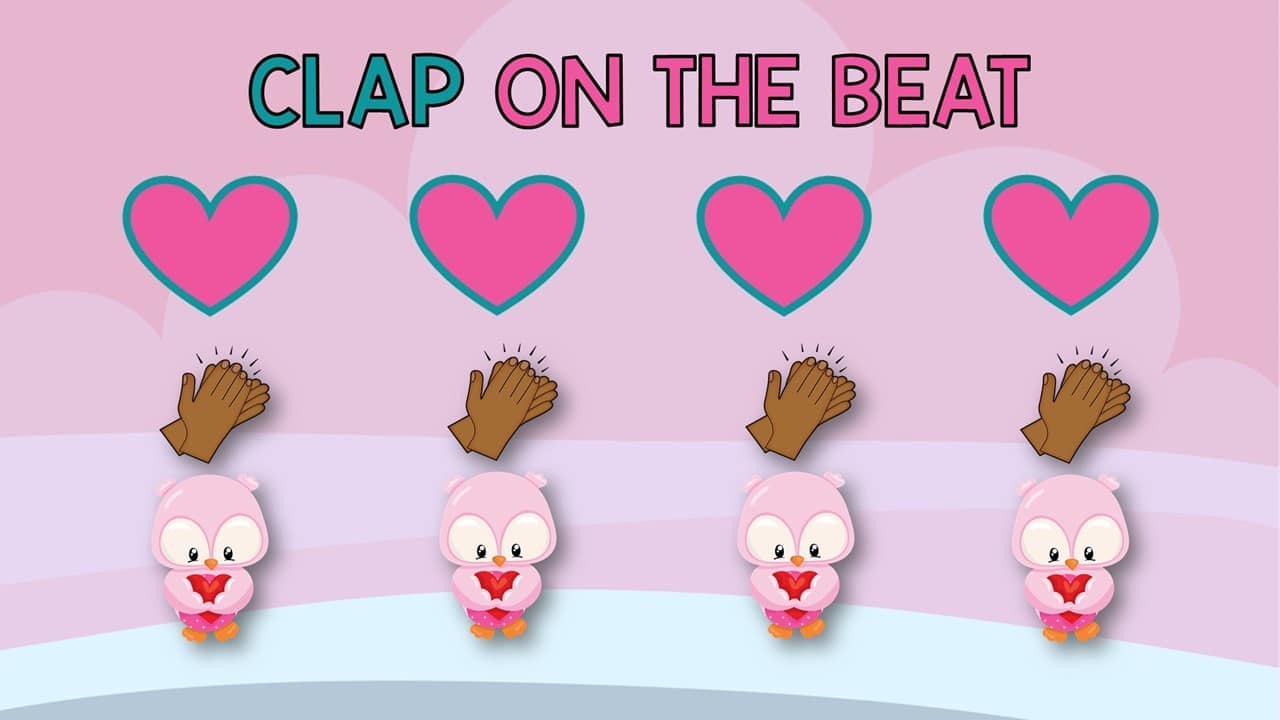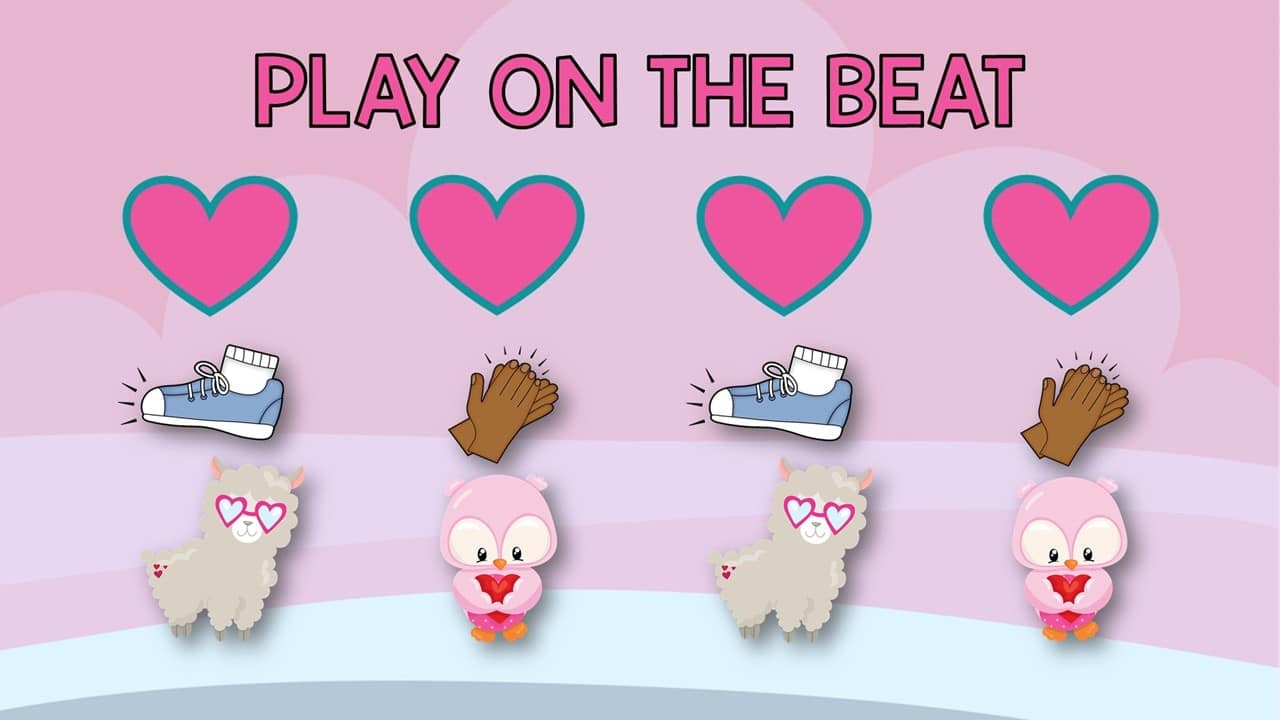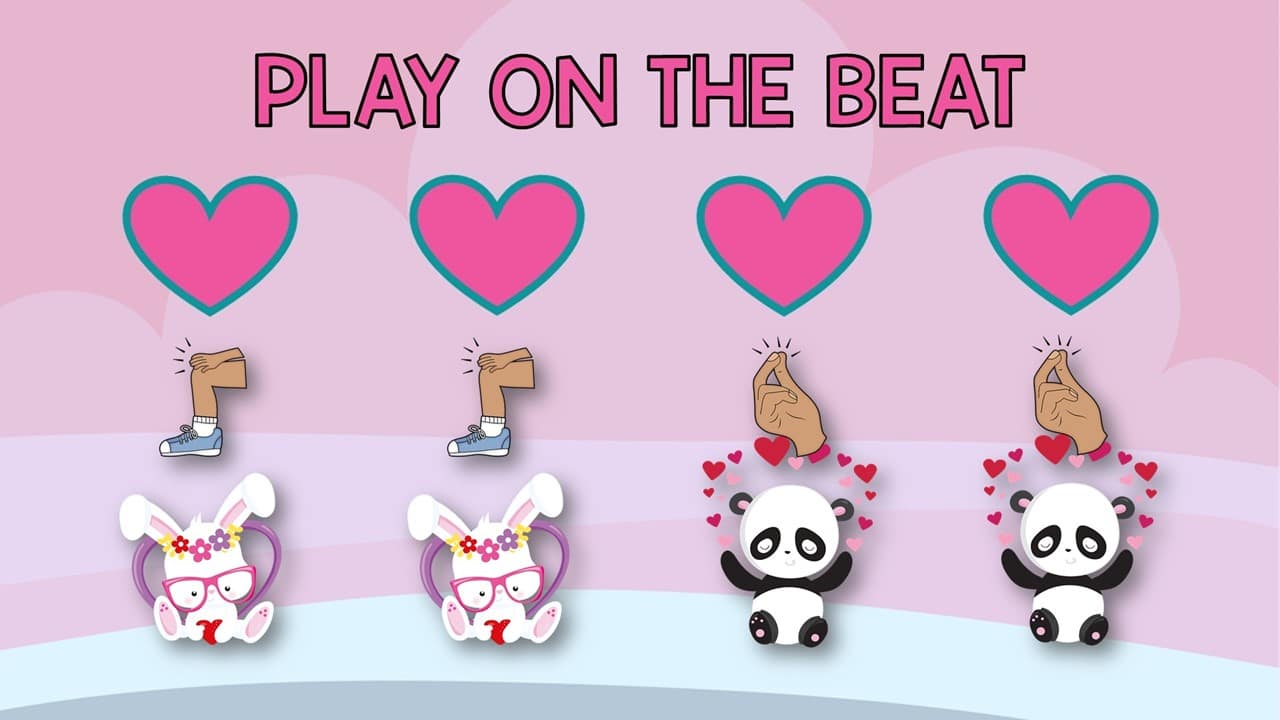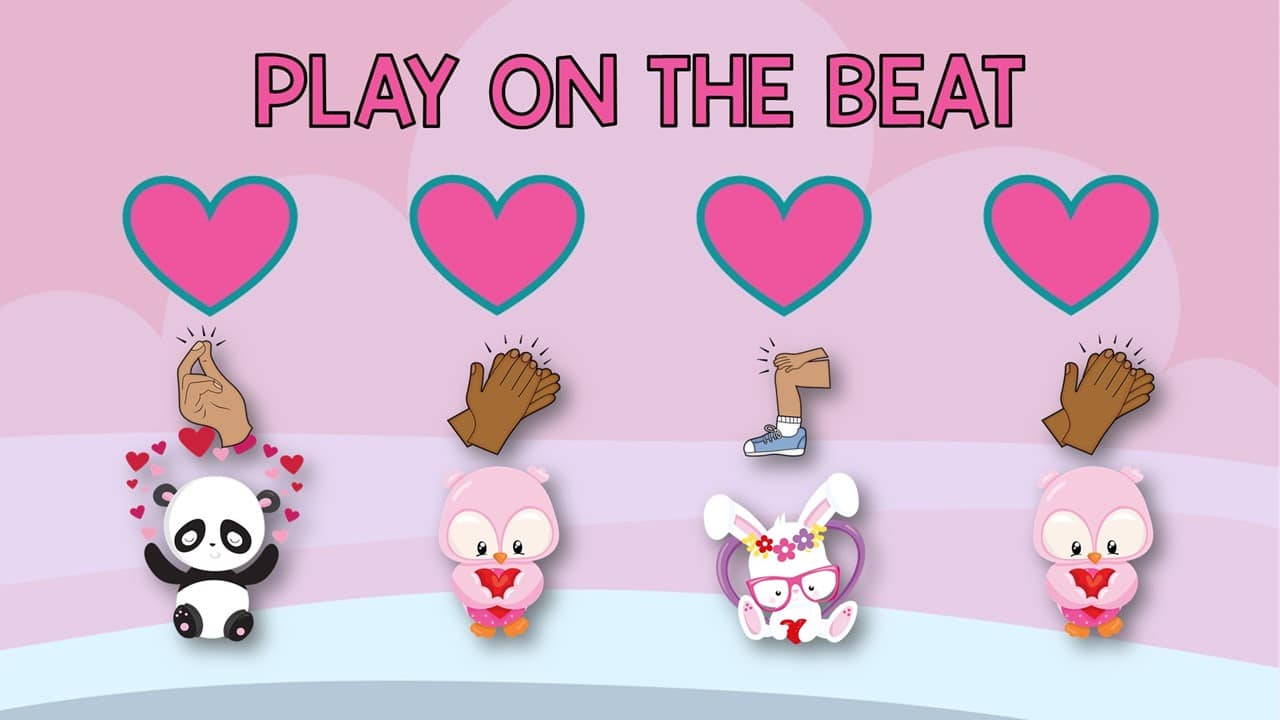 What a fun way to practice steady beat using body percussion during Valentine's Day music activities.
VALENTINE'S DAY INSTRUMENTAL BACKGROUND MUSIC TRACKS
Valentine's Day instrumental, brain break & movement tracks for elementary music teachers, PE and anyone who needs some upbeat background music with no vocals.
Perfect for Steady Beat and Movement activities! Use the tracks for practicing rhythms and beat, movement and games.
Teachers love having clean music tracks for all of their PE activities, creative movement activities, Preschool, home and classroom games. Please listen to the preview for a sample of each song.
RESOURCE INCLUDES:
MUSIC TRACKS (NO VOCALS)
01 Frosty Valentine Cookies
02 What's Love?
03 Let's Be Friends
05 Polka Dotted Valentine
06 Chocolate Candy
07 Let's Hop Valentine
08 I Want Candy
09 3 Beat Valentine Beat
10 Mary Had A Valentine
USE THESE TRACKS:
VALENTINE'S DAY PARTIES
FREEZE DANCE
VALENTINE'S DAY MOVEMENT ACTIVITIES
STEADY BEAT AND RHYTHM ACTIVITIES
BACKGROUND MUSIC DURING SILENT ACTIVITIES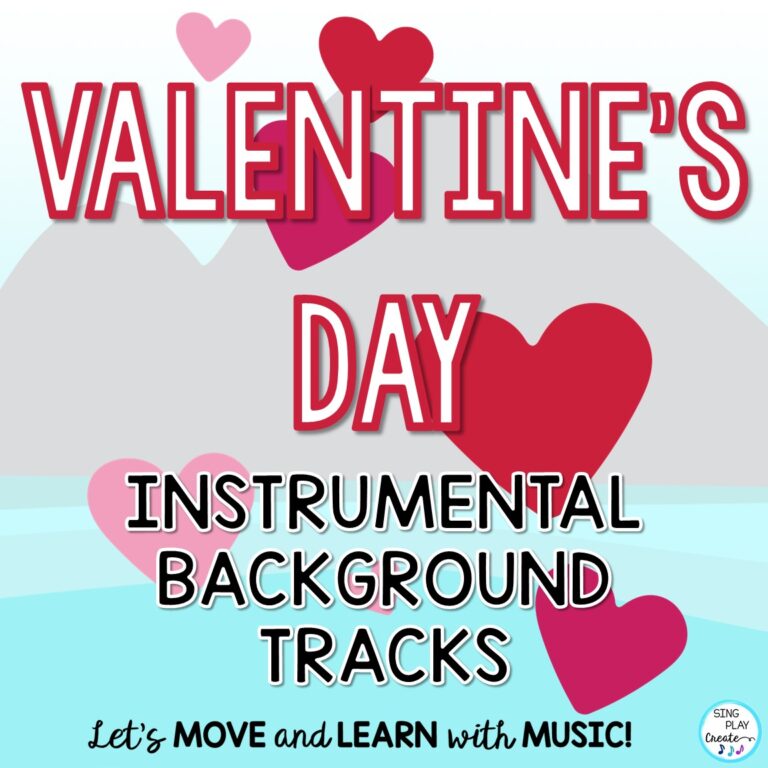 You may want to check out these FREE RESOURCES to help you with your Valentine's Day music activities.
FREE VALENTINE'S DAY MUSIC ACTIVITIES
VALENTINE'S DAY SONG "SKIDAMARINK"
Get this FREE RESOURCE when you SUBSCRIBE to the Sing Play Create Newsletter!
VALENTINE'S DAY SCARF ACTIVITIES
If you're looking for a fun and interactive way to use scarves, this Valentine scarf activity video is already a bit hit with my students. They really like the monsters!
You can have them use a tissue, dish towel, ribbons and scarves for this activity.
Be sure to check out more Valentine's Day music activities in these blog posts:
I'm hoping these activities will help you LOVE your students and help your students LOVE music!

Please share this post with your friends!