Let's celebrate U.S.A or RED-WHITE and BLUE colors with a patriotic freeze dance. Students will love to dance and freeze to patriotic music. You can use this children's brain break in your elementary music classes, elementary classrooms, for P.E., rainy days and whenever your children need a movement activity break.
Let's FREEZE DANCE in the classroom.
Connect movement with learning about U.S.A. in social studies or as you teach students to sing "The Star-Spangled Banner" and other patriotic songs.
Freeze dance can be an anytime movement activity and brain break for your students.
USE the activity for transitions, rewards, to keep students busy while you set up or clean up, rainy day, snow day, recess, assess or work with individual students and in your virtual classrooms.
I've been thinking a lot about ways to make movement activities more cross curricular and provide opportunities for children to make literacy connections too.
That's why this is an unusually LONG….. letter. But I feel like you need more from these resources than just a movement activity and–
So, I began adding in more materials to the FREEZE DANCE and SCARF activities. First, I've added in a Lesson Plan Based on the National Music Standards. You will need to adapt your essential questions to what is relevant for your class.

Also, the Freeze Dance and Scarf activities have flash cards and coloring sheets. I've also added in some MATH directional worksheets to the SCARF activities.
I'm hoping that having some printable materials in the FREEZE DANCE and SCARF ACTIVITIES will help you by giving you more activities  for a compete lesson. 

And these activities will help your students make literacy and math connections too. 
Here are some reasons why Creative Movement is important to include in your music classes:
MOVEMENT IS LEARNING
Movement by itself is important to a child's growth.
We all learn by moving through our experiences.
We grow as we move along our own paths.
Creative movement shows life's big picture.

CREATIVE MOVEMENT AND MUSIC
Experiencing creative movement helps children FEEL:
BEAT/RHYTHM/METER
CONTOUR OF MELODY
HARMONIC CHANGES
DYNAMICS
FORM
CREATIVE MOVEMENT AND NATIONAL STANDARDS
Performing
Analyze: Analyze how the content of varied musical works inform the response.
Enduring Understanding: Response to music is informed by analyzing content (social, cultural, and historical) and how creators and performers manipulate the elements of music.
Essential Question: How does understanding the structure and context of music inform a response?
Connecting
Connect #11: Relate musical ideas and works with varied context to deepen understanding.
Enduring Understanding: Understanding connections to varied contexts and daily life enhances musicians' creating, performing and responding.
Essential Question: How do other arts, disciplines, contexts, and daily life inform creating, performing and responding to music?
ESSENTIAL QUESTIONS FOR STUDENTS: How does the music make you feel? How did moving make you feel? What connections were made to art, movement, literacy and daily life, and music?
SUB TUB LESSON and CLASS LESSON IN ONE RESOURCE
Here's how it might look in a class of 30-40 minutes
(prepare the flashcards and the coloring sheets ahead of time)

LEARNING GOALS: I Can Move to Music, I Can Experience Music and Make Connections to ______

Start class with your hello or greeting activity. 5 MINUTES

Whole Class: Do the Video Activity- You can do it for 5-10 minutes depending on the amount of class time you have.
Be sure to go through the actions first and explain personal space and where you want your students to move. 10 MINUTES

Split into 2 or 4 groups. Place Flashcards at 1 (or 2) centers and the coloring sheets at the other center. I like to divide students into smaller groups so I would have 2 Flashcard and 2 Coloring Centers.

Have the students go to a center.

FLASHCARDS: Have the students put the actions in sets of 4 or 8.
Students can do the moves with or without a beat.
You may want to have a drum at the center and ask students to move on the beat.
You may want them to do one action for 4 or 8 beats.

COLORING SHEETS: 1 per student and CRAYONS, HARD SURFACE
SWITCH CENTERS after 5-7 minutes.

CENTERS: 10-15 MINUTES

CLEAN UP / CLOSING ACTIVITY 5 MINUTES
Line up students.
USE SOME OF THESE QUESTIONS FOR STUDENTS TO ANSWER: How does the music make you feel? How did moving make you feel? What connections were made to art, movement, literacy and daily life, and music?

TOTAL 30 MINUTES (Spend more time in your centers if you have a longer class time)
ALL OF THIS IS NOW included in the FREEZE DANCE and UPCOMING SCARF activities. Hopefully this will help you with your lesson planning too!
PATRIOTIC FREEZE DANCE PREVIEW
PATRIOTIC FREEZE DANCE ACTIVITY
BUILD CLASSROOM COMMUNITY
As students play together, they will develop relationships.
Freeze dance is an "individual" activity where everyone can do their own interpretation of the movements and there's no right or wrong way to do them.
This kind of activity creates a fair playing ground for everyone. You can compliment and point out how each student is doing the actions. You can play copy cat or have some students showcase their groovy moves.
Use this activity as part of your class meetings and then talk about how everyone moves differently, but we're all having fun and doing it together.
TEACH THE ACTIONS
Scroll through the video and teach the actions. When I scroll I mute the music so that it doesn't bother students ears or make them giggle. That way you can use the video to teach the actions. You may want to demonstrate how you want students to move and help them define their personal space.
TIMING
Use the video for a minute of for the full length.
TRANSITION
Have students finished their work? Use 1 minute of the video as a transition activity.
Or, use the activity to help students move from desks to going to the library. Have them stand up 2 minutes early and play freeze dance- then line up to go to lunch or other activities.
BRAIN BREAK
Have students been sitting and need a brain break? You can use this freeze dance activity to help students stay focused. Students need brain breaks especially if they've been sitting for a while or testing. You can start the video at any time and let it run for the length of time you want the kids to have a brain break.
REWARD ACTIVITY
I use games and freeze dance activities right before a holiday. You can use them during the weeks you know students are more distracted and need help channeling their energy.
Overall, you'll find that FREEZE DANCE ACTIVITIES can be a great addition to your teacher tool box.
GET THE RESOURCE HERE: PATRIOTIC FREEZE DANCE, Brain Break, Movement Activity, Video & Activities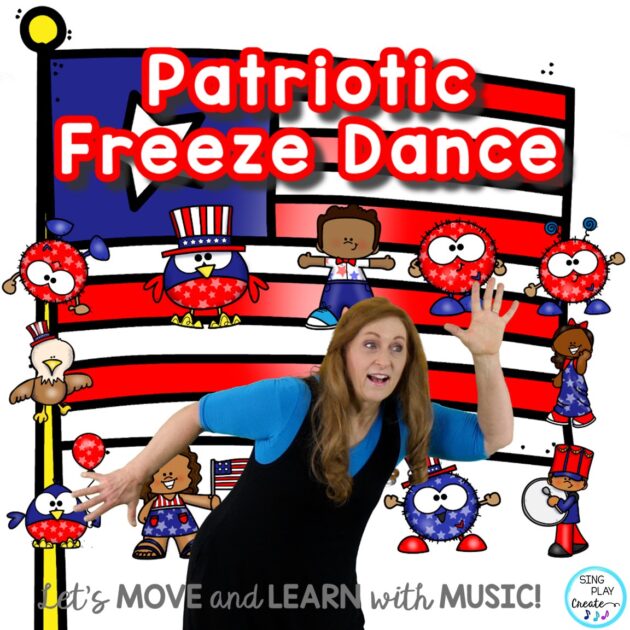 Now you can find Sing Play Create music on SPOTIFY, AMAZON, APPLE MUSIC

CLICK ON THE LINKS to SUBSCRIBE to the Sing Play Create Channel
AMAZON

Please Share this post!