This is a free ukulele lesson you can use in your elementary music classroom or at home. Keep reading for some teaching tips and ideas to build classroom community, teach ukulele and connect with your students using a fun song "Summertime, Summertime".
UKULELE MUSIC LESSON TEACHING IDEAS
Playing ukulele in your elementary music classes? Whether using this song or your own materials, these tips will help you teach ukulele to your students.
The resource includes teaching tips and ideas to build classroom community as you connect with your students, teach ukulele, as students create their own verses, and perform.
Or, you can use the video and these ideas.
I know that students will love playing this song about summertime activities.
This post is all about the song "Summertime, Summertime" ukulele music lesson.
You'll be able to teach students to play these 4 chords ( C F G G7).
And, using the teaching video will make your job much easier.
The visual materials in the video, flashcards, presentation and activities give you multiple teaching strategies to reach all learners.
Everyone will be able to play the ukulele using these materials.
Finally, this activity is a great BTS (Back to School) elementary ukulele music class lesson that will foster creativity, teach music skills, build classroom community while keeping students actively engaged.
How fun will that be?
WANT A FREE UKULELE LESSON?
TEACHING TIPS
SING ALONG
Imagine playing the sing along video and having students learn the lyrics and actions.
Use the video to teach students the lyrics and to sing and move to the song.
BUILD CLASSROOM COMMUNITY
Then you can get to know your students as everyone talks about all their fun summertime activities. All you need to do is go around the circle and ask students to share their favorite activities.
Or, you could have them write their favorite activities on the white board and then you read them aloud. This will work well for your shy students.
TEACH UKULELE SKILLS
Next, students can learn to play the ukulele using the presentation, flashcards, video, Mp3 tracks and sheet music as needed.
Teach each chord separately using the flashcards and presentation along with the strumming patterns in the resource.
STATIONS AND CENTERS
The materials are perfect for CENTERS or STATIONS where smaller groups of students work on smaller sections of the song together.
LEARNING CHUNKS
It's super important to break up learning to play the song into smaller chunks of learning. That way students will be more successful.
PERFORM
Give students an opportunity to perform and share their accomplishments. Have them perform the small sections of the song that they can play.
CREATE
Ultimately, students can work in groups to create their own verses or perform sections of the song for each other.
My last tip is a tough one to do…but- try to let go of expectations for everyone to learn and perform at the same time. Make space for all students to achieve some skills.
Get the Resource!
MORE UKULELE RESOURCES FOR THE ELEMENTARY MUSIC CLASSROOM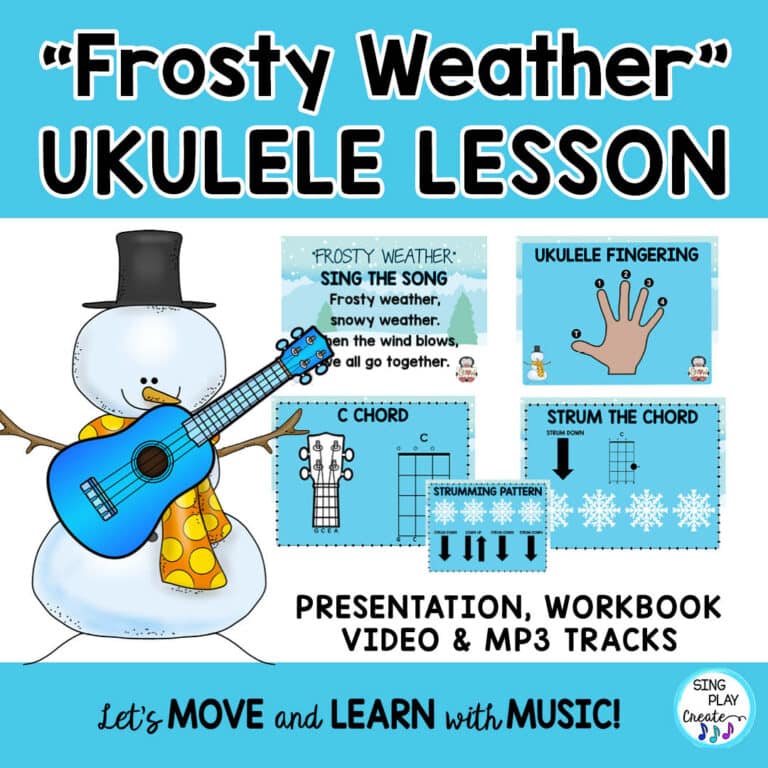 I hope you got some great teaching tips and pointers on how to sing, play, create and perform on the ukulele using "Summertime, Summertime" music lesson.

Please share this post!