Let's make a sweet witches brew filled with Scarf and Music activities for preschool, Kindergarten, First, Second and Third Graders! There's so many ways you'll be able to use this fun Halloween scarf activity in your classroom this October.
Why not use the scarf activities to teach High/Low, Fast/Slow, Expression and Directional words?
Keep reading to get activity ideas on how you can use scarf activities to connect learning other music elements.
LOOKING for a FREE HALLOWEEN MUSIC LESSON?
Get this Halloween song and Orff Lesson when you SUBSCRIBE to the Sing Play Create Resource Library and Newsletter.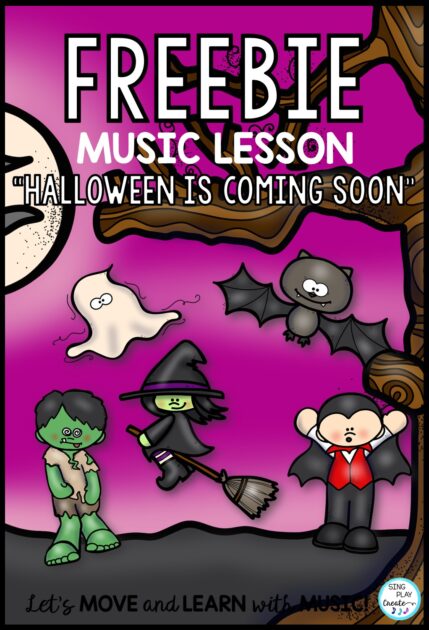 EXPLAIN HOW TO SHOW THE MUSIC CONCEPT
Be sure to be CLEAR of your expectations and the learning outcomes.
I CAN statements really help students and teachers. "I CAN SHOW HIGH AND LOW using my scarf".
Help students learn high/low and fast/slow using the music in the video, or your own collection of music.
Honestly, you can have the students do the movement activity one week and then the next start sharing the concepts using the presentation and having students use their scarves as you play high/low or fast/slow sections of the video. The presentation includes which actions are high/low and fast/slow.
Later, your students will be able to do the activities included in the teacher guide to show their understanding of these musical concepts.
MODEL HOW TO SHOW THE MUSIC CONCEPT
Again, you can use the video to help you teach what is FAST/SLOW, or HIGH/LOW.
Try having the students modeling without a scarf by using their whole bodies to SHOW the music concept.
Then, MODEL AGAIN using a scarf.
SHOW THE MUSIC CONCEPTS
Now it's time for the students to experiment and make connections with their own movement and what they think HIGH and LOW, FAST/SLOW mean.
Allow students to experiment and learn by doing a lot of movement.
Try having different groups of students work together to work out how they will show high/low or fast/slow. Students love to collaborate and to create.
USE A VARIETY OF TEACHING STRATEGIES
You can also reach all your students by offering different types of activities besides movement.
Create a variety of learning opportunities using materials like; worksheets, flashcards, stories, music selections.
Need Scarves?
REFLECT ON LEARNING GOALS
At the end of every activity have students reflect on their learning. Stay focused on the learning goals during this part of the activity. It's easy to get distracted!
Students can sit in a circle, or even be in line ready to leave and use their hands to SHOW the music concept. SHARE what they learned, HOW they learned and their feelings about the activity.
Read this post to get specific ways to do this: SCARF MOVEMENT ACTIVITIES
CONNECT MATH AND MUSIC WITH MOVEMENT
I believe that integrating movement with learning music and math concepts is one way to teach children the basics.
In this resource I've included math directional/positional word activities as well as music dynamics activities for preschool and music teachers to help children learn these concepts at an early age.
REVIEW AND REPEAT FOR LEARNING
Learning isn't a one time thing. It's super important to give many learning opportunities.
You can use the scarf activity as a warm up and have students add in their HIGH/LOW VOICES.
It's easy to review using a variety of materials that are in this resource. Coloring sheets, activities, video and flashcards give the teacher some great tools to help students learn the concepts.
Get the RESOURCE HERE:
Or, have the children move their feet FAST and SLOW along with their scarf.
Continuing to use a variety of activities and repetition will pay off in your music classes. Your students will GET IT!
Scarf activities can connect math concepts.
I know that your students will love this Halloween Scarf Activity as they swish, swoosh, wiggle, dance and toss their scarves like Halloween characters!

Please share this post!