It's the most wonderful time of the year! And to make sure you have a wonderful time with your students, I'm sharing some fun creative movement activities for December music lessons.
CREATIVE MOVEMENT ACTIVITIES FOR DECEMBER
Why are creative movement activities important? I feel that the children need to move in music class. I also feel that most of the students WANT to move.
And, I've found that offering a variety of different movement activities can help you meet the needs of all students.
Where some students love to dance, other's love to do more of a workout type activity, and then, for me, scarves seem to please everyone.
Hopefully, you've subscribed to the Sing Play Create Resource Library where you'll find tons of December/Holiday freebies!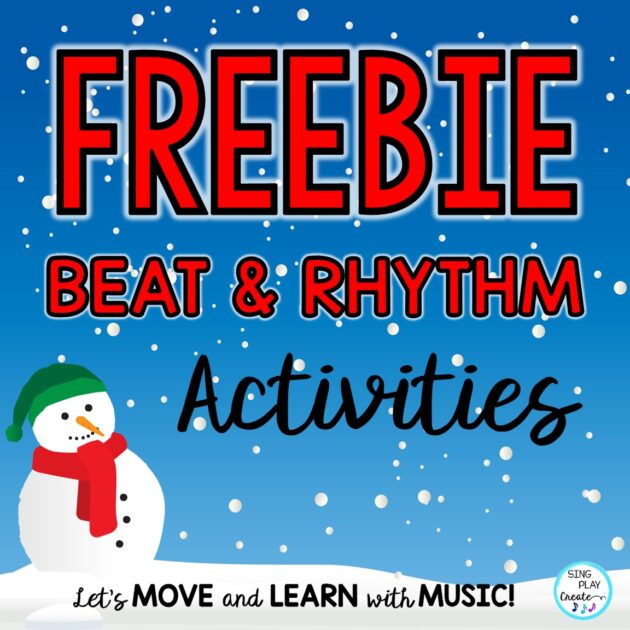 So, here are the creative movement activities for December.
SANTA DANCE MOVEMENT ACTIVITY
"Santa's Got a Brand New Dance" is a fun dance and movement activity.
Santa "shake, kick, hop-hop-hop" is actuallya ta-ta-ti-ti-ta rhythm!
This song would be perfect for an elementary music program.
"Santa's Got a Brand New Dance" GET THE COMPLETE RESOURCE HERE:
ELVES BODY PERCUSSION MOVEMENT ACTIVITY
Elves Body Percussion activity with worksheets and flashcards- and lesson activities RESOURCE LINK
REINDEER BODY PERCUSSION MOVEMENT ACTIVITY
You can get the complete resource here with worksheets, flashcards and lesson activities!
HOLIDAY MOVEMENT ACTIVITY FREEZE DANCE
This resource includes music activities to teach music dynamics! FAST/SLOW, HIGH/LOW
GET THE HOLIDAY FREEZE DANCE AND EXERCISE ACTIVITY HERE:
LIDAY SCARF MOVEMENT ACTIVITY #1
HOLIDAY SCARF MOVEMENT ACTIVITY #2   
Teaching the NUTCRACKER? You may want to look at this resource.
Nutcracker Creative Movement Scarf & Ribbon Activities or Brain Breaks
MUSIC FOR MUSIC CLASSES
And, if you're looking for some holiday music that you can use for dancing, body percussion, rhythm and movement activities, check out Sing Play Create Education Music on:
Or, you can find the video with all of the music here-
HOLIDAY INSTRUMENTAL MUSIC TRACKS
And this blog post has some great ideas on using the music tracks for your music lessons.
December Chants and Movement Activities
Be sure to check out these other December Music and Movement Activities blog posts for lot's of lesson ideas, games and activities!
Steady Beat and Rhythm Activities for December
Elementary Music Holiday Rhythm Activities
I'm hoping these creative movement activities help you and your students enjoy the most wonderful time of the year.

Please Share this Post!