BODY PERCUSSION ACTIVITIES FOR CHILDREN
Let's get moving with some body percussion activities.  Body Percussion activities are fun, teach beat, rhythm and keep hands, eyes, feet, busy! They are great workouts for any age as well!
Everyone from homeschoolers, preschool teachers, day-care leaders and music and movement teachers can learn how to incorporate body percussion activities into their curriculum.
WHAT ARE BODY PERCUSSION ACTIVITIES?
Body percussion presents when the body is used to make sound or vibrations. Body percussion activities include showing the pulse of the music in the body.
And, the body is the original instrument!
Body percussion sounds are produced when a player hits, scrapes, rubs or shakes to produce vibrations. (Source)
That's sound painful! But it's not- it's FUN!
Think "tapping" instead of "hits", "brush" instead of scrape, "rub" is clap or pat and shake is well, shake.
Let's start with the lowest tone and work our way up the body.
STOMP- striking feet on the floor
PAT- Pat the knees
CLAP- Hands together
SNAP- Fingers
But there are many other ways to make body percussion sounds.
TAP- the head
PAT- cheeks
PAT- belly
CLICK- tong
There are many ways to make sounds using just our bodies.
And using body percussion in children's activities can help them in so many ways too.
WHY BODY PERCUSSION ACTIVITIES ARE IMPORTANT
CONNECT MUSIC CONCEPTS
CREATE AND STRENGTHEN BRAIN CONNECTIONS
DEFINE PERSONAL SPACE
DEVELOP GROSS MOTOR SKILLS
EXERCISE
SOCIAL ACTIVITY-TEAM BUILDING
There are many documented reasons for including body percussion in a child's education.
Music teachers, music therapists and early childhood teachers all incorporate body percussion in their curriculums.
And you can too!
HOW TO USE BODY PERCUSSION ACTIVITIES IN A LESSON
You may be used to singing a song, clapping some rhythms, storytelling and scarf activities. Now you can add body percussion activities to your repertoire too!
Here's an outline of how you might want to incorporate body percussion activities into your classroom.
The reason you want to give this a try is that is a great activity to get students developing beat and rhythm skills.
WELCOME YOUR STUDENTS
BEGIN WITH AN ECHO BODY PERCUSSION ACTIVITY- choose some fun movement, don't say anything, have the kids copy your actions. Remember to do one action for several repetitions, then add in another and another.
CLAP CLAP CLAP CLAP
PAT PAT PAT PAT
STOMP STOMP STOMP STOMP
SNAP SNAP SNAP SNAP
NOW begin to mix it up with 2 actions per four beats.
You get the idea!
I use this type of pattern in the MOVE YOUR BODY SERIES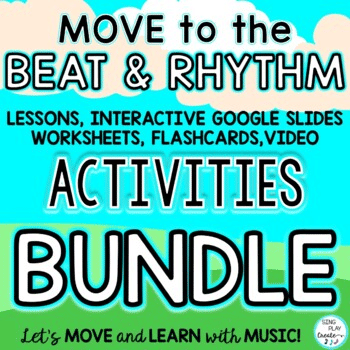 Let's play the steady beat and rhythms with body actions!
These steady beat and rhythm body percussion lessons and play along activities are perfect for elementary music classes. Practice beat and rhythms with body percussion using these fun actions: SPIN, STRETCH, JUMP, REST, STOMP, CLAP, HOP, SKIP, SNAP, TAP, SHAKE, WAVE.
Elementary music students will have tons of fun with these body percussion activities as they learn beat and rhythm concepts.
Sing Play Create offers many body percussion activities you can use in your programs.
Here are the favorite body percussion activities from the Teachers Pay Teachers Store:
Music Lesson "Clap-Pat-Snap-Stomp" Body Percussion Activities for Younger Children
Music Lesson "Clap-Pat-Snap" Body Percussion Activities for Elementary Children
Open your class with:
Hello Song & Body Percussion Play Along Music Lesson & Activities
Next, show the students some beat charts (FREE IN THE RESOURCE LIBRARY)
Then use this activity:
Body Percussion Activity "Get Movin' to the Beat" with Steady Beat Action Patterns is a great steady beat movement activity for Kindergarten through Third Graders.
The engaging video will have your elementary music students moving to the beat in 8 different body percussion action patterns. And, they'll be able to create their own patterns using the flashcards.
This interactive activity is perfect for a warm up, Sub Tub and helping your elementary music students to feel and move to the steady beat. Get everyone moving to the beat!
or this activity-
Get down on the farm and do some body percussion with these cute farm animal friends. This farm animal friends body percussion BUNDLE has all the materials you need to teach the STEADY BEAT and keep students actively engaged. This bundle has many interactive body percussion activities including 2 videos, flash cards, google apps and games.
You'll also get lesson plans and activities you can use right away. These activities are a complete UNIT you can use over an entire month (or longer). Prepare for takeoff as students soar with steady beat activities. This body percussion activity BUNDLE is a must have for Preschool and Kindergarten classes in the elementary music classroom.
If you're teaching Pre-school and Kindergarten ages, this resource is especially made for our little friends!
Steady Beat Music and Movement Activity Song: "I Can Feel the Steady Beat" Video
YOU CAN FIND SOME IN OUR SHOP TOO!
TIPS FOR SUCCESSFUL TEACHING
Finally, here are some tips to get you started or expand your activities.
Decide when you want to add the body percussion activity into the lesson.
Begin with easy one action patterns.
Repeat activities often for students to gain confidence.
Encourage students to create their own patterns.
Incorporate body percussion activities often so students can do them alone.
GET THE FREE BODY PERCUSSION GOOGLE SLIDES ACTIVITY HERE
BE SURE TO READ THIS POST: Body Percussion Activities for the Elementary Music Classroom
If you're interested in more about body percussion, check out the Orff Schulwerk method for music teachers. ORFF SHULWERK HOME PAGE
Here at Sing Play Create we're working to bring you interactive resources you can easily use in your classroom.
Be sure to SUBSCRIBE to our newsletter where you receive weekly tips and deals and access to the FREE RESOURCE LIBRARY.
Please check out the Sing Play Create YouTube Channel with over 100 videos of activities.
Connect with us on Facebook, Instagram, Pinterest and through email.
Let's Move and Learn with Music!