Looking for some easy ways to implement body percussion activities into your music lessons? If you're teaching elementary music, then this post is for you. I'll be sharing some easy ways you can add body percussion to your class activities.
This song "Everybody Say Hello" with body percussion actions is one easy way to get started. It's a body percussion activity you can use in your Preschool, Kindergarten and primary classes.
Although , you can use any song with this body percussion pattern or create your own body percussion actions for students to play.
WHY USE BODY PERCUSSION ACTIVITIES?
Body percussion activities help students connect movement and music concepts.
Playing body percussion on the beat helps student internalize feeling the beat.
Playing body percussion keeps HANDS, FEET, NOSES, SHOULDERS, ELBOS, KNEES AND TOES BUSY!
When students play body percussion, they have to concentrate on more than one thing at once. This not only helps their brains make strong connections and new connections, but it helps them learn how to FOCUS.
Listening to the music, moving the body on the beat, following directions and keeping up with the music all require students to pay attention while using multiple parts of the brain and body together.
Some things to consider when choosing activities.
Be aware of student ability- Kinders may not be able to keep the beat, or snap, but they can "experience" the beat through a variety of activities using body percussion. (Ideas are in the strategies section)
Be consistent and repeat activities or patterns so that students are comfortable playing body percussion. When you first introduce it, your students may play around or laugh. But as you keep using body percussion activities in your classroom, they will consider it to be a normal thing!
FREE BODY PERCUSSION SONG & ACTIVITY
STRATEGIES FOR TEACHING
Use some background music tracks for students to move on the beat.
Have them Play 1 action patterns
MARCHING, STOMPING, FLYING, JUMPING, HOPPING, PATTING, CLAPPING, TAPPING
Consider playing some instrumental music and have students do just one action at a time.
By the way- did you know that Sing Play Create is on SPOTIFY? We have instrumental music tracks for you to use for these types of activities.
BODY PERCUSSION AS A RHYTHM ACTIVITY
Another way to teach rhythm is to incorporate body percussion actions into your rhythm activities. This works well for upper elementary students.
Try reviewing the rhythms first, then students adapt the rhythm using body percussion actions.
Use rhythm flash cards for this activity.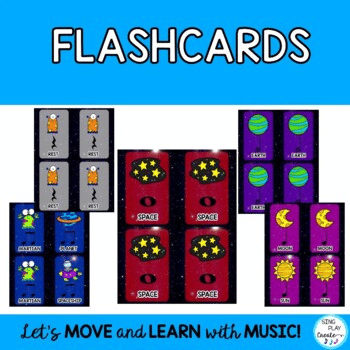 This body percussion and rhythm activity makes a great STATION ACTIVITY.
Here's an easy way to implement body percussion into your music lesson.
Circle Time: Have everyone sit in a circle. Play a drum.
Ask everyone to play on the drum beat. Begin with patting knees.
After a minute or so, ask someone to choose another action. Or, play a game. Choose one student to be in the middle. That student plays an action. When you stop playing the drum, that student chooses another player. You could have that student walk around the outside of the circle (like Duck, Duck Goose) and tap someone when the drum beat stops.
Either way, you can play this game every class time at the end of class. What could you name this game? "Who's Got the Beat?" "What's Your Beat?" Have your students name the game and use it for a reward time for them at the end of class.
Eventually, your students will be able to play the drum too as they become more skilled.
Here are some ideas on ways to implement body percussion activities into your lessons.
Use Video activities.
Use Body Percussion Flashcards in Stations- students create and play 4 or 8 beat patterns.
Use Copycat activities where 1 student stands at the front of the class and the rest of the students copy them. Use a drum or instrumental music.
There are many ways to implement body percussion into your classroom activities.
Most importantly, give your students many different ways to experience body percussion.
MORE BODY PERCUSSION ACTIVITY IDEAS
I have some fun body percussion activities you'll want to take a look at for your music classes.
Hoping you've found some easy ways to implement body percussion activities into your music lessons.

Please share this post!