STEADY BEAT MUSIC CLASS ACTIVITIES
There's always room for more steady beat activities in music class. Young children need a variety of experiences feeling the steady beat. And this post has 12 different ways that are easy to implement and can help your students feel the steady beat using the instruments and props you have in your classroom.
These activities are especially helpful for new music teachers who need activities but don't have much time to prep.
GET the STEADY BEAT ACTIVITIES download SUBSCRIBE to the Sing Play Create Newsletter.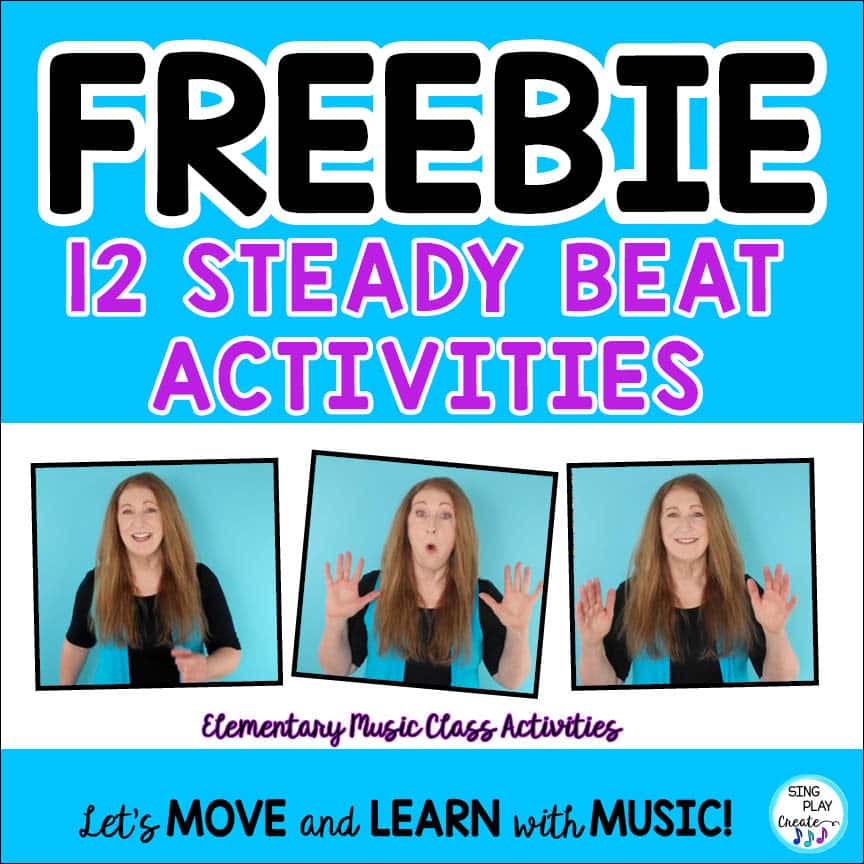 These activities are great starters, transitions, and lesson activities. I hope you'll give them a try.
Sing Play Create offers Instrumental music tracks you can use in your classroom for all of these activities.
Sing Play Create on SPOTIFY
Sing Play Create on APPLE MUSIC
Sing Play Create on ITUNES
Sing Play Create on AMAZON MUSIC
1 PAT THE BEAT
When I teach a new song or chant I'll have my students pat the beat without saying the words.
I do this regularly to establish the pattern with them early on. As the year progresses, they will automatically pat the beat when I turn on some music.
You can have them do a variety of body percussion actions in this activity.
PAT KNEES
PAT HEAD
PAT SHOULDERS
PAT BELLY
Work your way through major body parts for a good warm up activity.
2 MOVE ON THE BEAT
Students like to march in a circle. If you have space, make a large circle.
Create a scene like, inside the circle is the town, and the train moves around the town. We're the train and we're going to move around the town.
Let's march on the beat.
You can use a drumbeat for them to follow.
There are also some songs that work well you can use too.
This BLOG POST has some more steady beat activities: "FIVE WAYS TO TEACH STEADY BEAT"
Use the music of "John Phillips Sousa" for a marching activity. There are tons of YouTube Videos.
Here's one you can use for students to march on the beat.
I wrote this simple song to help my kindergarteners feel the steady beat.
GET THE FREE HEARTBEAT RESOURCE AT THE TPT STORE
3 PLAY THE BEAT WITH A SCARF
I love to use scarves in my classroom. I find that the students love them too.
They are a great movement prop for feeling the beat.
Have the students create some personal space.
Then have them BOUNCE or WAVE their scarf on the beat.
After playing the beat, I'll use a scarf video and let them move freely.
Then I come back to the beat activity.
We can then discuss the difference between moving freely and playing the beat.
4 PLAY THE DRUM
I usually use instrument activities after students have done some of the other steady beat activities.
I reserve the instruments for when they are more familiar of expectations.
I tell them that they are the "kindergarten music class band" -just give them a name- and we're getting ready for a gig.
It's important to work and play together when we have instruments out in class.
I have the students set them down on the floor and we clap until everyone get's a drum. It's helpful if you have some music you can play while doing this.
Then I have them play the beat to the music on the drum.
Since we're in a band together we start with a 1 and a 2 and a 3 and a .
Later, I have student leaders for this activity.
5 DRUM AND MOVEMENT
After students know who to play the drum then you can try this activity.
DIVIDE THE CLASS IN HALF
GROUP A PLAYS THE BEAT
GROUP B MOVES AND CHANTS
SWITCH
6 TRANSITIONS ON THE BEAT
PLAY MUSIC AND MOVE TO A SPOT
Students have a lot of fun moving on the beat to music. You can play STOP & GO too.
Call out the destination like go back to your seats, or go to your stations, or line up.
Play the music and students move on the beat-marching works well.
7 BOUNCE ON THE BEAT IN PLACE
A fun warm up can be for students to bounce on the beat until everyone is in their place, or for a quick movement break.
Again, play the music and ask students to bounce on the beat in place.
This is a no talking activity.
8 BEAN BAG ACTIVITIES
Bean bags games are a great steady beat music class activity.
TOSS
Students can sit or stand and toss the bean bag on the beat.
I have my students define their personal space and keep the bean bag in that circle.
You can have the older students toss to each other on the beat and see who can keep it going the longest.
PASSING GAME
Bean bags make great passing games too.
Everyone sits in a circle.
Pass one bean bag from one hand of students 1 to the hand of student 2.
Keep it easy for the Kinders.
Make it harder for the 3rd graders by varying the tempo of the music.
9 CHANT WORDS ON THE BEAT
After students have had experiences feeling the beat through movement, scarves and instruments, you can have them say a special word on the beat.
For the chant ENGINE, ENGINE NO. 9 I use the word "choo". They will say it on the beat. It does help if they pat and say the word at the same time.
CHOO CHOO CHOO CHOO
2 PARTS TOGETHER
Next, I'll divide the class in half.
HALF THE CLASS SAYS THE CHANT AND THE OTHER HALF SAYS THE BEAT WORD
Then we'll switch parts.
It's a good idea to include some movement in this activity. The Beat Sound group can pat the beat too.
10 USE VISUALS
After we've experienced the beat through movement, I bring out the visuals and manipulatives.
I like the sequence of this because the students feel it first then connect what they feel with the pictures.
So, it's important to have some VISUALS.
The Sing Play Create Free Resource Library has STEADY BEAT CHARTS and ICON flash cards.
11 STUDENTS CREATE USING MANIPULATIVES
Finally, I'm going to have the students do some creating using manipulatives.
There are so many different types of manipulatives they can use.
POPSICLE STICKS
CANDY
GEMS
PENNIES
FLASH CARDS
LEGGOS
STRAWS
FOAM CUTOUTS
After students create their patterns, I'll have them say and play the chant using them.
I like this activity for smaller groups so that everyone gets a lot of turns.
Do you like to use stickers in your classroom? I found these adorable train stickers that would be perfect for this kind of activity. There are so many possibilities using these stickers. I can see students placing 4 on a sheet ( you can use the FREE BEAT BOX PRINTABLES IN THE RESOURCE LIBRARY) and then play their train rhythms.
(amazon affiliate link)
12 STATION ACTIVITIES
The wonderful thing about incorporating all these activities into your lessons is that you now have some fun STATION activity materials.
You can create stations using the chant. Print it out and laminate it.
Then place it at each of the stations.
PAT AND CHANT
SCARF BOUNCE AND CHANT
DRUM AND CHANT
TOSS A BEAN BAG AND CHANT
CHOO CHOO/SAY THE CHANT (This is optional as students need to be able to hold their own doing one of the parts as the other student's chant).
CREATE AND CHANT
Your students will love these activities!
You can set up the classroom and let the students go to work.
If you have at least 30 minutes, you can take some time to review each station, then divide the students into groups.
Have them change stations everyone 2-3 minutes.
At the end of class, you can do the TRAIN MOVEMENT activity as a movement break.
Finally, here's a tip for getting organized. Create a music tracks playlist of Steady Beat Songs. If you're using YouTube videos, then you can add them to a google slides document. Then you'll have this ready when you need it!
STEADY BEAT MUSIC ACTIVITIES
These resources are available in our TPT store.
These resources are available on our website.
Here at Sing Play Create we're working to bring you interactive resources you can easily use in your classroom.
Be sure to SUBSCRIBE to our newsletter where you receive weekly tips and deals and access to the FREE RESOURCE LIBRARY.
Please check out the Sing Play Create YouTube Channel with over 100 videos of activities.
And watch Sandra on Sing Play Create Teaching Tips Channel with Music Education teaching tips.
Connect with us on Facebook, Instagram, Pinterest and through email.
Let's Move and Learn with Music!