During Holiday Music lessons, playing games is one way to keep students engaged. If you haven't subscribed to the free resource library, then you'll want to do that now. That way you can get the FREE Holiday Rhythm Games download and the Free Rhythm activity flash cards. That way you'll be prepared with tons of holiday rhythm games and activities.
HOLIDAY RHYTHM GAMES AND ACTIVITIES
GOAL OF THE GAME
The ultimate goal of the this rhythm game is to create and play rhythms.
Students will form groups and using 1 beat flashcards, combine them into 4 beat rhythm patterns.
HOW TO SET UP THE GAME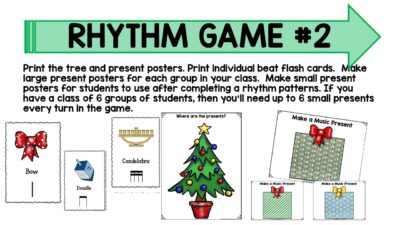 1. Print the tree and present posters. Print individual beat flash cards.  Make large present posters for each group in your class.  Make small present posters for students to use after completing a rhythm patterns. If you have a class of 6 groups of students, then you'll need up to 6 small presents every turn in the game.
2. Place the tree on the board or in the spot you want students to collect presents.
3. Place the large "present" posters around the room. Make sure to print enough for each group. This is where students will come to create the rhythms.
4. Place the small "presents" close the tree so students can easily get them.
5. Tell the students that since the elves lost all the presents, the students must now help Santa make music presents.
HOW TO PLAY THE GAME
1. Have students stand in a circle. Hand each student a 1 beat flash card.  (If you don't have an even number of students, then give 1 student 2 cards.)
2. Play a drumbeat. Students march on the beat in a circle.  When the drumbeat stops, the students must get to a "present" and put their cards together. They create a 4 beat rhythm pattern. Encourage them to go to a different present each time so that they are in different groups of students.
3. Have each group play their "present" for Santa, (you).
4. If they play it correctly, they get to place a small present under the tree.
5. Play continues until you run out of "present cards", time or group combinations.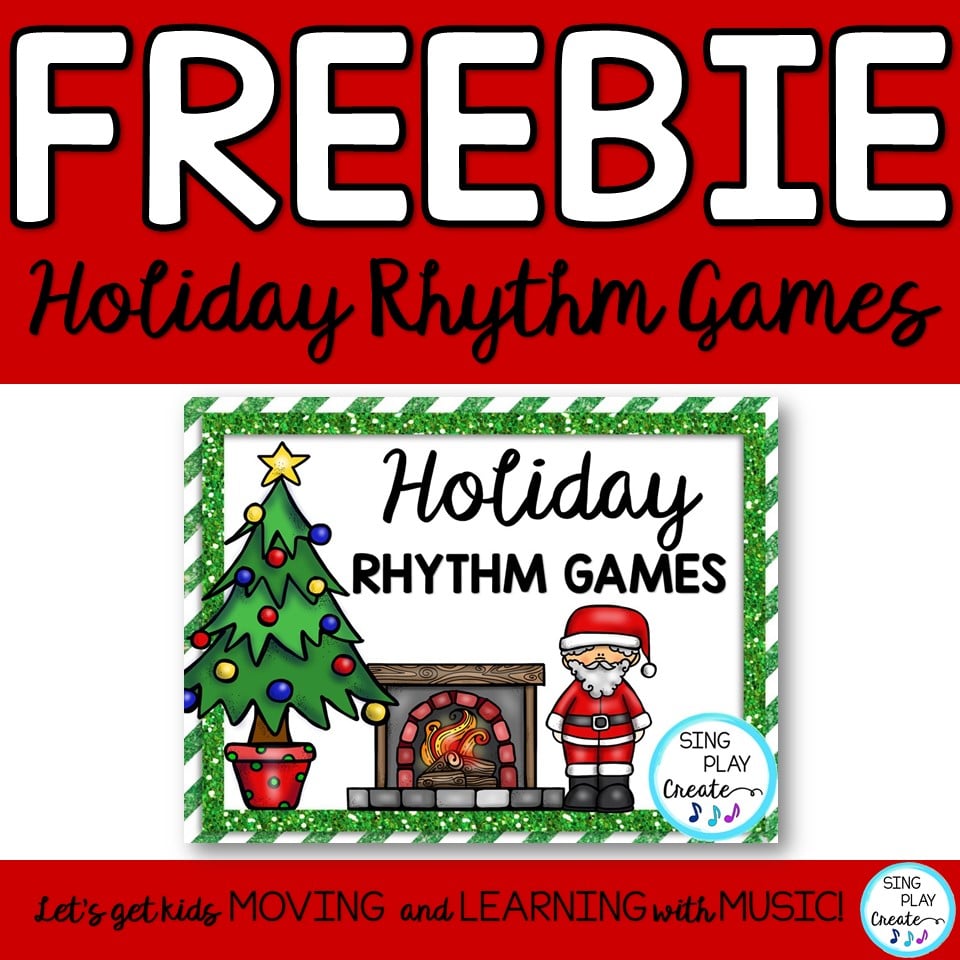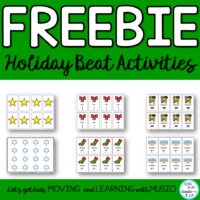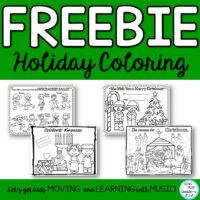 Happy Holidays!
Please share this post: