I'm sharing some fun preschool music and movement activities to help your preschoolers explore music through movement.
WHY IS MUSIC AND MOVEMENT IMPORTANT FOR PRESCHOOLERS?
Music and movement activities for preschoolers can help them in so many ways. They help them physically, emotionally and socially and they foster creativity.
Music activities like moving to action songs, listening and responding, circle game songs and playing with others give them experiences to grow and develop physically, emotionally and socially.
Music and movement activities help them learn about their bodies and make important mind/body connections.
These activities encourage them to move their gross motor muscles, and exercise the fine motor muscles too!
They help them learn about their bodies, personal space, how to move as well as how their minds work too.
Here are some reasons why music and movement is so important for preschoolers.
GROSS MOTOR SKILLS
Movement helps children develop coordination. When children clap, tap, march they develop an awareness of their bodies and their personal space.
Big motor muscle movement also helps build the foundation of motor skills of life skills like climbing stairs, walking in a line, getting into the car.
FINE MOTOR SKILLS
Fingerplays help children with their fine motor development. When children use their fingers in nursery rhymes to show numbers, or make a star, or climb up the water spout, they are exercising those little muscles that later help them hold pencils, type and grasp things tightly.
CREATIVITY
Music activities stimulate a child's curiosity and imagination. Listening and responding to music helps children to move creatively and explore sounds. Imitating animal movement and songs while listening to classical music, pretending to be animals at the zoo and other imaginative music and movement activities will foster their creativity and problem solving skills as they grow.
DEVELOP LISTENING SKILLS
Music and movement activities help children learn how to listen and respond in appropriate ways. Children are actively listening when singing and moving to action songs. These activities encourage following directions, paying attention and participation as they grow.
SOCIAL SKILLS
Preschoolers begin to learn how to cooperate and work in groups together through music and movement activities. Listening and responding to the music helps them listen and respond to others. They learn about personal space while participating in circle songs and games or when they are clapping, tapping, or singing together.
TEACHING TIPS
Music and movement activities at home can be relaxed and informal. Turn off the TV and make enough space for the children to move freely. Play a variety of music and allow children to naturally respond and explore. It helps if you join in the fun too!
Put out age appropriate instruments as part of their play time. Begin with some egg shakers and smaller instruments that their small hands can hold. Play along with them too.
Establish routines with music. Sing when children wake up and sing before they go to bed. Sing when they brush their teeth. Sing when you are in the car.
Bring music into your daily play time and routines so that it's a natural and relaxed experience for the children.
If you are teaching preschool, use music in the morning circle time, as transitions, to line up, clean up and gather students. Sing hello and goodbye songs, birthday songs and friendship as well as holiday songs.
PRESCHOOL MUSIC AND MOVEMENT ACTIVITIES
Here are some activities for preschoolers ages 3 to 5 years old.
Structured activities are most successful when flexible, short and well planned.
HELLO SONGS
Hello songs with movement are a great way to get everyone's brains and body awake.
This song "Everybody Say Hello" can be used in circle time, morning meetings and at home.
Say hello, say hello, everybody say hello!
Wake up your body!
It's a brand new day.
Smile and be ready to learn and grow today!
You can find it on
GOODBYE SONGS
Help children feel a part of the group and sing a goodbye song to each other at the end of the day.
End your school day on a positive note too! This will help children remember the song and friendships.
FINGER PLAYS
Nursery rhymes like 'Twinkle,Twinkle Little Star", the 'Eency, Weency Spider' and '1-2-3-4-5 Fish Song' help children move those little fingers and improve concentration.
Keep the movements flexible as little fingers can do the movements as well as older children.
INSTRUMENTS
Children need to explore the different sounds and create their own music. Shakers, rhythm sticks, small drums, jingle bells, are good beginning rhythm instruments.
Play some music and allow the children to make their own sounds. Play along with them for fun.
If you don't have instruments, then you can use plastic and metal containers, wooden spoons, spoons, buckets, empty cereal boxes and other household items to make music.
Preschoolers love repetition, so it's a good idea to have a number of songs that you can sing over and over again.
Create a playlist of the top ten songs you want the children to learn and use them to sing, move and play activities.
Children will love the variety of activities they can do with their favorite songs.
One favorite is "Old Mac Donald Had a Farm".
Another is "We're Going on a Bear Hunt"
"We're Going on a Bear Hunt" SPOTIFY
"We're Going on a Bear Hunt" YOUTUBE
For example:
Sing and move to "We're Going on a Bear Hunt", then have the children use a different instrument for each action word.
Play all the instruments on the beat as children sing the song. Then, at the action scene have only one instrument play.
For the words: "I'm not scared" play the rhythm of those words. (the syllables)
SHAKERS: CRUNCH CRUNCH CRUNCH CRUNCH
TRIANGLE: SPLASH SPLASH SPLASH SPLASH
HAND DRUM: BLOP BLOP BLOP BLOP
At the end of the video when they shut the door, have everyone play their instrument together.
Another fun song is "The Wheels on the Bus"
"The Wheels on the Bus" can be changed to "The Instruments on the Bus".
Choose an instrument for each verse. "The rhythm sticks on the bus go tap, tap, tap…" This song encourages them to play on the beat too.
Preschoolers will love shaking shakers along to the music or holding them while dancing. They are also good for beginning beat activities.
MUSIC AND MOVEMENT PROPS
Music and movement with props is another way to encourage creativity and get in some exercise of those gross motor muscles.
Scarf movement can help with cross body movement which is shown to strengthen mind/body connections, as well as reading and writing skills.
Scarves and ribbons are also colorful and help children visualize what they feel.
Play 'Flight of the Bumblebee' (by Rimsky-Korsakov) and wiggle scarves like bees.
Play 'Waltz of the Flowers' (by Tchaikovsky) and dance like ballerinas.
Play 'Carnival of the Animals' and move like the different animals in each section.
Here are songs I wrote for scarf movement. They're on Spotify.
'Rainbows in the Sky' Scarf Song
The Scarf Song with Ms. Sandra the Mermaid YouTube Link
Ocean Scarf Movement Activity YouTube Link
Pirate Scarf Movement Activity YouTube Link
Carnival of the Animals Resource Link
STRETCHY BANDS
Stretchy bands are wonderful for experiencing rhythm and beat. They can help children learn personal space and boundaries as well as directional movement.
The small ones can be used with 2-4 children.
They make great center and station activities.
The large ones are a good activity for whole classes.
I like the BEAR PAW CREEK products.
I wrote an entire series of stretchy band songs that are available on Spotify, YouTube and as products with more materials.
You can find the links here:
SPOTIFY
YOUTUBE LINKS
PARACHUTES
Small play parachutes can help children experience music through movement in a different way. Children can learn about beat, high and low, fast and slow, up and down, in and out and other directional movements with the parachutes.
WATCH THE TUTORIAL FOR PARACHUTES
Fun Parachute Activities for Preschool and Kindergarten
PARACHUTE SONG "Flying High and Low"
ACTION SONGS
Action songs are wonderful for developing the singing voice and movement too.
Nursery rhymes and action songs are usually short story songs.
Children can act them out, use them as fingerplays and movement songs.
Sing Play Create YouTube channel has hundreds of action songs.
COME ON DOWN TO THE BARNYARD DANCE
Other action songs include:
Twinkle, Twinkle Little Star
The Hokey Pokey
The Wheels on the Bus
Teddy Bear, Teddy Bear
GET THE FREE DOWNLOAD OF PRESCHOOL MUSIC AND MOVEMENT ACTIVITIES
MOVEMENT ACTIVITIES
FREEZE DANCE
Freeze dance helps children learn to listen and respond to music as well as helping them learn about how their body can move and stop.
These activities were developed to give children a movement break and exercise as well as experience a variety of movements.
You can play your own version.
Just play music and then stop it and Freeze.
Some of the favorites are;
BODY PERCUSSION
Body percussion activities encourage children to learn about their bodies as well as beat and rhythm.
Beginning body percussion can be as simple as patting on the beat. Pat the knees, or stand and pat the chest, the belly, toes.
'Head,Shoulders, Knees and Toes' is a good song to get started with patting different parts of the body.
Children will learn their body parts and to pat and clap.
"Chocolate Chip Cookie on My Head" Body Percussion and/or Bean Bag Song
I wrote this fun song to help children learn about their body.
CHILDREN GROW THROUGH MUSIC ACTIVITIES
There are so many ways to incorporate movement activities into preschool learning time.
Music and movement can help children in so many ways. Experiment with different types of activities to find what works best for your child and keep giving them new musical experiences as they grow and learn.
Preschoolers respond well to music and movement activities and they will grow physically, emotionally and socially through these experiences.
RESOURCES FOR PRESCHOOL MUSIC AND MOVEMENT ACTIVITIES
Get the FREE GOODBYE SONG when you SUBSCRIBE
Elementary Classroom Songs: Lining Up, Hello, Name, Transition, Birthday
Elementary Classroom Songs and Chants :Line Up, Brain Breaks, Stretch, Gather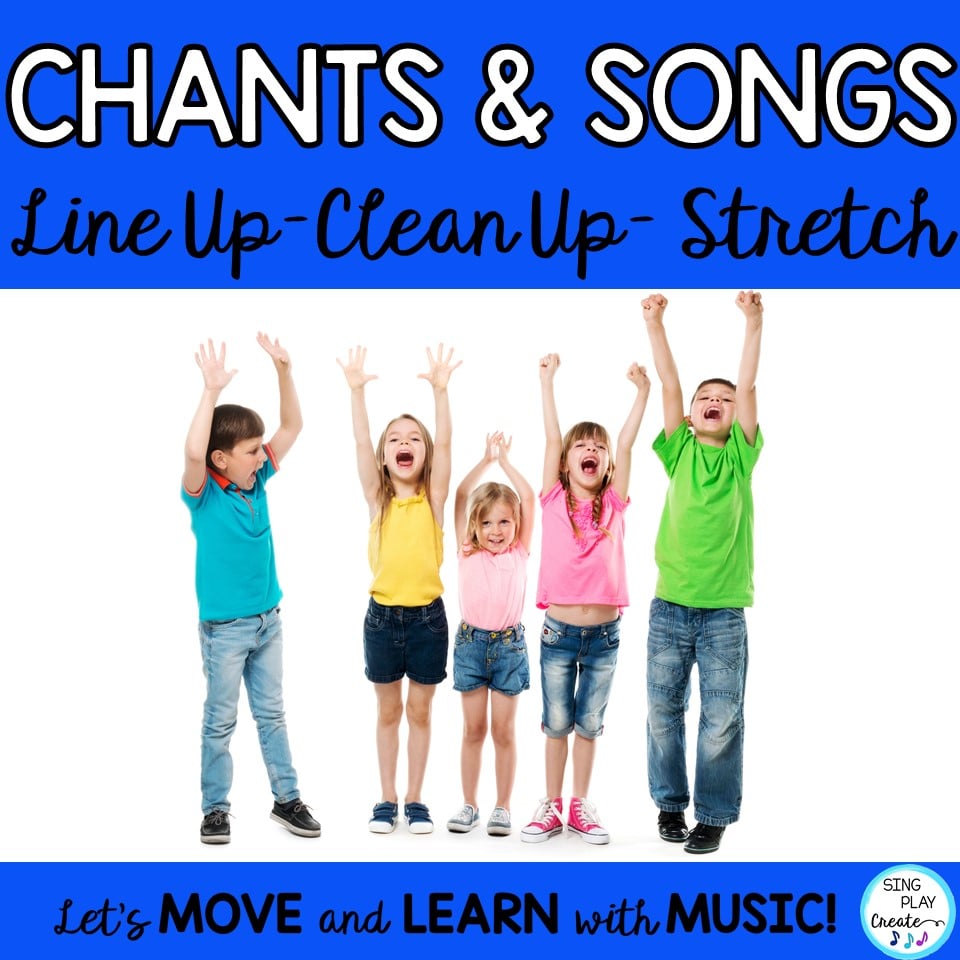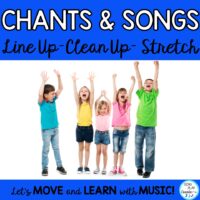 Classroom Hello Song: "Everybody Say Hello" Video & Activities Pre-K – 2nd Grade
This song is perfect for preschool and kindergarten ages.
Making these connections is so important at the beginning of the school year. You'll be able to learn about your students as you integrate the song, movement, and literacy activities into your first weeks of school.
RESOURCE INCLUDES:
Activity Video Teaching Ppt. & Pdf.
Get to Know you "Hello" Games
Sheet Music Lyric Sheet
Flash Cards
Action Word Coloring Sheets
1 full page Coloring Sheet Activity
Teaching Directions
Vocal & Acc Mp3 Tracks
HELLO Cards for Games (color & BW)
My New Friend Activity Sheet (2 versions)
LINKS TO PRESCHOOL MUSIC AND MOVEMENT ACTIVITIES
"Everybody Say Hello" YouTube Link
Watch our 30 minute Scarf Activity Video
Scarf Dance Activities For Toddlers & Preschool 30 minutes of activities
1-2-3-4-5 FISH SONG Nursery Rhyme on YouTube
"There's a Chocolate Chip Cookie on My Head" YouTube Video
"Zoom, Zoom, Zoom We're Going to the Moon" YouTube Video
GET THE FREE DOWNLOAD OF PRESCHOOL MUSIC AND MOVEMENT ACTIVITIES
READ MORE ABOUT CREATIVE MOVEMENT
Thanks for reading this post!
Let's Move and Learn with Music!