Hi Friends!
Today I'm joining in a linky party, "Five favorite pins," for the month of October!
Follow the links to the pins for some amazing Pinterest Pins and ideas for October fun.
I did a search for some Freebie Printables and Lessons, so I'll share those with you here.
Aren't Freebies great?
And just in case you're feeling kind of "spooked" about your lessons, here's a little poem for you.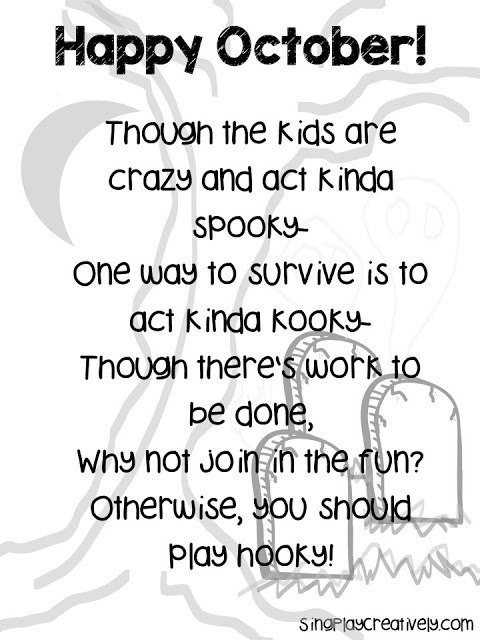 #1 A SWEET WAY TO TEACH RHYTHMS!


I'm actually going to do this with my 5th and 6th graders this year. I know that there's too much candy going around-but they've really struggled with rhythms and making the connection to sounds on/in a beat. So We're going to make candy "raps"! Very Excited about that!
#2 FREE GHOSTLY VOCAL WARM UPS
I plan on using these with my Choir students. What a fun way to get them excited to come early in the morning!

I have to say I really like to do this dance with the kids…it's clean and they think it's funny that I'll do the dance with them. When the Ghostbusters switch places-I call out "Go Crazy" and we all run around the room, but have to be back in our spots before the next section of the song..give it a try!
The singing pumpkins teach in a creative way-different music styles. I'm going to share this with my 5th graders who I think will love it!