Bean bag games in music class are one way to keep your lessons and activities interactive.  As soon as I say the word "game", I have everyone's attention! Since I'm a music teacher, I have a set of bean bags in my classroom and I use bean bag games to help my students learn, connect and stay focused.  Bean bag games really do increase student engagement. I'm careful to keep the focus of the bean bag games on the lesson or unit concepts, and using good character themes like using"manners", "kindness", "including others", and being "respectful" and MOST IMPORTANTLY "Showing what you know!" Here's my Five reasons you'll want to play bean bag games in music class.
WHY BEAN BAG GAMES IN MUSIC CLASS?
1- Bean Bag Games Feel like "Playing".
2-Bean Bag Games Foster Learning.
3-Bean Bag Games are Great Transition Activities
4-Bean Bag Games Build Classroom Community
5-Bean Bag Games are FUN!
BEAN BAG GAMES FEEL LIKE PLAYING
We've all been there–time to "clean the house", "post the grades", "do the laundry". So much fun! Not really–usually if there's a reward or it's a game, as Mary Poppins said; "It makes the medicine go down," so much easier. (By the way–i used to sing that to my kids when we did chores.)
Don't you agree?
When kids play games they are more motivated to try harder, participate more and do their best!
That's why I use bean bag games in music class.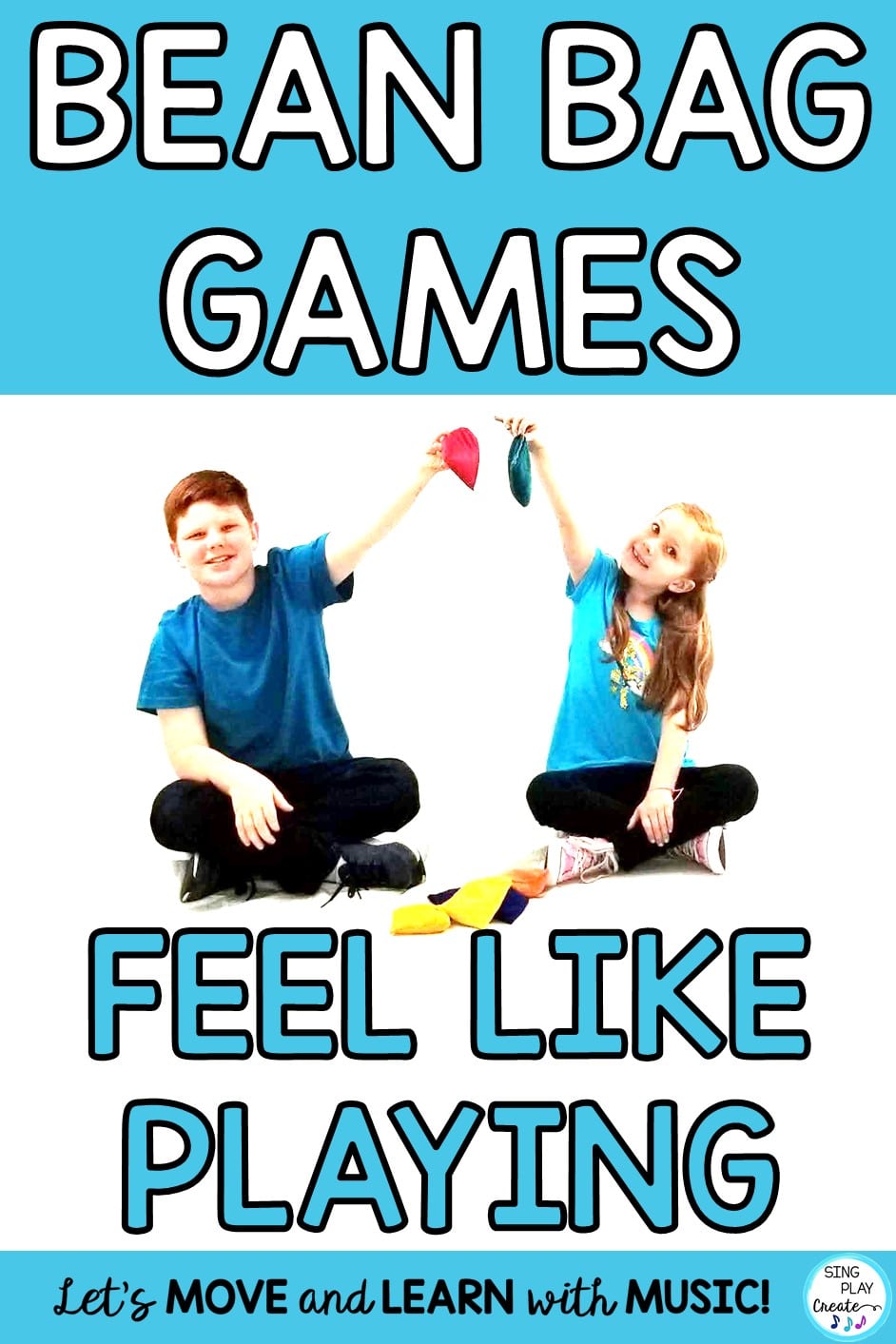 That's why playing bean bag games is a great teaching tool!
So do you need bean bags?
I love the bean bags from Bear Paw Creek! You can purchase them on AMAZON for your classroom.
Polyester Poplin

4″ square bean bags made out of soft poplin fabric

Two of each color: red, orange, yellow, green, blue, purple

Made in the USA

Drawstring bag included for storage and bean bags are machine washable.

Throwing, catching, movement games, color recognition, and my kids favorite "bean bag war."
BEAN BAG GAMES FOSTER LEARNING
I like to use games for assessments. Not only does it make it fun for my students, but it makes it fun for me. And competitive games can foster improved student participation and learning.
Take your simple to play and ever popular "hot potato" and twist it just a bit to add in some excitement for upper elementary students when it's time for assessments. Instead of the student with the bean bag sitting out–have them answer a question-or read something-or do something. I've had students clap rhythms, recite the lyrics to a song, sing a melody, dance and pantomime something during bean bag games.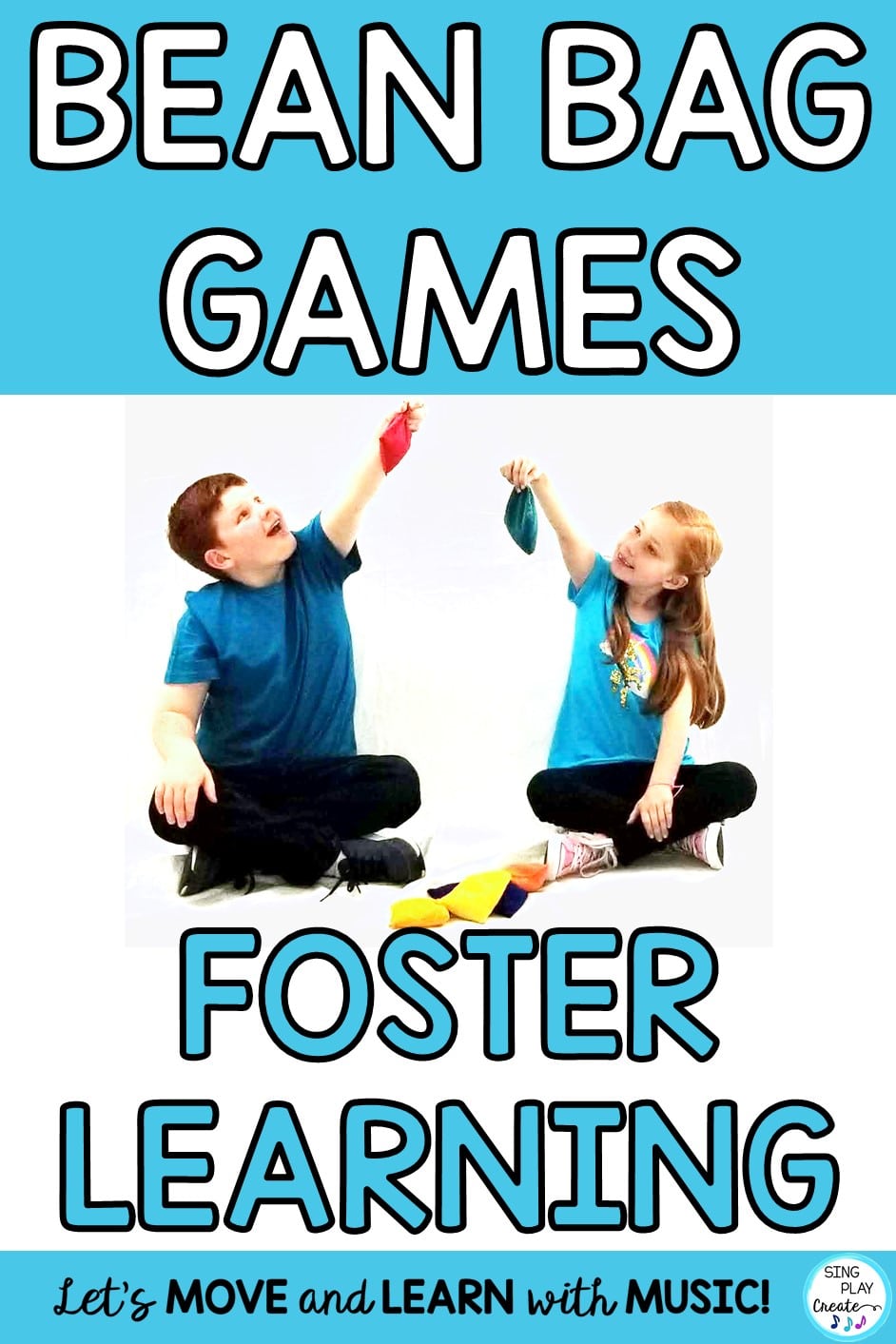 How fun is that?
You can use that game for Math Facts, Vocabulary Tests, Informational Text comprehension check, and for Identifying concepts like colors, numbers, letters playing bean bag games.
Foster learning with bean bag games.
Try this bean bag game:
HOT POTATO BEAN BAG GAME DIRECTIONS:
Ask students to sit in a circle.
Begin the music, pass the bean bag around the circle.
When the music stops, whoever has the bean bag answers a question, sings a melody, plays a rhythm.
Believe me! There are endless opportunities for learning with bean bag games.
How about switching up "Duck-Duck-Goose" to "Bean, Bean, Bag"?
BEAN, BEAN, BAG GAME DIRECTIONS:
Choose a student to be the "ASKER" and they tap a student when the music stops. The student answers a question, and if they get the answer right-become the next "ASKER".
Use the smart board and complete a rhythm, a melodic phrase or move a graphic to show an answer.
Have students draw a card and identify or explain an answer.
Go to the middle of the circle where there is a xylophone or other instrument and play the answer.
Students sing the answer or sing a melody/melodic phrase.
Try mixing it up!
What's your favorite game?  You can use the flash cards, instruments and learning tools in your classroom to turn a familiar game into an assessment activity.
BEAN BAG GAMES ARE GREAT TRANSITION ACTIVITIES
I can feel it when they walk into the room. The pent up volcanic mix of emotions and physical energy is ready to explode in my classroom.
So, that's when I change my game. Yep–I am a huge procedure driven teacher, but changing the procedure and surprising them with something new and exciting will give students an opportunity to "let it go" in a positive way.
That's how bean bag games in music class can really help you when your students are transitioning to other activities.
Sometimes, I use these activities as a mini-music lesson to introduce or reinforce a music concept.
Transitions are tough for most kids, and I've had great success helping students with bean bag activities and games in music class.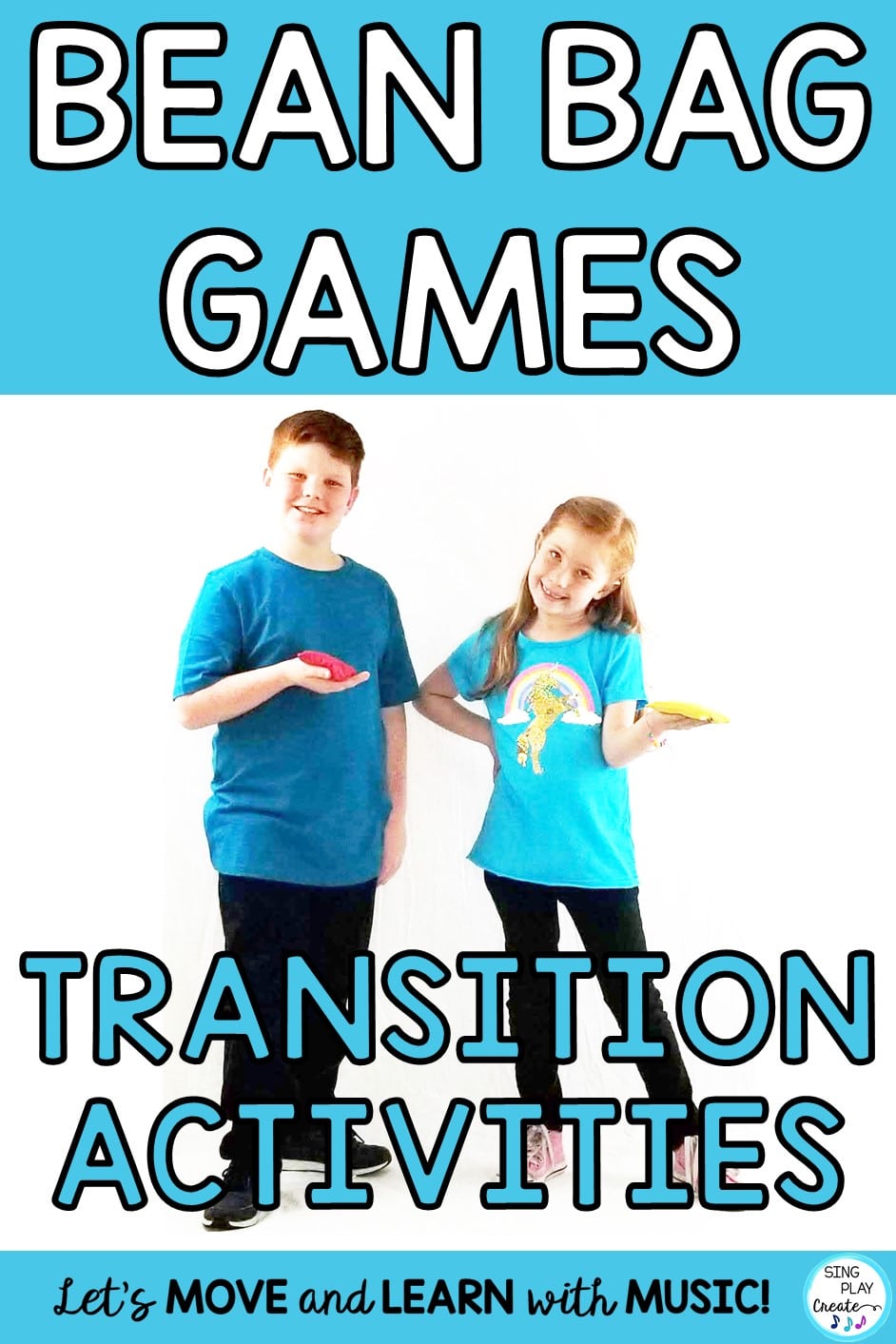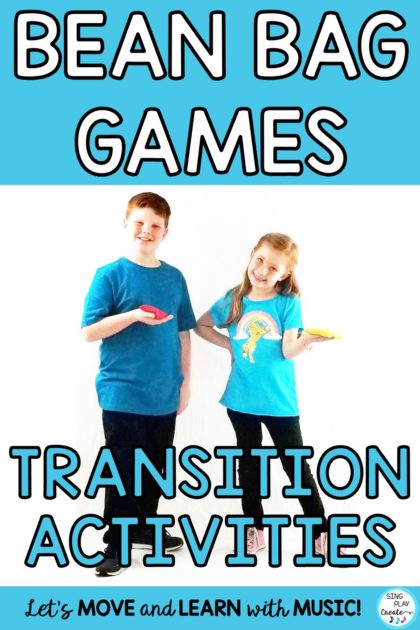 Just this year I organized a bunch of Boogie-Woogie, Jazz, Blues, Scat music to us in my transition activities.
My kids LOVE the music!
LINKS FOR THE MUSIC SELECTIONS I USE IN BEAN BAG ACTIVITIES:
Louie Armstrong
The SCATMAN- Clean and current music for elementary students.
DUKE ELLINGTON MOST POPULAR HITS
Eric Clapton (You Ain't Nothin' but a Hound Dog)
Gloria Estefan- Great CLEAN music!
FUN AND EASY TO PLAY BEAN BAG GAMES FOR FREE WHEN YOU SUBSCRIBE HERE!
BEAN GAMES BUILD CLASSROOM COMMUNITY
Ultimately, most teachers like games that foster working together-not winning.  Bean bag activities are easy to do on the spur of the moment or to use as an "official" activity. That's why I think I've been inspired to make up several Bean Bag Activity resources.
There's a great need for "games" that foster good feelings between students and also to use as Brain Breaks. Bean Bags activities are a great way to build classroom unity.
I've discovered that students need help going from "seat work" to "game". Students need the procedures and practice so that they can transition easily without a lot of disturbance.
Once students have the procedures down, you'll be able to switch into "playing" mode pretty easily.
Try these bean bag games and activities in music class:
WALK IN A CIRCLE:
Practice making a circle in your classroom by placing the bean bags around the room.  Students follow the bean bags around the circle.
Try playing music as they move around the circle. Be sure to talk to them about the shape of the circle.  Teach them to stop when the music stops and then sit down quietly.
You could have a marked circle in your classroom that goes around the outside of your desk/work area.
Then, when you play a special song the students know that it's time to walk around the circle.
Honestly, you'll find that if you do this EVERY DAY for the first few weeks of school that your students will KNOW exactly what to do without you saying a word.
Think about it!  They'll be able to transition from their desk to circle time, lining up for lunch, recess, or going to a special class.
STAND IN A LINE:
Give a bean bag to the last student in line.
Have the students pass the bean bag up the line to the leader.
When the leader gets the bean bag have them hold it up high and everyone can cheer!
HOW GAMES CAN HELP YOUR STUDENTS
Believe it or not, I was a sports kid–actually pretty good at softball and baseball, then basketball and bad-mitten–so I get the "sports" kid.
One reason I relate a lot of my lessons and ways to learn things to sports-especially when we're getting ready for concerts.
Is this true for you? More kids have played soccer than sang in a chorus-so I use it!
How do you talk to kids about "working together"? I ask my students what their coach would say? Or, I might ask them if working together is part of being on a team. Here's some of the questions I may ask my students who are in the third through sixth grades:
"Can you tell me what happens when someone tries to dominate the game?"

"How do you feel when someone isn't fair?"

"What happens when we work together?"
My students "get" these conversations and they really do help the overall classroom community setting.
BEAN BAG GAMES FOR FUN
Playing games gives children opportunities to develop their gross motor skills, increase balance and enhance directionality, which is important for reading skills. Activities that encourage movement across the midline get the Right and Left brain to work together. They also strengthen one side of the body which helps with fine motor skills.
I feel like it's an important part of my job to help students use their trunk to cross that midline. That means that they "twist" and "move" to the other side of their body, and use the body part on the other side–whew–that's a tough one.
Here's how to do it:  Take your right foot and cross over and step in front of your left foot-that's the idea!
When you play card games or with instruments, encourage children to reach across the body to pick up cards or sticks.
Try playing Musical Twister? You can make a playing area out of an old sheet, carpet or squares.
Make it 4 sides with 6 dots on one side and 4 on the other.
Place the symbols on the dots/squares.
Divide your class into 4 teams.
Teams choose a card from the pile and 1 player has to match it by placing a foot or hand on the dot.
Teams continue to take turns until it's a total musical mess!
This activity works well in stations.
For more ideas about stations, you'll want to read these blog posts NOVEMBER STATIONS and DECEMBER STATIONS.
MORE BEAN BAG ACTIVITIES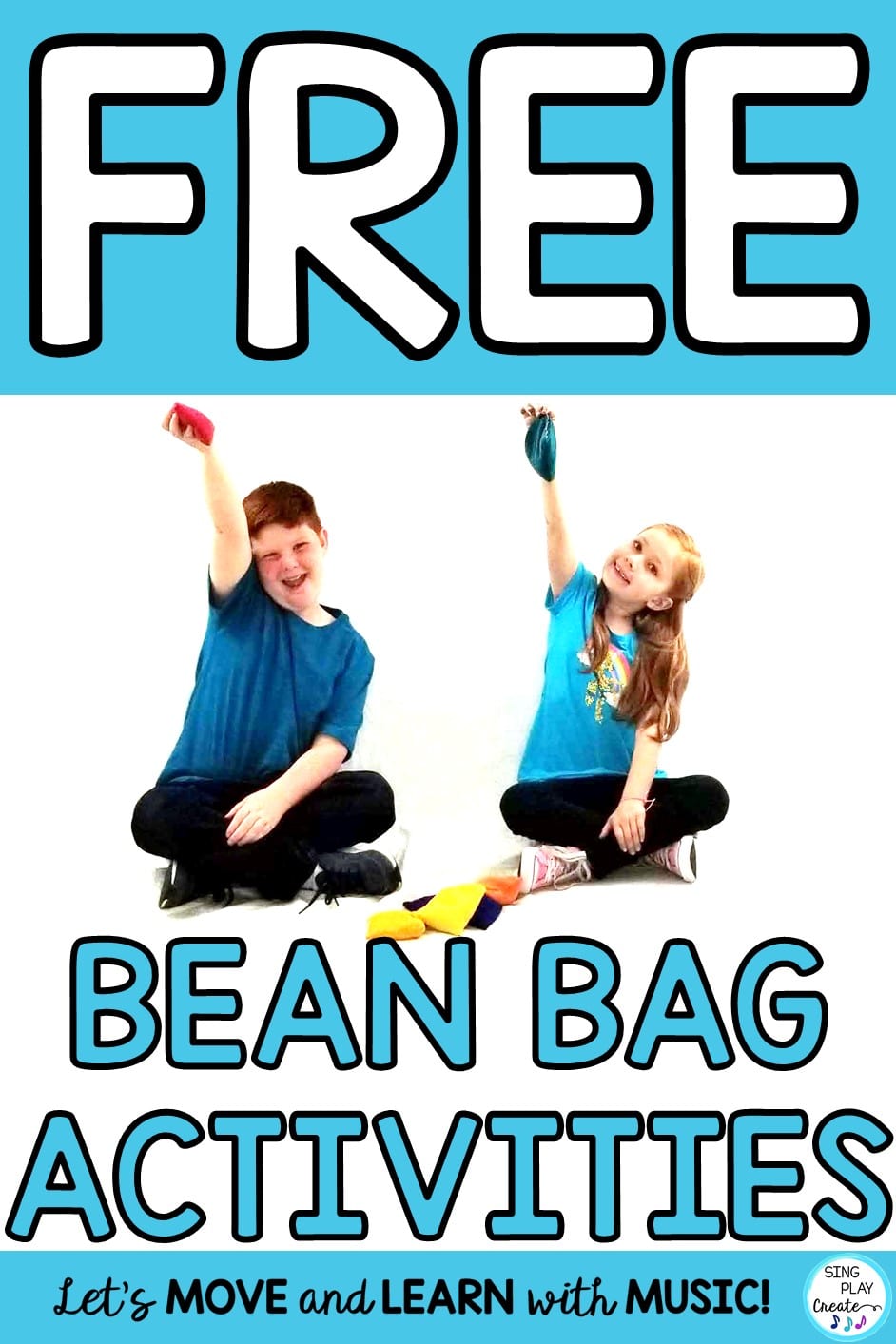 Over at Bear Paw Creek you can find some great articles on how to use bean bags in your classroom.
USING BEAN BAGS IN YOUR CLASSROOM
You've got the idea now that Bean bag games are the perfect tool for rewards days, rainy/snow days and for celebrations. They are perfect for your sub tubs and days when your voice may not be up to singing and talking all day.
There are so many reasons to include bean bag activities into your classroom routines and activities. That's why I've created these resources just for teachers!
They are easy to use and don't require a lot of prep. There's not even any cards or signs to make. Mostly, you'll just need a CD player, some bean bags and a good attitude!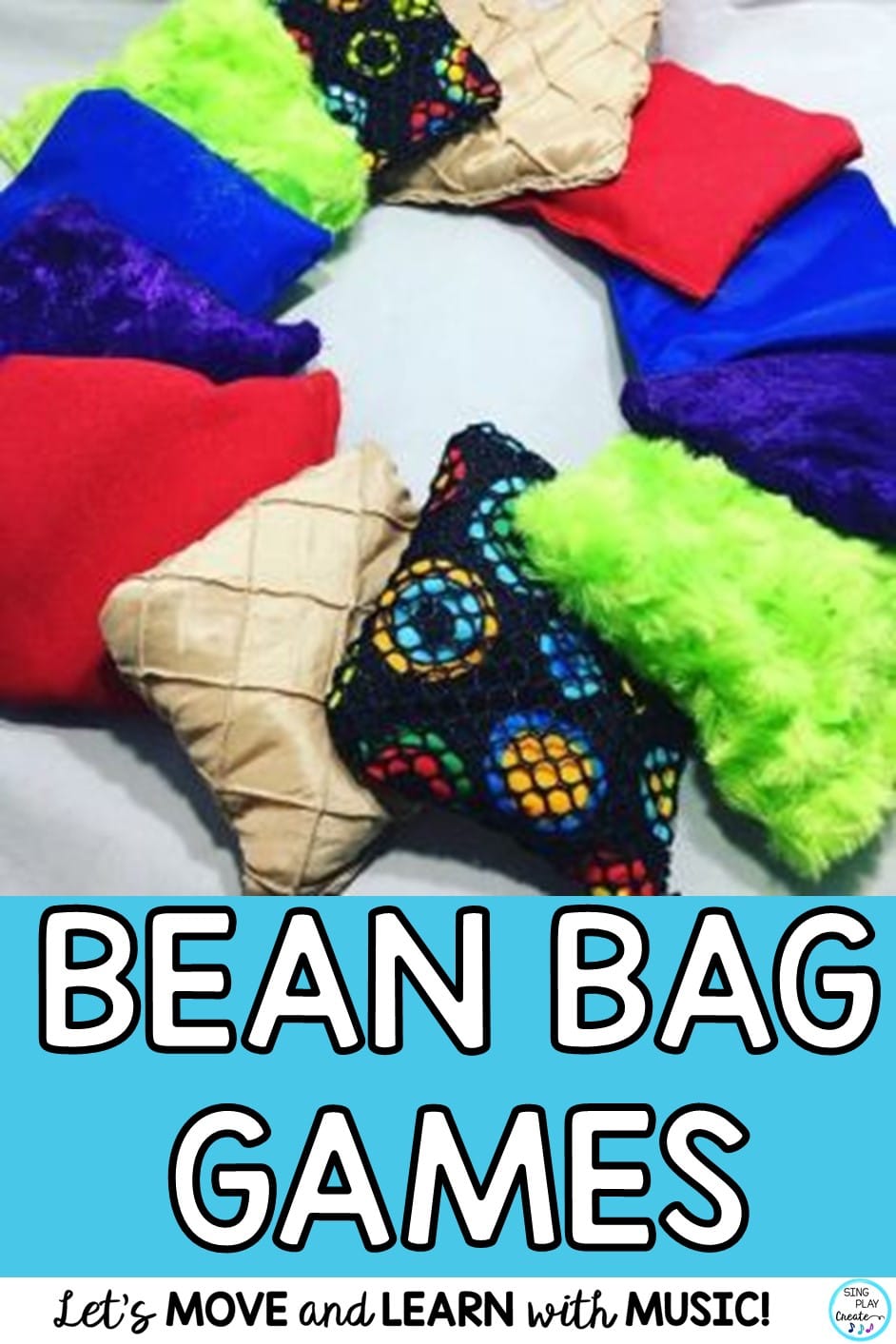 Here's what Music Teachers are saying about "Bean Bag Activity Songs": "The end is near – my K classes have music 3 more times – I need to keep them moving and engaged, and they still need to keep practicing steady beat. They will love this! I'll also do the activities early in the year next fall so I can incorporate this in my sub tub. Thanks!"
I've used these activities too-
FREE RESOURCES:
Many classroom teachers use bean bags to play games with students and help them learn literacy and math skills. Here's a free resource you can use tomorrow-
Use this fun "Heart Beat" Song to help students learn to feel the steady beat.
After teaching students the song and the moves, I'll add in bean bags.  This is what I call LEVEL 2!
I divide the class into 2 circles.
Circle 1 will pass on the steady beat.
Circle 2: Students will tap the melody rhythm and have Circle 1 play on the beat and Circle 2 Play the Melody Rhythm.
Then have the students trade places.
Super fun and helps teach the difference between STEADY BEAT and RHYTHM- something I work on ALL the time.
Spring is the perfect time to explore ways to use bean bags in your classroom.
Looking for Bean Bags for your classroom?
Check out bean bags on Amazon! (I do get a small kickback when you click the links)
AMAZON BEAN BAGS
Here's hoping that you've got some fun ideas for your classroom on how to use bean bag games.
Please share this post with your teacher friends!