I'm super excited for the Holiday break that's just weeks away–but– I have January lessons to organize, a Holiday concert, grades and all the other end of year teacher duties to fulfill before I can truly take a break.  I've tried a variety of lessons in hopes of keeping some kind of classroom order and learning going. It's also concert time and my desk tends to get a bit piled up with all of the projects that need to be completed before I too take a holiday break. I love holiday music and always want to do more than I really have time to do. So I'm sharing some ideas that I've come up with to help me streamline my lessons to help me get through the pre-holiday music classes and my students have a "Jolly-Jinglin' Music Class".
How can I organize my lessons and NOT go CRAZY?
JINGLIN' MUSIC CLASS LESSON ORGANIZATION IDEAS
Eventually, all of my students will get experiences in singing, playing beat, rhythm, notes, ukulele, recorder and guitars. That's why I teach a different lesson for each grade level. I do this because eventually students will be in my classroom each consecutive year and I want them to be building skills through their elementary music class experiences.
I get it!
Maybe this seems hard to organize? But since each grade has a different learning goals and each lesson focuses on the different skills according to the standards for that grade level, once you work through the first year or two or planning, you can build on your standard lessons easily.  To start off, one of my Jolly-Jinglin' Music Class tips is to have a core set of holiday songs and activities to use with each grade level. Every year I've tweaked and refined these lessons, added materials and got them organized so that it's really easy for me to pull out the folders and instruments and teach!
JINGLIN' MUSIC CLASS IDEAS
In the past, some of the holiday lessons I've used include; sing-a-longs to holiday favorites, orff instrument arrangements to "I Have a Little Dreidel" and "We Wish You a Merry Christmas", Rhythm stick routines to Nutcracker Music, creative movement and scarves to all holiday music, and stations where students play holiday rhythm pictures and make music on rhythm sticks, xylophones and also compose rhythms. It's important to keep the lessons interactive. As long as I keep students engaged, we can have a Jolly-Jinglin' time in our music class.
Keep reading to get the jolly-jinglin' music class tips on how to organize your lessons by grade level and to get the Freebies to use in your lessons.
JINGLIN' MUSIC CLASS IDEAS FOR KINDERGARTEN
CONCEPT: STEADY BEAT, PITCH

LESSON: Multi-cultural Vocal explorations

SONG: "I Have a Little Dreidel"

ACTIVITY: Play drums in small groups as the rest of the class sings the song.

CREATIVE MOVEMENT: Nutcracker action and scarf activities
Let's Sing High and Low!
Want a fun way to get your students singing high and low?  Teach pitch?  Warm up those cute little voices? I use my multi-cultural vocal explorations on my smart board. Students love to come up and tap the board and make the objects move across the screen. I have them follow the objects with their fingers. Sometimes I get out scarves for them to use too!
You can find this resource in my new SING PLAY CREATE SHOP!
Let's Play Drums!
Here's how I teach the song "I Have a Little Dreidel":
I teach the lyrics and the melody first, then we add in the drums.
If I have advanced students, they can play the steady beat bordun on C as we sing and play drums.  Remember, Kinders love to play drums and it will be easy to keep them engaged when everyone get's a drum to play.
Kinders will have a jinglin' music class as they sing the song, and play the beat.
If you're interested, you can find this resource in my teacherspayteachers store.
Music Lesson "I Have a Little Dreidel"
After we play drums, and depending on the time left in class, I'll pull out the scarves and play selections from the "Nutcracker". I use my scarf activities bundle during the entire month of December.
You can find the resource link here: "Nutcracker Creative Movement Activities"
JINGLIN' MUSIC CLASS IDEAS FOR FIRST GRADE
CONCEPT: Create Rhythm Patterns, Sing and play rhythm and beat together.  Play Ostinato.
SONG: "I Have a Little Dreidel"
Check out how I change things up for First Grade:
Now I can divide the class into 3 groups:
RHYTHM OSTINATO
BASS XYLOPHONE ON C/G
MELODY- SINGERS
I find that the students love to change parts!  Rotate each group through the parts. Have the students teach the next group how to play/sing the new part.
Download the Free Rhythm Cards and Flash Cards from the Free Resource Library to use in these lessons. If you're a subscriber- CLICK ON THIS SUBSCRIBER LINK TO GO TO THE RESOURCE LIBRARY
If you need to subscribe- CLICK ON THIS LINK TO SUBSCRIBE
FREEBIE HOLIDAY RHYTHM GAMES WITH FREE FLASH CARDS!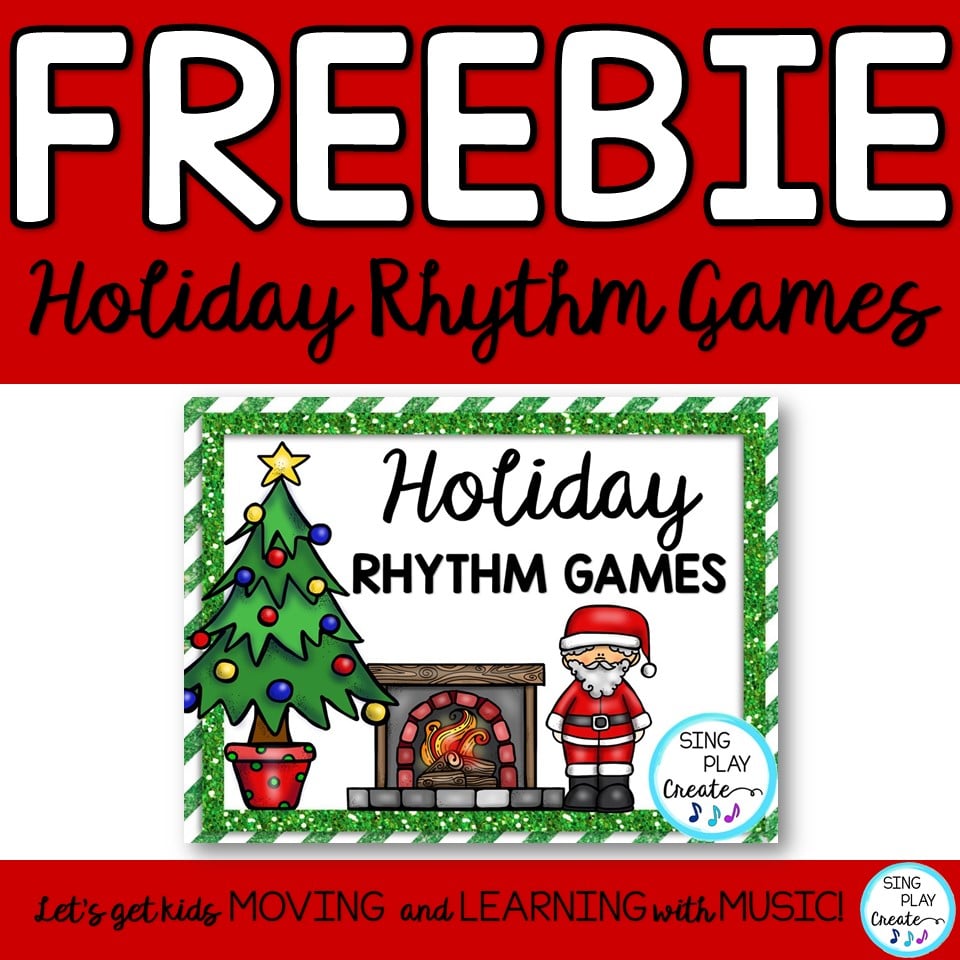 FREEBIE HOLIDAY RHYTHM AND BEAT ACTIVITIES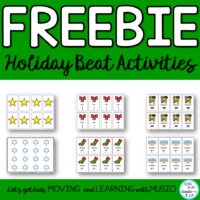 JINGLIN' MUSIC CLASS IDEAS FOR SECOND GRADE
CONCEPT: Demonstrate sixteenth notes,  Play a Rhythmic Ostinato, Create Rhythm Patterns
LESSON: Holiday Rhythm chants.
Pre-note Reading C Scale names.
Note Values: Sixteenth, Eighth, Quarter, Half Notes & Quarter Rest, C Scale Note Names
Playing Rhythms
Playing Rhythmic Body Percussion
Playing Instruments
Playing C Scale Notes
Week 1- learn the rhythms and the chants.
Week 2- Play on instruments
Week 3- Use in Station Activities for assessment opportunities.
HERE'S THE LINK TO HOLIDAY RHYTHM CHANTS

If you don't have rhythm chants, you can use any holiday song-Seriously!
Take "Jingle Bells" and use the same ideas like playing the melody, play a body percussion ostinato, and play a Rhythmic Ostinato.
Use the rhythms your Second graders are working on in your classroom.
Check out this Youtube Video easy Orff arrangement for "Jingle Bells"
JINGLIN' MUSIC CLASS IDEAS FOR THIRD GRADE
CONCEPT: Play an Ostinato, Play a melody, Create Rhythm Patterns
SONG: "We Wish You a Merry Christmas"
OPTION 1-Singing the song and playing the beat on an instrument.
OPTION 2-Singing, Playing the Beat, Playing a Rhythm while singing.
(Use Rhythms according to your grade level standards. K is "ta" and "ti-ti" for my state.)
OPTION 3-Singing and playing as part of an ensemble.
OPTION 4-Body Percussion Activities
JINGLIN' MUSIC CLASS IDEAS FOR FOURTH GRADE
I teach 4th graders to play the recorders. I start with students playing rhythms on different notes (that's after introducing how to hold the recorder and make sound- the good kind!)
CONCEPT: Play recorder notes G-A-B
ACTIVITIES: Recorder Stations
1- Practice G on various rhythms
2- Practice B on various rhythms
3- Practice A on various rhythms
4- Practice BAG melodies
Another Jolly-Jinglin' Music Class tip for recorders is to practice learning and playing one note at a time. Play each section on one note. Then divide students into three groups and have each group play their own part following the A B C pattern. Then create some familiar FORMS AABA, AABABCA, or have students create patterns in small groups and play for each other. Another idea is to divide into six groups, three play the patterns on G and three play them on B for a taste of harmony! There are many opportunities to practice notes on the recorder using simple rhythms and patterns. 
JINGLIN' MUSIC CLASS IDEAS FOR FIFTH GRADE
Due to the fact that I have very small 5th grade classes, I use several different curriculum's, depending on the students I have that year.
This curriculum focuses on playing Orff Instruments
CONCEPT: Play a Melodic Ostinato, Play a melody, Play dotted rhythms, Create Rhythm Patterns
SONGS: "I Have a Little Dreidel", "Jingle Bells", "Jolly Old St. Nicholas", "We Wish You a Merry Christmas"
TEACHING IDEAS:
First sing through the song. If time permits, teach all students all parts.
Next, divide students into 4 groups. Melody, Bass, Triangle and Wood Blocks.
Have students practice their parts and then play alone.
My Jolly-Jinglin' Music Class tip for this grade is to print out the parts and organize students in stations. Have them practice their part and then rotate to another station.
Then put parts together. You may find it helpful to have just the MELODY play along with Triangle part then MELODY with Wood Blocks, and finally MELODY with Bass part. Depending on your students' abilities, these activities could take 2-6 class times.
JINGLIN' MUSIC CLASS IDEAS FOR SIXTH GRADE
So, we are now at 6th grade!  I use guitars in my 6th grade classes and it's been pretty successful.  Students learn how to play and then put on a mini concert for a couple of first grade or kinder classes.
Teaching Ukulele? 
Me too (in 3rd grade), but it would be a great 6th grade curriculum too!
CONCEPT: Play Guitar or Ukulele chords C-F-G7, Play one strumming pattern
SONGS: "I Have a Little Dreidle", "Jingle Bells", "Jolly Old St. Nicholas", "We Wish You a Merry Christmas", "Deck the Halls", "Up On the Housetop"
Maybe the most important Jolly-Jinglin' Music Class tip is to streamline and simplify your lessons as you build your core curriculum teaching resources year by year. That's how I've put together slide shows of Holiday Songs to sing or to teach guitar and ukulele classes. Here are some of the slides that I use to teach students to play holiday songs.
If you'd like a copy of the full FREE RESOURCE, just subscribe to the Newsletter and gain access to the FREE RESOURCE LIBRARY where you'll find lot's of free resources to help you teach efficiently and EASILY! Work smarter- NOT harder!
Finally, the last Jolly-Jinglin' Music Class tip  is actually a Freebie. I created a video lesson for you that you can use with some of your classes too. So to help you have a Jolly-Jinglin' time in your music class, I'm sharing two fairly easy orff arrangements in Video format to say Happy Holidays! They are recorded at a slower tempo than you may play them-but I was thinking that to learn the parts, it'd be nice to have a bit slower tempo. There are no vocals as I'm sure students will love to sing for themselves.
"Jolly Old St. Nicholas", with triangle, wood block and soprano and bass xylophones.
Most of all I'm wishing you a "jolly jinglin'" music class!

I hope you'll share these on your favorite social media site!
Maybe you are like me and like to have the graphics, music files and other materials visual- here are the links to the resources I'm using in my classroom: