What's the best thing about December? I think you know and it's more fun to give than to receive- right? As a music educator I get so excited about all the possibilities for fun lessons, that it's hard to choose which ones to use each year. What I've found though, is that my students love games! So this month's freebie is a holiday rhythm game for your music classes.
WHY DO YOU WANT THIS HOLIDAY RHYTHM GAME FREEBIE?
ADAPTABLE- Use these games with your First through 6th graders. 

FAST TO PREPARE-You can print this resource out and and use it the same day.

STUDENT LED-You can play these games when your VOICE is TIRED!

EASY TO USE-You can use these games in your sub tub.

INTERACTIVE-You can use these games as part of your evaluation!  They use creating and critical thinking skills.
2 FREE HOLIDAY RHYTHM GAMES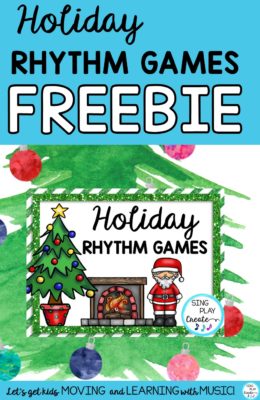 Moreover, you'll be able to use the flash cards from the Free Holiday Beat and Rhythm activity that's already in the Free resource library, and the new rhythm cards in this freebie.
Or,
you can use flash cards you already have in your classroom.
A VARIETY OF HOLIDAY RHYTHM FLASHCARDS
Amazingly-
You can download the freebie and use these rhythm cards in all of your holiday lessons and games!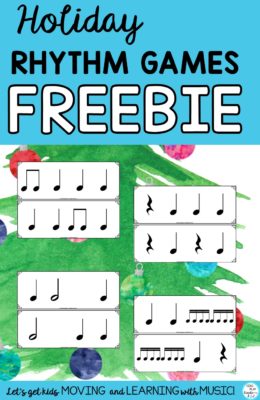 EASY TO USE HOLIDAY RHYTHM GAME POSTERS
In addition, you'll be able to use the posters in your classroom to help students play the games.
Seriously!
Just print the directions and cards and stick the materials in your sub tub.
In other words-
Do you want to get this free resource?  All you need to do is SUBSCRIBE to the FREE RESOURCE LIBRARY HERE!
Already a subscriber?
You can find more Holiday Freebie music education resources in the Free Resource Library.
Grab the Freebies HERE!
I know!
The holidays can be the most "fun" and some of the most challenging times in the music classroom. Nevertheless, I'm hoping that these freebies can help you bring the joy into your music lessons this holiday season.
You'll also want to check out these blog posts with tons of ideas, lessons and materials for your elementary music class lessons.
December Music Class HO! HO! HO!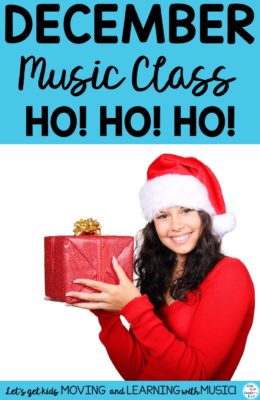 "Teacher Tips for a Jolly Jinglin' Music Class"
"December Music Class Stations"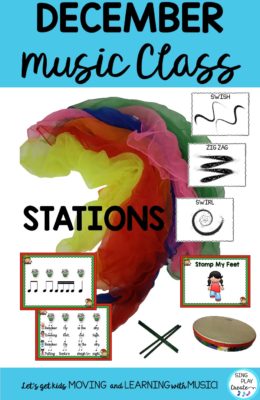 Like this post?  Please share with your teacher friends-