How to begin music class?  There's lot's of fun and interactive ways to get students into "music land" as soon as possible. I'm sharing 3 ways you can use to begin your music classes.
THREE WAYS TO BEGIN MUSIC CLASS
SING A SONG
Hello Songs are a fun way to begin music class.  Students can begin singing right away.
And- right now during COVID we're not sure we'll even be able to sing!
No matter- the strategies and ideas in this post will help you easily work around a "no-singing" classroom.
Idea #1 Try having students walk in a circle as they sing, chant or echo play.
Idea #2 Or, consider having them walk and not sing/chant to their song, but just do the actions.
Whichever way you choose, be sure to show your students what to do when the music or song ends.
I like to have them scramble to their spots in class.
Using this strategy will give you a minute to note who is in class or get some of your materials ready for them.
Moreover, you'll want to check out the "Hello Song Bundle".
Each song comes with a video and presentation.
Not only are Hello Songs are a fun way to get your students transitioned into music class, they provide a musical way to welcome your students to class.
And, they'll encourage classroom community by singing together at the beginning of each class.
MORE WAYS TO USE THESE HELLO SONGS
Use the video as a transition activity when you don't have and time between classes. Video Songs bundle includes songs for grades Pre-K-6th Grade.
The VIDEOS with vocal and practice tracks that "wow" your students and get them excited about music class.
Perfect for back to school and establishing routines in music class
Finally, you can use the video in your Sub Tub (digital files)
Here's one of the songs on the Sing Play Create YouTube Channel
It's a fun hello song you can use in your preschool or primary grade classes classes!
Another Hello song for your music class!

"Hello, Hello, Good Morning to You!"
Hello, hello good morning to you (also comes with a good afternoon version).
Hello, hello it's time to sing too!
Sing High!
Sing Low!
We'll sing, sing, sing, sing, sing until we go.
Hello, hello good morning to you
Hello, hello it's time to sing too!
ECHO RHYTHMS
Ultimately all teachers are looking for ways to get students into "music land" as quickly as possible so they can begin music class.
One transition strategy I've used is having a rhythm video playing as the students come into the room.
Watch this video to get some ideas for Elementary Music Class Transitions (yes my hair is a bit CRAZY in this video!)
"Elementary Music Class Transition Ideas"
I use this resource a lot with my upper elementary students. It's a very interactive way to begin music class.
Get all the music theory essentials in this bundle! Note and Rest names, values, pitch, rhythms, symbols for your music classes.
This resource is especially helpful for upper elementary and middle school students. Lessons, presentations, posters, flash cards, animated videos and worksheets provide interactive opportunities for students to learn basic music theory essentials.
Catch up your students so that the music making can begin! Level 1-6 Rhythm Videos. Best for 1-8 grades.
Digital Learning Tip!  All Videos and Presentation are Easily uploaded and usable in Google Classroom or other Digital Learning Scenarios.
Rhythm practice Videos Levels 1-6
Whole note and rest
Half note and rest
Quarter note and rest
Eighth note and rest
Sixteenth note and rest
Dotted half note and rest
Dotted quarter note
Syncopa
Triplet
Another interactive way to begin music class!
This resource also includes a song.  Have your students Sing the "Musical Scale" Song Mp3 Tracks to help students learn the notes of the musical scale.
After students learn how to play along with the videos, you can then choose leaders to play the rhythms and have students echo clap. This is a great way to begin music class.
When you use a video, you are "hands free" and can wander around the room greeting students, helping, guiding- whatever is needed.
Not only are they learning rhythms, but they are working together as a group, practicing skills, and participating in student led activities.
There's a lot of ways to use these rhythm videos to begin music class.
ECHO CHANT
Not ready to have students singing?
Give chants a try!
Chants can be an effective way to begin music class.
Students are learning listening skills, rhythm, call and response and how to chant together.
Why not use a song as a chant?  You could take one of the hello songs from the bundle and use it as a chant to begin music class.
Be sure to teach students how you want them to respond to you.
"Can you be my echo?"

"Repeat after me"

"Listen first and then repeat"
These are a few phrases you can use to help your students know when to respond.
I also recommend using puppets.
If you want, you can have the puppet be the echo voice—very engaging activity.
Or, here's an easy music lesson that would work perfectly as a chant.
Looking for ways to use solfege and a game?  "Hello" song is just the thing!
You'll be able to build classroom community and develop solfege skills when you use it to begin music class.
Best for primary grades. Includes Create Your Own melody and rhythm pattern Graphics.
Games and Activities are a great way to welcome students back to school and make music class fun!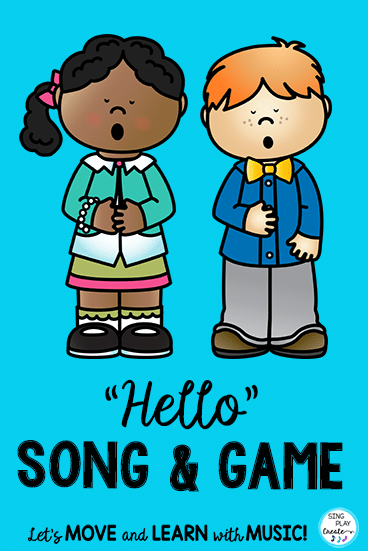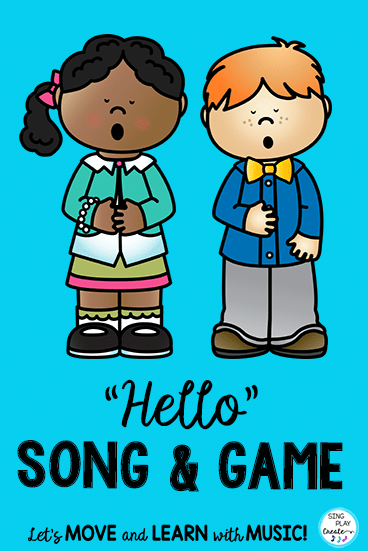 TRANSITIONS
Looking for more music class transition ideas?
Take a look at: "Quick and Easy Music Class Transitions" for more ideas on ways to begin music class.
Most of all, it's important to have some strategies in place before school starts so everyone is ready to begin music class.
Please share this post!