Free bean bag activities for music class. Bean bag activities are a fun way to engage students and create learning opportunities in the elementary music classroom. They are also a great classroom movement and game prop. I know, I've been using them forever! Why? Because kids love bean bags. They love the squishiness, the size and the opportunity to toss them. Give a kid a bean bag and you get their attention! That's why I created some free bean bag activity ideas.
WHY USE BEAN BAG ACTIVITIES FOR MUSIC CLASS

BOOST ENGAGEMENT
BUILD CLASSROOM COMMUNITY
BUSY HANDS BUSY MINDS
Believe it or not, Bean bag activities could be one of the BEST WAYS TO BENEFIT YOU AND THE LEARNER!
BOOST ENGAGEMENT WITH BEAN BAG ACTIVITIES
Over the years my teaching has changed, the kids have changed, I've changed, and I've just found that using games and activities in the classroom is something that hasn't changed.  
Kids love them!
For me, it all comes down to keeping the kids engaged and learning.  
You can use bean bags to boost engagement by integrating them into your regular lessons.
CHOOSE TEAM LEADERS:
If I have to choose team leaders, I may get out the bean bag and say; "heads up everybody, hands out and get ready to catch the bean bag."
Then I toss it to the student I want to be the leader of the game.
I have everyone's attention!
LESSONS:
Or, we're going to play "grizzly bear" in Kindergarten music class, and the kids are having a hard time staying focused, I might grab a bean bag and say; "Okay everyone, put your hands behind your back. I'm going to put the bean bag into the hand of the student who gets to be the first grizzly bear."
I also tell them that the  kid I'm going to choose has to be "very, very, quiet" to prove to me they can be a great grizzly bear sleeping in the cave.
Then I walk around the circle and drop the bean bag into the hands of the student who will begin our grizzly bear game.
Even if you don't know this particular game, you can see how integrating the use of a bean bag to choose students in the classroom will help you boost engagement.
Need some bean bags?
Read this blog post on 5 reasons you'll want to play bean bag games.
BUILD CLASSROOM COMMUNITY WITH BEAN BAG ACTIVITIES
I think you'll agree with me that building classroom community is the NUMBER #1 thing you can do to ensure student engagement and good classroom management.
It all boils down to the relationships doesn't it?  And that could be the most difficult thing to do for any teacher!  
Give me the microphone and I'll sing you a song.  Give me a guitar and I'll play you a tune.
But give me a kid that I can't figure out, or who just doesn't want to be here-and there may not be much harmony in the music room when that kid comes to music.
Anyone else  struggling with this?  
It happens to every teacher. Sometimes I'll have to just accept the fact that this one kid is going to take the ENTIRE school year to "get".  
But, the best way I've found to work through this kind of situation is to keep the relationship and classroom community building going on the entire school year.  
And that's why bean bag activities can really make a difference.  Playing games fosters a spirit of togetherness and belonging. Games give everyone an opportunity to work together.
For example:  I had a student who refused to play bean bag games.  So I asked if she could be the score keeper. She was so excited to do that job!  
Great! She's in- I worked with her, she can trust me to figure some way for her to participate, but not force her to play the game.  
It's a win-win for everyone in the class. By the way-She's very creative and wrote one of the best songs for our end of year project.  
Need some bean bags?
Polyester Poplin

4″ square bean bags made out of soft poplin fabric

Two of each color: red, orange, yellow, green, blue, purple

Made in the USA

Drawstring bag included for storage and bean bags are machine washable.

Throwing, catching, movement games, color recognition, and my kids favorite "bean bag war."
READ THESE BLOG POSTS to get more ideas on playing games in music class:
WHY DOES PLAYING GAMES HELP CHILDREN LEARN?
When you try new things, it may take a while to figure out all of these types of situations.
But in the long run, if you want to strengthen your classroom community, play bean bag games and activities.
BUSY HANDS=BUSY MINDS USING BEAN BAG ACTIVITIES
Lastly, I believe you can use bean bags to help students learn concepts.  
For example:
How about using a bean bag as a tossing game to show high and low?  Students can toss bean bags to each other high or low, students can toss it in the air alone, students can toss it and have the class call out "high/low".
Or, I've made a staff on the floor using black Velcro. I'll have them toss a bean bag on the staff.  I'll have the students sing the note the bean bag lands on, or have them try to toss the bean bag to "so" or "A" or whatever note/concept we are working on at the time.
And, I've had students jump to the bean bag and say the names of the notes on the staff.
Why not play hot potato and whoever gets the bean bag has to say, play, or perform the musical answer?
Honestly, this activity works with any grade! (Although you'll have to practice playing hot potato first with your kinders as they may not know how to play.)
Can you believe there's many ways to use bean bags in your classroom activities?
WAYS TO USE BEAN BAGS IN YOUR CLASSROOM
Over at Bear Paw Creek you can find some great articles on how to use bean bags in your classroom.
USING BEAN BAGS IN YOUR CLASSROOM BY BEAR PAW CREEK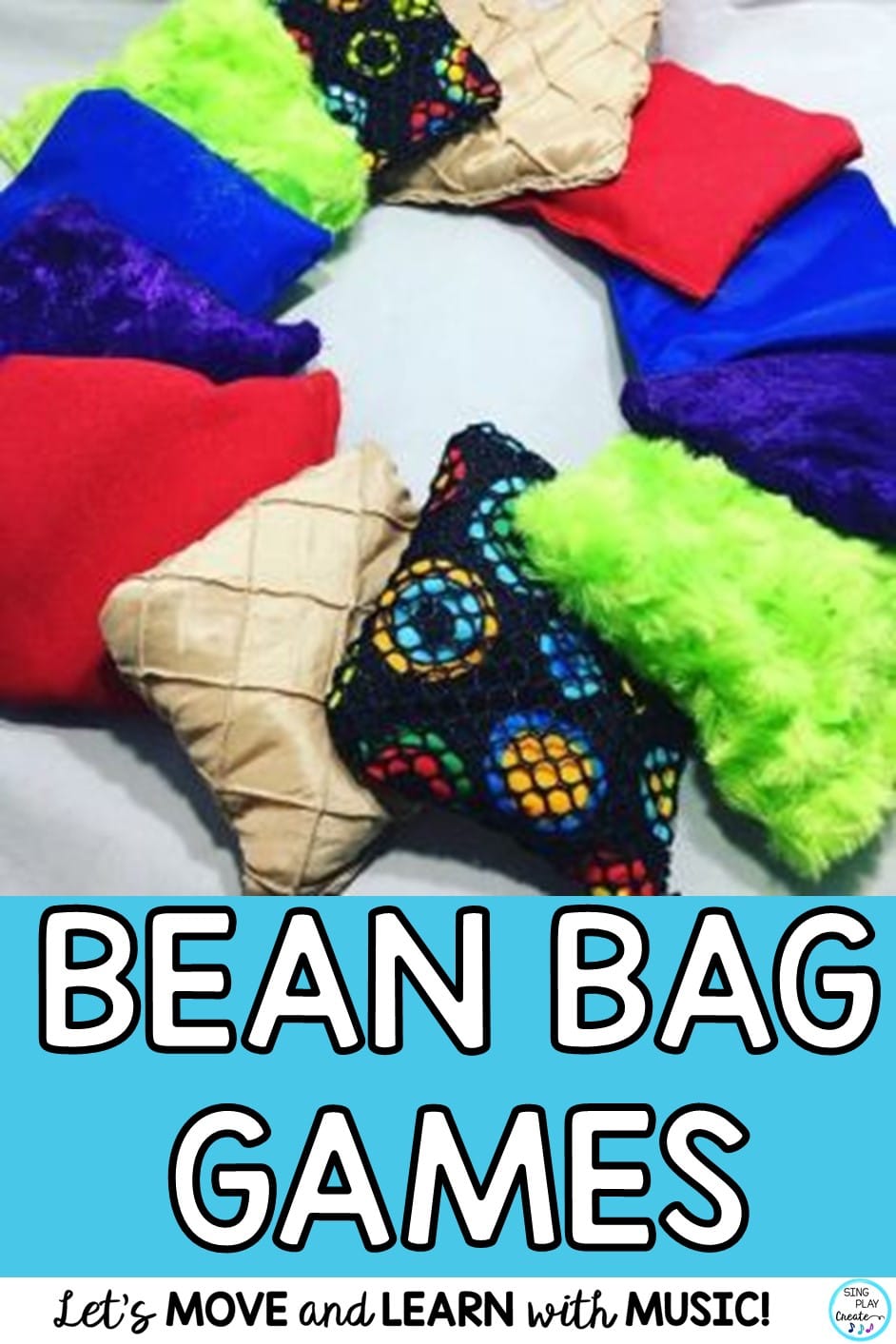 Bean bag games are also the perfect tool for rewards days, rainy/snow days and for celebrations.
They are perfect for your sub tubs and days when your voice may not be up to singing and talking all day.  
There are so many reasons to include bean bag activities into your classroom routines and activities.
That's why I've created these resources just for teachers!
They are easy to use and don't require a lot of prep.
There's not even any cards or signs to make.
Mostly, you'll just need a CD player, some bean bags and a good attitude!
BEAN BAG RESOURCES:
If you're interested in checking out my resources:
Here's what Music Teachers are saying about "Bean Bag Activity Songs":
"The end is near – my K classes have music 3 more times – I need to keep them moving and engaged, and they still need to keep practicing steady beat.
They will love this! I'll also do the activities early in the year next fall so I can incorporate this in my sub tub. Thanks!"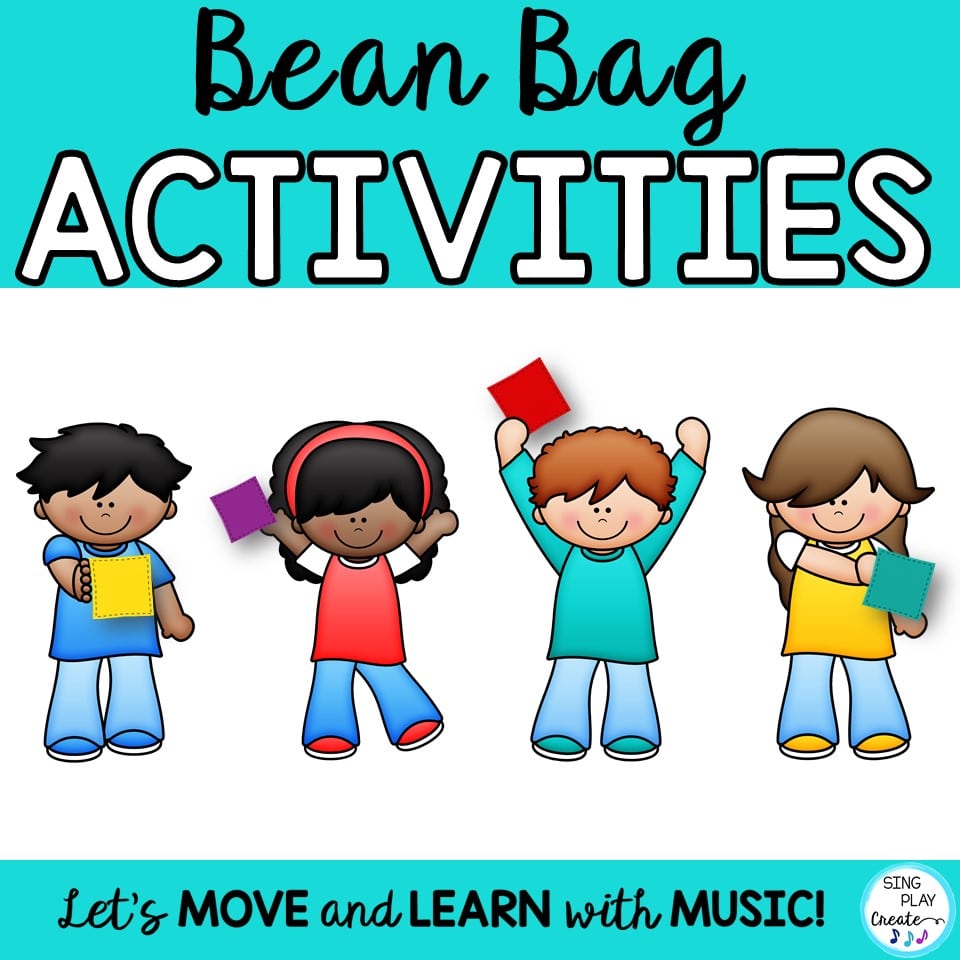 FUN AND EASY TO PLAY BEAN BAG GAMES FREE WHEN YOU SUBSCRIBE HERE!
GET BEAN BAG ACTIVITIES FREE BY CLICKING HERE!
LOOKING FOR BEAN BAGS?
Don't forget to get the FREE BEAN BAG ACTIVITIES RESOURCE!
The end of the school year is a great time to use bean bags in your classroom. Here's hoping that you've found some new bean bag activity ideas.
Like these ideas?  Please share them with your teacher friends!