April showers brings spring wiggles, giggles and lot's of other blossoms of activities in elementary music classrooms. I don't know about you, but I've found it's easier to connect learning and movement during spring music lessons instead of trying to dig out the weeds.  Whether you haven't used scarves in your classroom, or you're looking for some fresh ideas, you'll want to keep reading to get the ideas and download the 12 free scarf movement activities.
WHY 12 SCARF MOVEMENT ACTIVITIES?
Imagine 12 scarf movement activities you can use in your classroom for the entire school year.
As a matter of fact, scarves can be used in so many fun ways to enhance your creative movement activities and make your lessons more interactive.
Honestly, scarves can be used in any classroom with children up to sixth grade. Music, P.E., Drama, Preschool, Elementary Classroom, Special Needs, Reading and other specialty classrooms will benefit from using scarves.
The activities are perfect for preschool, home school, music classroom, music and movement classes, literacy lessons, special needs, and regular education classrooms.
To clarify- there's more than 12 activities, I've categorized them into "types" of activities.  There's several activities for each category.
Looking for Scarves for your classroom?
SCARVES
SCARF MOVEMENT ACTIVITIES PROVIDE FOCUS FOR WIGGLES
I've tried it- and it's true!
Here are my reasons why scarf activities are important to incorporate into your music, movement and literacy activities.
Big movements with arms and legs encourages the development of gross motor skills.
Following the scarf cues helps students learn to follow directions.
Cross body movement encourages good reading skills.
Directed arm and body motions develops the ability to form letters and shapes and understand directional concepts.
Creative movement encourages artistic learning and to think in a more challenging and creative manner.
SCARF  MOVEMENT ACTIVITIES ENCOURAGE READING SKILLS
On the one hand, free dance is great for wiggles, on the other- cross body movement and connecting movement with directions, right-left and up and down, really does help children read better.
Studies show that music activities have a strong impact on learning skills.
SCARF MOVEMENT ACTIVITIES DEVELOP GROSS MOTOR SKILLS
Since your students will be moving a lot during these kinds of activities, it will give you a chance to help them work those big muscle groups.
Check out this other blog post with music examples and lesson ideas for using scarves for movement activities.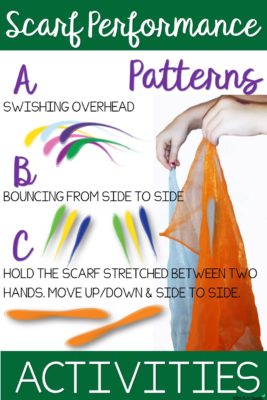 THE FREE RESOURCE INCLUDES THESE MOVEMENT CARDS:
Look at the list of movement cards you'll get in the freebie:  Wiggle, Toss, Drop, Swish, High, Low, Fast, Slow, Short, Long, Side to Side, Zig-Zag, Circle, Across
Altogether, you'll get 14 movement cards to go with the 12 types of scarf movement activities.
SCARF MOVEMENT ACTIVITIES ARE FUN!
Even more important, kids think of scarves more as "playing" than "working". And honestly, I like to move around too!
I don't know about you, but there are days when I'm dragging myself to school and not had a chance to warm up and stretch myself.
Did you know that moving is the first defense again tiredness?
(yawn)
Ready for the list of scarf movement activities?
Movement Activities

Games

Group Students

Puppets

Mats and Space

Teach Musical Terms

Connect Students Together

Costumes

Props

Learn a Song

Tell a Story

Play with Bean Bags
So, you've got some scarves?
I put together this video a LONG time ago- but my students love "bugs" so they are excited to sing about the "Dragonfly" any time!
Try having your students move their scarves with the dragonfly.

So, what do you have to do to get the free scarf movement activities?
I promise to not spam you with junk mail or sell your email address- I'd never do that. I am going to send you weekly  newsletters and blog posting to help you with your lessons and activities.
With this in mind, I hope you'll subscribe!
Already a subscriber?
Like this post?  Please share it with your teacher friends!
Looking for Scarf Activity Resources?